First Bus announces sale of its Manchester operation for £11m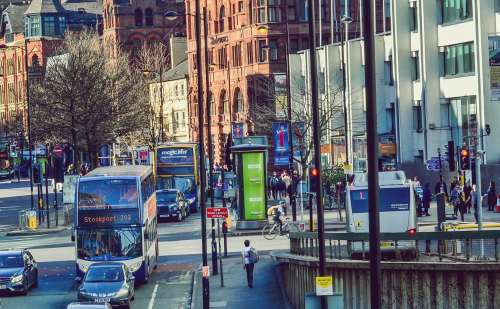 Bus operator First has announced it is selling its Manchester operation for £11.2m.
The transport giant, which has its headquarters in Scotland, has sold the business to the Go-Ahead group.
The sale includes the Queens Road depot in Cheetham Hill and the fleet of around 160 vehicles.
First has been under pressure for months to sell because of poor service and high levels of dissatisfaction amongst customers.
The deal does not include the Oldham and Bolton operations which 300 buses and more than 1,000 staff.
There have been repeated calls for Greater Manchester's combined transport authority to buy out the firm.
Go-Ahead is based in the North East and the firm operates bus and rail services across the country.
It is the largest bus operator in London and runs seven other regional bus companies in Britain, plus overseas bus services in Ireland and Singapore.
Buses from Queen's Road predominantly serve destinations in the centre, North Manchester and Salford.
David Brown, chief executive of Go-Ahead, said: "We look forward to contributing to Manchester's community and transport.
"Buses are an essential public service that help passengers get to work, access education and healthcare, for leisure and visits to relatives. We aim to deliver a comfortable, reliable service while investing to improve air quality.
"As a business that prides itself on looking after our colleagues, we hope to reinvigorate the Queen's Road depot.
"We also look forward to engaging in open conversations with TfGM, stakeholders and customers in the Manchester area to better understand how we can create a sustainable and thriving service."
The sale is expected to be completed in the next few months and employees who work for the Queens Road bus operation will transfer to Go-Ahead.
First Manchester will continue to operate existing local bus services from the Queens Road site until the sale is completed and customers will see no changes in their daily journeys throughout the transition.
First Manchester will continue to operate from two sites, Oldham and Bolton. These depots and the services that operate from them are unaffected by the sale.
First Manchester said it continues to back the partnership approach in Greater Manchester.
The news comes in the wake of the recent launch of the OneBus partnership, which proposes improvements including; 450 new low emission buses, simplified tickets, a unified brand identity, improved integration with other transport services, joint bus network reviews and improved customer information.
Giles Fearnley, managing director of First Bus, said: "I would like to thank our employees for their continued hard work to deliver the best experience possible for our customers in Greater Manchester.
"Today's announcement does not reflect on the effort, commitment or individual performance of our Queens Road employees and we will be supporting them fully as they transfer to their new employer.
"Over the years we have enjoyed a constructive relationship with both the Go-Ahead Group and Transport for Greater Manchester and look forward to working closely with them to ensure this transfer goes ahead as smoothly as possible with minimal impact for our customers.
"We continue to support the OneBus partnership in the city region and believe that a positive partnership between the Mayor; Local Authorities; businesses; the community and OneBus, can help tackle the increasing impact of congestion and deliver a package of improvements which puts customers first and offers good value for both passengers and public investment."