People on the Move: Northstone; Borough Care; Aaron & Partners; MHA Moore & Smalley; Morris & Spottiswood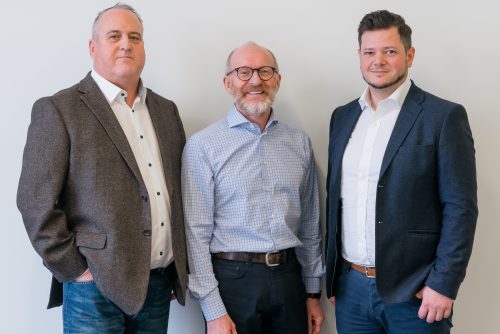 Peel Land and Property (Peel L&P) has announced Northstone as the brand name for its new housebuilding division, following the appointment of a further three directors creating a five-strong management team.
The Northstone management team has collectively amassed almost 150 years' experience in the housebuilding/property industry with chief executive Phil Wilson appointing construction director Kevin Morris, commercial director Craig Nutter and design director Richard O'Brien, who join development director Jonathan England.
Kevin brings 35 years' experience in the construction industry where, most latterly he was construction director for Mulbury Homes for five years.
He will be focusing on the successful delivery of the Northstone product and overseeing procurement with the commercial team.
Former commercial director for Bellway Homes' Manchester division, Craig Nutter was instrumental in setting up the Manchester housebuilding region for Bellway which delivered more than 1,700 units within the first five years.
Craig brings a total of 16 years' experience to the role and will oversee the commercial function of the business, being responsible for procurement, setting up the supply chain, working with subcontractors and identifying potential sites, as well as cost control.
Over the past 40 years Richard O'Brien has overseen design for some of the most high-profile housebuilding brands in the UK, including David Wilson and Bloor Homes and was most recently group design controller for the rapidly-growing house builder Avant Homes, in the North of England.
Northstone chief executive, Phil Wilson, said: "We're very excited to be welcoming our new and dynamic management team on board, who all have a strong track record in delivery.
"The launch of Northstone gives us the rare opportunity to work from a blank canvas to bring a fresh and unique product to the market which will be designed around the needs and behaviours of today's modern occupier.
"Since the appointment of the team we're really gaining momentum and very close to securing our first sites in Bolton, Haslingden and Barrowford."
The team will be based in Northstone's head office in Arrive, in MediaCityUK.
::
Borough Care, which claims to be the largest not-for-profit provider of care for older people in Stockport, has appointed Lee Omar to its board of directors.
In his new position as a non-executive director, he will support Borough Care's executive team at a strategic level and also engage with residents, their families and staff, to provide invaluable feedback to the leadership team.
Lee's role will include developing relationships with external stakeholders, to help Borough Care innovate and remain commercially-focused.
Lee said: "Having been a non-executive director for NHS Trusts I was interested to work in social care as I believe one of the great challenges we face is how we meet the requirements of our ageing society.
"We are living longer lives and I want to be part of the change that sees us offering aspirational products and services for this ageing population."
Dr Mark Ward, Borough Care chief executive, said: "It's great to have Lee joining us at what is an exciting time for Borough Care.
"As a forward-thinking company we have ambitions to lead a step change in the approach to care for older people and Lee's expertise will be invaluable in helping us achieve this."
Lee Omar is chief executive of Red Ninja, a design-led technology company that makes apps for the healthcare and transport sectors.
He also advises governments on technology at Prime Minister and President level.
At Red Ninja, Lee has designed apps that help older people shop online and improve their nutritional intake. He has recently worked on an app that helps prevent falls in care homes, which has been adopted by the NHS.
::
Legal practice Aaron & Partners has strengthened its team by appointing a senior solicitor to handle a wide-range of construction and engineering work.
Kate Chalkey joins the firm's planning, environmental, energy and regulation (PEER) team as a senior associate specialising in construction and engineering law.
Kate is highly experienced in managing the resolution of construction disputes concerning non-payment, performance, delay and disruption, breach of contract and termination.
This experience renders her well-equipped to draft and negotiate contract documents which minimise potential risk and liability for her clients.
"I'm thrilled to join Aaron & Partners and bring a new dimension to a team that is already very well regarded," said Kate.
"The PEER team are recognised nationally for their expertise and knowledge, and they have a reputation for delivering stellar advice to clients across the UK.
"I'm pleased to bring a different area of knowledge to the team, with my construction background, which will expand the offering and enable us to help even more clients across the country."
Kate's extensive industry experience managing the resolution of construction disputes will see her play a leading role drafting and negotiating commercial contracts which minimise potential risk and liability for clients.
The PEER team has also announced the appointment of solicitor, Marc Sorrentino
.After gaining a degree from Cardiff University, Marc went on to complete his legal studies at the University of Law in Chester.
He joined Aaron & Partners in 2016 where he completed his training contract with seats across various teams within the firm.
David Harries, partner and head of the PEER team, said: "We're delighted to welcome both Kate and Marc to the team. Kate brings a wealth of specialist construction knowledge, which strengthens the services and support we can offer.
"Marc is another great addition to the team, and despite being newly-qualified, he already has a vast amount of knowledge across a number of matters.
"Both of their in-depth skillsets and experience will further enable us to offer bespoke, practical and pragmatic solutions for our clients."
::
Preston accountancy and business advisory firm MHA Moore and Smalley has expanded its corporate finance team with the appointment of Krishan Tanna.
Krishan, who previously worked as a project accountant for BAE Weapons Systems UK, joins MHA Moore and Smalley as a corporate finance executive. His appointment takes the team to seven members.
During 2018 MHA Moore and Smalley advised on eight major transactions with a combined value of £13.9m, as well as a host of smaller deals, fundraising and restructuring projects.
Jon Pinder, partner at MHA Moore and Smalley and head of the corporate finance team, said: "This is the largest our corporate finance team has ever been. Despite the uncertainty in the economy, 2018 was a busy year for us for corporate transactions, due diligence work and fundraising.
"Krishan will provide valuable support to our team, giving us greater capacity to help our clients get deals done across the region and beyond."
Krishan, who comes from Lancaster, is a graduate of Newcastle University where he co-founded the university's investment society.
He said: "I'm joining a firm with a great reputation and expertise in sectors I know well, such as technology, automotive and healthcare.
"I'll be involved in all aspects of corporate finance work, including due diligence, valuations and research, providing support to our team and helping colleagues across the region to generate growth opportunities for the clients."
MHA Moore and Smalley's corporate finance team helps clients identify, create and maximise opportunities for growth and expansion, advising owner-manged businesses to major organisations.
::
Warrington-based construction sector firm Morris & Spottiswood has strengthened its senior management team with two new appointments.
The £100m turnover company has hired Scott Grant and Paul Tutty to drive the firm's Warrington operation.
Morris & Spottiswood chief executive Jon Dunwell said former Ainscough Cranes Hire operations director Scott Grant brings senior level experience – having also held managing director, executive director and commercial director positions with fit-out specialists Demco Interiors and Havelock Europa.
Meanwhile, former Simons Construction and Simpson York contracts manager Paul Tutty arrives with a wealth of industry knowledge.
Mr Dunwell said the firm's ability to attract top talent has contributed heavily to its success and provides a further indication of its strong and steady progress.
"Our two latest appointments form a key part of our 10-year growth plan as we look to expand from the regional hubs." he said.
"Scott has been appointed operations director. He joins us with 20-plus years' board-level experience in the construction, interior fit-out and manufacturing sectors.
"Meanwhile, Paul takes the position of operations manager with a proven track record working nationwide, specifically within the commercial, industrial, retail, leisure and hospitality sectors.
"They both have significant expertise delivering profitable and sustainable plans, which is crucial to our long-term strategy."
Paul Tutty said: "One of the greatest attractions to Morris & Spottiswood is its scope for growth. There is a real feeling of momentum within the North of England operation, which is the firm's fastest growing region."
Scott Grant said: "Morris & Spottiswood has a strong pedigree as a mature and established brand. It is especially well known for its fit-out and housing work which has underpinned steady and consistent growth over the decades."