People on the Move: SAS Daniels; Pearson Solicitors & Financial Advisers; Slater Heelis; Jackson Lees; Special Piping Materials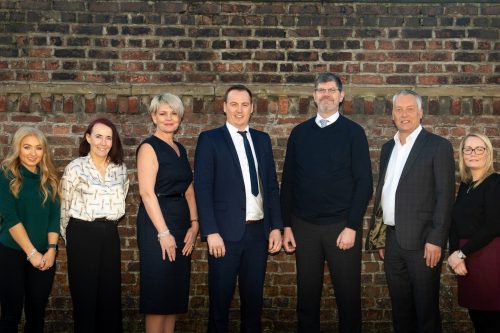 X

Register for free to receive latest news stories direct to your inbox
Register
Cheshire law firm, SAS Daniels, has added six new recruits to its residential property teams across its Stockport and Chester offices.
The full-service law firm has been seeing an increased demand for services in the region, despite any uncertainty in the property market as a result of Brexit.
The expansion comes as the North West is found to the be the only area of the UK where house sales are expected to rise in the next three months, according to the Royal Institute of Chartered Surveyors (Rics).
Jane Caldecott has joined SAS Daniels as director of conveyancing operations and Scott Mulligan has taken the newly created role of senior associate and head of the new-build property team.
Jane joins from PLS Solicitors and, previous to this, held senior positions at Birchall Blackburn Law and Halliwells. She is bringing 25 years' experience to the residential property team and will be based in SAS Daniels' Stockport office.
Scott Mulligan, a specialist in residential conveyancing and new-build purchase and sales with more than 14 years' experience, will also be based in the Stockport office.
In addition, Steph Lyke and Robert Champin have joined the firm as licensed conveyancers and will be based in the Chester and Stockport offices, respectively. Katherine Wakley and Angela Fergus have also been appointed as conveyancing assistant and paralegal to support the team in Chester.
Nigel Read, partner and head of residential property at SAS Daniels said: "The property market in the North West for both buyers and sellers is thriving which is great news given the current political climate.
"With the expansion of the team we can now support even more clients and referrers with their conveyancing and residential property needs. These include co-ownership, leasehold flats, and re-mortgages in addition to buying or selling a new home."
With experts predicting a rise of nearly 15% in house prices from 2019 to 2023 with significant increases expected in the North West, SAS Daniels plans to expand the residential property team with two further recruits in Spring 2019.
::
A new commercial property solicitor has joined the team at Pearson Solicitors and Financial Advisers – Ben Tatters, who has 18 years' experience, is joining the well-established commercial team at the Oldham firm.
He has a wealth of knowledge dealing with both landowners and developers as well experience of clients buying, selling and re-financing property.
"I have dealt with clients and properties from London to Cumbria and pretty much everywhere in between and my approach is professional but down to earth," said Ben.
"I think that's very much akin to the approach of Pearsons and I'm very much looking forward to meeting our existing business clients who are expanding, as well as developing new clients and introducing them to a suite of excellent commercial services on offer here."
Welcoming Ben to the firm, partner Christopher Burke said: "Ben is a great fit with our team and brings with him a wealth of experience.
"Our commercial team is expanding rapidly. Another senior commercial property solicitor is joining us next month. He and Ben have specialist knowledge in this area of law and will be able to work together for the benefit of our clients."
::
North West law, firm Slater Heelis has appointed Elizabeth Wilkinson to head up the dispute resolution team as it continues its growth.
Elizabeth has more than 20 years' experience acting for clients in a wide range of commercial contract disputes, professional negligence actions and claims arising from the sale and purchase of businesses.
She is recognised as an expert in her field by the prestigious Legal 500.
Elizabeth has spent the majority of her career in Manchester at national law firms and advises large corporates and plcs, SMEs and owner-managed businesses, as well as individuals.
Managing partner, Chris Bishop, said: "We are thrilled to welcome Elizabeth to the firm. Her arrival will further strengthen our team and bolster its service offering.
"Elizabeth has a strong and proven track record helping clients pursue their rights and recover monies.
"Our dispute resolution team has gone from strength to strength over the last 12 months and Elizabeth's arrival will further cement our commitment to helping clients achieve a successful outcome from a dispute and to reduce the risk of them arising in the first place."
Elizabeth said: "Slater Heelis has an outstanding reputation among the legal profession and across Greater Manchester.
"I am excited to head up the dispute resolution team and add to the wealth of expertise that is currently on offer, helping clients on a daily basis."
::
North West law firm Jackson Lees has expanded its property department with the appointment of Ben Keating, a residential property conveyancer, who will join the firm's Hoylake office.
Ben joins the fast-growing property department, which has seen new business increase by 24% in the past 12 months.
He will support Angela Hesketh, director & group head of property at Jackson Lees.
Angela said: "I'm delighted to announce Ben Keating's appointment to our property team.
"Ben is an experienced and highly capable property expert, having worked on a variety of cases in residential property, development work and leasehold transactions. Ben is committed to making a positive difference in local projects and I am confident he will make a wonderful addition to the team."
Ben Keating said: "It's an honour to join the property team at such a well-established firm.
"This team has a real depth of skill and experience and this, coupled with their outstanding community engagement, client-focused culture and commitment to staff wellbeing, make the firm a great place to work.
"I'm looking forward to joining the Hoylake team and getting involved in the local community."
::
Special Piping Materials, the stockholder and supplier of pipes, fittings and flanges, has appointed Alex Forth as the new managing director in the UK, as well as regional director for Australia, Southeast Asia and the Middle East.
Alex is an industry expert, having been with the group for 11 years, previously heading up the Singaporean and Australian divisions and being fundamental in establishing the office in Dubai.
He will be based in Dukinfield, Cheshire, which is also the global headquarters for the company.
Founded in 1989, Special Piping Materials deals in the exotic piping industry. It has grown from a single office in Manchester to a global network of seven sales offices and warehouses across five continents.
With Alex steering the course, the company plans to continue on its growth trajectory by diversifying into different markets and leveraging its global network.
He will work to co-ordinate project work across the UK, Middle East, Southeast Asia and Australia, while reinforcing Special Piping Materials' commitment to its clients and stakeholders.
He joins the senior management team which is led by cfounder Les Buckley and group director Paul Buckley. In Singapore, Steve Chee has taken over as general manager, while Mark Davey continues to operate as sales director in the company's Perth office.
Alex said: "With the oil and gas market stabilising I believe that Special Piping Materials is in an extremely strong position.
"We have spent the past few years consolidating our systems and ensuring that our processes are more streamlined than ever before which allows us to better support our global client base. I am looking forward to taking the team to new heights."
Les Buckley said: "This is a very exciting time for the business as we look to new markets to drive our expansion plans and further strengthen our reputation.
"Alex has been an integral member of the team for many years now and his focus and expertise means that I'm confident in his ability to take the business forward by renewing relationships with current clients, while also forging new relationships in unexplored markets."