People on the Move: MHA Moore & Smalley; Principal Insurance; Elan Homes; GC Angels; Bibby Financial Services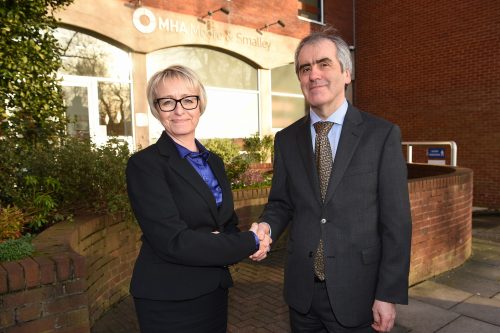 North West accountancy and business advisory firm MHA Moore and Smalley has strengthened its private client team with the appointment of tax specialist Sue Buckingham.
Sue joins the firm from Douglass Grange where she worked as senior tax manager for eight years. She has also worked in a number of other major firms across the region and began her long-standing career with HMRC.
Sue's position as private client manager involves looking after the tax affairs of high net worth individuals and client trusts.
David Bennett, tax partner at MHA Moore and Smalley, said: "We offer a holistic approach to our private client service to ensure we cover every aspect of a client's financial situation, both from a personal tax and investment point of view.
"Sue's experience as a specialist in personal tax, tax planning and trusts, is a perfect fit for us."
Sue, who grew up and still lives in Poulton le Fylde said: "Working in a range of firms of varying sizes has meant I've worked with a cross section of clients. It also means I recognise their individual needs and how to tailor personal tax planning services to suit."
She added: "Having personal tax and financial planning services under one roof enables MHA Moore and Smalley to provide a seamless personal service. I'm looking forward to working with the team in this way."
Sue will be based in the Preston office working alongside fellow private client manager Alison Houghton and tax consultant Caroline Coxon, who is responsible for trusts & estates planning.
::
Manchester-based specialist broking group Principal Insurance has recruited Stephen Bolton as head of finance.
Bolton was selected for the role due to his unique accountancy experience within speciality insurance niches which spans some two decades.
He has joined Principal from disability specialist, Fish Insurance, whose finance operation he has led since 2010.
There, he helped the business secure strong and profitable growth as it navigated its exit from private equity ownership and acquisition by Capita Insurance Services its current owner, PIB Insurance Brokers
Prior to that he spent 11 years at Carole Nash, the majority as a management accountant within the now Ardonagh-owned broker's finance team.
In his new role he will report directly to Principal's managing director, Dave Bowcock, and join the group's five-strong management executive team.
Mr Bolton said: "It's an exciting time to be joining Principal which has proven itself to be one of the industry's most dynamic, innovative and entrepreneurial brokers.
"I'm looking forward to joining what is an impressive and committed team and supporting the group's continued growth as it expands within its existing niches and enters new ones."
Founded by Bowcock in 2011, Principal now serves around 50,000 policyholders across its personal and commercial insurance operations.
The former includes specialist motorcycle, car and van policies, while the group's commercial division has particular strengths in the hire and reward, courier and motor fleet sectors.
::
Elan Homes has made new senior appointments to support its growth and expansion plans.
John Beardsell has been appointed to the new role of strategic land director for the Elan group, while Shaun McCarthy has been promoted from technical director for the Northern region to the new position of group technical director.
Beardsell said: "Elan is a strong brand, known for delivering a quality housing product and has exciting expansion plans. I've taken on a new role within the business and it's a great opportunity to help shape the future of the company through the sites we acquire.
"By pooling the wealth of experience and expertise within the organisation with an extensive network of contacts and consultants across the country, we are identifying lots of sites and opportunities to ensure a steady stream of developments over the medium to long term."
Beardsell is based at Elan's Northern headquarters in Ellesmere Port, Cheshire, with the business currently focusing on sites in the North West, North Wales and the Midlands, plus areas where the need and shortfall in supply is greatest.
Elan will consider development sites of up to 10 hectares in size, although the new strategic division is also working on sites much larger than this nationwide.
A Liverpool John Moores University graduate, Beardsell worked briefly as a local authority planning officer before embarking on a career in land acquisition and development with a number of housebuilders.
::
Damian Mohammed has been appointed investment director for GC Angels, the angel investment arm of the Growth Company which supports businesses seeking access to investment from £25,000 up to £2m.
Damian joins the team from London where he worked extensively within finance and specifically with high net worth individuals looking to invest in UK businesses. He has also worked with a range of SMEs, helping them to become investor-ready and introducing them to potential investors.
In his new role Damian will be using his experience to increase investment into North West-based SMEs from the rest of the UK and to attract foreign direct investment from countries such as India, China and the Middle East.
Damian will also be growing the angel network and identifying companies in the region that GC Angels can use their own funds to co-invest in.
He said: "Having worked with start-ups and funding bodies for many years I've seen first-hand the London-centric focus of much angel investment.
"The early stage investment market in the South is now fast becoming saturated so there has never been a better time for investors to look to Manchester and the North for exciting new businesses to invest in.
"The busy market in London has also led to some inflated valuations, so investors can also get more 'bang for their buck' in the North."
Darren Gowling, senior investment director at GC Angels, said: "With the majority of angel deals still being done in the South East, we need to make local businesses more attractive to high worth individuals looking to invest their money, time and expertise.
"Damian brings with him a unique blend of skills, experience and a network that will help us to achieve just that, supported by our recent initiatives such as the GM Co-Investment Fund and the Angel Hub in the city centre.
"Our goal is to ensure that we are able to meet the huge demand in the North West for investor support in the sectors that are driving the growth of the regional and national economy – from digital and fintech businesses to life sciences start-ups."
::
Bibby Financial Services (BFS) has appointed Gary Griffiths as managing director for trade finance as the company seeks to further enhance its services to SMEs trading domestically and overseas.
Gary joins the Liverpool-based company with more than 30 years' experience in the financial services industry.
He has a strong track record of creating and leading top performing trade businesses across Europe, the USA and Asia.
In his new role Gary is responsible for managing a team of 25 and will drive the growth of BFS's already strong trade finance business across the UK.
Prior to joining BFS, Gary was senior director for trade and working capital finance at London Business Finance.
He also held roles as head of trade, receivables & supplier finance origination at Lloyds Banking Group, and head of London Trade & Working Capital at Barclays.
Gary said: "BFS is an extremely successful business with an impressive client base and comprehensive sales and distribution model. It is a business in constant growth and I am looking forward to help drive its development further.
"There are an increasing number of SMEs trading in overseas markets who require help and support to manage the cash flow and risk implications of international trade.
"BFS is in a superb position to support this growing market and I am excited to help the business realise this exciting opportunity."
Edward Winterton, UK chief executive Bibby Financial Services, said: "At BFS we are continually striving to develop the services that SMEs need to grow. A core part of this strategy is ensuring we are well equipped with talent and expertise across the business.
"Gary is an extremely accomplished leader who will help BFS enhance our trade support at an important time as SMEs contend with an increasingly challenging environment, and I look forward to welcoming him on board."