People on the Move: Clough & Willis; Ainscough Strategic Land; Claremont; Liverpool LEP; Create Homes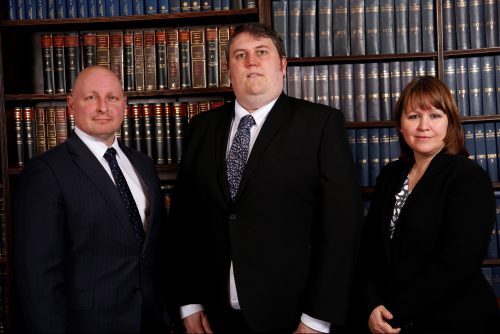 Bury and Bolton law firm Clough & Willis has appointed conveyancer Andrew Rodbourne to its residential property department.
Andrew, who is an associate member of the Chartered Institute of Legal Executives, has joined from JMW. He has also previously worked at Countrywide Conveyancing Services and O'Neill Patient Solicitors.
Throughout his career Andrew has handled transactions for a wide variety of clients including first time buyers, high net worth individuals and celebrities.
His appointment is the latest in a string of new arrivals at the firm including Kelly Fitton – also in the residential property team – and Andrew Palmer who joined the commercial property department as a senior associate earlier this month.
Andrew's focus will be on handling all residential conveyancing matters including sales, purchases and re-mortgages as well as help to buy transactions from Clough & Willis' Little Lever office.
Lorraine Stratton-Webb, partner and head of residential property, said: "The last few months has seen a real spike in demand for our residential property services so Andrew's arrival has come just at the right time. He is an experienced conveyancer with a proactive attitude which is exactly what a busy department like ours needs."
Andrew added: "I've spent most of my career to date at large regional and national firms, but I knew that I wanted to work in a smaller and more client-focused firm.
"Clough & Willis seemed like the ideal fit for me and I'm now looking forward to getting to work, delivering a great service and helping to grow the team."
::
Ainscough Strategic Land has appointed chartered surveyor David O'Reilly as land director to assist with delivering its ambitious plans for growth.
Established in 2007, Ainscough says David's appointment comes mid-way through its most successful year to date and is part of an ambitious growth strategy to double the company's current land portfolio by 2022.
With significant private funding in place Ainscough plans to grow within authority areas where it already has an established presence, as well as into new local authorities throughout the UK.
David is tasked with leading Ainscough's growth strategy, while assisting with existing projects to ensure they are delivered on programme and at maximum value.
He has worked at a senior level with housebuilders, including Story Homes and Redrow, overseeing projects from land identification right through to on-site delivery.
He also previously helped to establish a UK-wide strategic land company to diversify the growth of a London-based developer.
Rachael Ainscough, managing director of Ainscough Strategic Land, said: "We are delighted to welcome David to the team. His wealth of expertise will be instrumental in helping us achieve our growth ambitions.
"His appointment will help us to build on our excellent track record in providing consented and immediately-deliverable development land to the housebuilding industry."
Ainscough Strategic Land boasts a 95% success rate on all the applications or appeals it has progressed to date.
Most recently Ainscough won an appeal for a proposed 227-home development near Northwich, Cheshire. Sale of the land to Bellway is expected to conclude in the coming months, with the development likely to get under way before the end of 2019.
In a further addition to the team this month, Kim Blinston has joined as a management accountant. Kim joins the company from HT Forrest and brings further property experience, having previously worked within the accounting teams at Persimmon Homes NW and Langtree Group.
Alongside group finance director Dave Watson, Kim will be responsible for preparing the management accounts for Ainscough Strategic Land, as well as the other companies within the Ainscough Group.
::
Warrington-based interior design and fit-out business Claremont has appointed Rebecca Garton as its new national key account manager.
Rebecca joins Claremont from Paragon Interiors Group in Nottingham, where she was responsible for global account management.
Prior to joining the interior design and fit-out industry, Rebecca worked at Greene King Hotels as head of sales for hotels, and Whitbread as national sales manager.
Reporting directly to Claremont's head of sales, Natalie Davies, Rebecca will focus on supporting the management of Claremont's key accounts and developing long-term partnerships with clients.
Natalie Davies said: "Expanding our focus from project delivery to long-term client partnership and continuous projects has been our focus for the last few years and Rebecca will be instrumental in helping Claremont to build on that further.
"Rebecca is a seasoned and highly proactive account manager and will take over the management of several of our most long-standing clients.
"We're confident she will play a lead role in building our client base and project pipeline and we are delighted to welcome her to the business."
Delivering projects across the UK from its Warrington, Bristol and London offices, Claremont offers a full range of commercial and office interior solutions for medium and large organisations in the private and public sector.
::
Liverpool Local Enterprise Partnership (LEP) board has appointed Paul Corcoran, managing director at Agent Marketing, as deputy chair, and Elaine Bowker, principal at Liverpool City College, as equality and diversity champion.
LEP chair, Asif Hamid, said: "I am delighted that the board has agreed to appoint Paul and Elaine. Both Paul and Elaine have extensive experience and insight to be able to perform these roles on behalf of the LEP for the city region."
He added: "I would like to congratulate both of them and I look forward to working with them to drive our economy forward."
Paul joined the board in 2017, he also co-chairs the creative and digital sub-board for the city region.
He said: "I'm exceptionally proud to have been voted in as deputy chair by my fellow LEP board members and look forward to providing a strong voice for the private sector, in particular for the small businesses operating in our city region.
"This is an extremely important time for Liverpool City Region and we must all do everything we can to make the most of the opportunities that are presenting themselves.
"As a small business owner I know the challenges and opportunities that starting and scaling an enterprise here can bring.
"As such, I am 100 per cent dedicated to helping our business community achieve great things, whilst presenting our city region in the best possible way, not just for the benefit of businesses, but most importantly, for the people who live and work here."
Elaine joined the board in 2018 and is principal of the largest further education college in the Liverpool City Region.
She said: "It's incredibly important that we lead the way in championing equality and diversity, not just in the workplace and in boardrooms, but in all aspects of life across our city region. As a collective, we have a responsibility to continue to support, inspire and empower individuals to embrace opportunities and new challenges.
"I am wholeheartedly committed to this role and look forward to working closely with businesses, stakeholders and my fellow LEP board members, to help create a diverse and inclusive business base which will support our city region to thrive."
::
Create Homes has appointed Andrew Wright as its managing director.
Andrew joins the team with more than 35 years of industry experience. He was an integral part of the management team at Aus-Bore, the Cheshire based high-end residential developer.
His role will be to oversee the expansion and development of Blackpool-based Create Homes, delivering 100 units in 2020 and further strategic growth to build the brand's reputation as a high-quality house builder.
Gill Mathison, Create Homes founder, said: "Andrew has a wealth of experience, having worked for high-end, residential housebuilders for a number of years and is passionate about our brand and taking Create Homes to the next step in its journey."
Andrew said: "I am delighted to be joining Create Homes at such a key time. There are a lot of opportunities in this region.
"With a number of land acquisitions already secured, or in the pipeline, this will allow the business to grow at a fairly rapid pace.
"My role will be to drive growth of the business whilst maintaining our reputation for quality and the high specification of our properties."