Fit-out group scores a win with international betting giant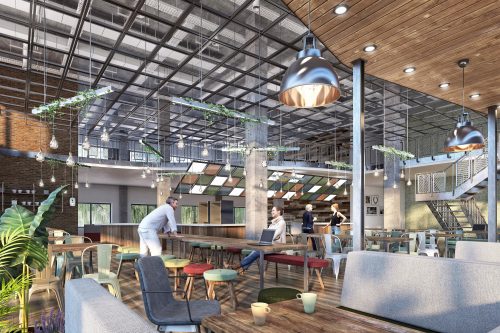 Interior design and fit-out business Claremont has secured a seven-figure contract with international sports betting and gaming operator Paddy Power Betfair, for three office refurbishments.
The Warrington-based business will deliver office refurbishment projects spanning 224,000 sq ft for Paddy Power Betfair in Dublin, Hammersmith and Halifax over the next three years, with the first expected to start on site at the end of 2019.
Claremont's team has already started work on the design of the Dublin office at Bellfield Park, which will be extended by 40% to 159,000 sq ft, with significant extensions on the ground, first and second floors before the interior design and fit-out work begins.
Initial work includes a comprehensive space utilisation and observation study and development of activity-based interior design concepts, all of which are centred on supporting Paddy Power Betfair's desire for greater workplace agility and collaboration.
Claremont's scope of works includes both Cat A and Cat B in Dublin and Cat B for the 12,000 sq ft Halifax and 53,000 sq ft Hammersmith sites.
Tim Frankland, joint managing director of Claremont said: "The Dublin project in particular will set a new benchmark in our 43-year history and will be both exciting and challenging due to its scale and complexity.
"The fact that we have built a strong relationship with a fantastic client who allows us to play to our strengths is both crucial and rewarding.
"Paddy Power Betfair is a tour de force in its field and has some very pioneering ideas about the work environment it wants to create for its employees.
"This contract will see us support Paddy Power Betfair in bringing those ambitions to life, particularly in relation to workplace agility and collaboration."
He added: "While all three projects won't run concurrently, there will be some overlap, so we will have a dedicated multi-disciplinary team on the account, headed by our creative director Ken Bundy and supported by a number of quantity surveyors, designers and project managers."
Ken Bundy said: "At a time when employees are expecting more from their employers, it's important that workplaces are used as effective brand storytelling tools and Paddy Power really understands that.
"With a strong brand, an inclusive and progressive mindset and a desire to create a future-proofed and inspiring work environment, we have a fantastic brief to work with and it gives us great creative scope for the finished design concepts."
Mark Mercer, Head of CRE and workspace at Paddy Power Betfair, said: "These refurbishments are part of realising our vision to be an employer of choice and to ensure we have the right facilities and inspiring and collaborative spaces to support our online operations.
"Claremont's reputation is best in class, having delivered profile projects for King, TalkTalk and AutoTrader amongst others, and we are delighted to be partnering with a creative, experienced and commercially-astute team on these projects."