Mike Ashley's House of Fraser served notice to quit town centre store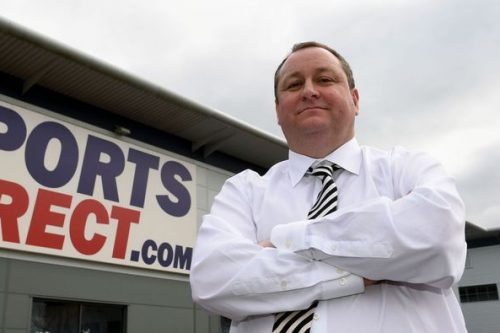 The landlord of the House of Fraser department store in Altrincham has served notice on owner Mike Ashley to quit.
Rackhams was due to close last year but was part of the rescue deal put together by the Newcastle United owner when he bought the ailing department store chain out of administration.
The retail tycoon said he hoped to save about 80% of House of Fraser's 59 stores and turn the chain into the "Harrods of the high street" after it was bought out of administration for £90m last year.
Plans have now been submitted to redevelop the  store into a mixed-use scheme.
Lunar Altrincham Sarl, which owns the long leasehold of Stamford Quarter, is proposing to reconfigure the existing 60,000 sq ft, three-level store into a retail, office and residential scheme.
This will include three shops, totalling 22,700 sq ft, on the lower ground and ground floors, 17,244 sq ft of offices on the first floor and a new development of 62 one- and two-bed flats above.
A planning application has been submitted to Trafford Council, the freehold owners of Stamford Quarter shopping centre.
The new mixed-use scheme would be located adjacent to American gym Orangetheory Fitness, Danish retailer Sostrene Grene and Flannels, all recent additions to the Stamford Quarter.
Iain Minto, director of Lunar Altrincham, comments: "The remodelling of the department store is the final piece of our regeneration of Stamford Quarter.
"We believe that redeveloping this important area of the centre for a high-quality, mixed-use scheme will strike the right balance in Altrincham which, through continuing investment and strategic direction, has gone from strength to strength in recent years."
Pozzoni are the architects for the mixed-use scheme. HRH Retail and Barker Proudlove are joint letting agents for Stamford Quarter.
According to The Guardian M&M Asset Management, which owns the Stamford Quarter, agreed to accept no rent for a year under a short-term lease.
The deal was just one of several struck by the Sports Direct boss after he bought the chain out of administration last year.
He also drew up a deal to save the House of Fraser store in city centre Manchester from closure.
According to The Guardian little progress has been made in the last seven months and M&M appears to have lost patience.
The company has decided instead to convert the store into flats.
Iain Minto, M&M's shopping centre director, said: "We can't sit around and wait forever for House of Fraser to do something.
"Sports Direct have been in this building for nine months and at the moment they're still trying work out what to do with the wider business.
"We don't want the building to sit there forever and a day, we want to invest in the town.
"You have to bear in mind that there are nearly 60 House of Fraser stores across the company.
"I imagine there will be other landlords with House of Fraser, scratching their heads wondering what to do with the space."
Rackhams has been a fixture in Altrincham for decades and 45 staff work in the store.
Richard Hyman, a retail analyst said that despite Ashley's promises about saving House of Fraser, the businessman was unlikely to be concerned at the prospect of losing stores.
He said: "People may have been naive to think that these shops would be saved as retail businesses trading as House of Fraser, which is clearly not viable as it is.
"I suspect that Ashley has sold a big chunk of the stock he bought and that was the pivotal element in the transaction to him."
Mike Ashley has endured a torrid couple of months. He recently lost his battle to take control of Debenhams.
And his bid to buy Manchester based Findel Group also looks to have failed.