Investment bank is on the move to Spinningfields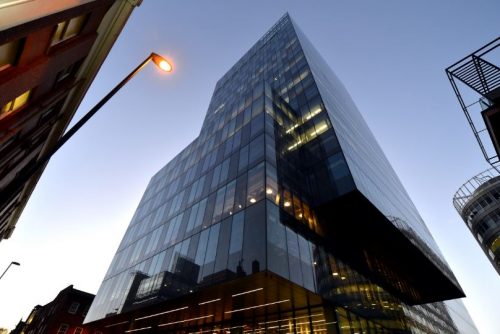 Investment bank GCA Altium is moving into new offices in the Spinningfields area of Manchester.
The financial company has agreed a deal to occupy 5,600 sq ft on the ninth floor of the 19-storey building No.1 Spinningfields.
The tower block is one of the key buildings in Manchester's business district and dominates the Spinningfields skyline.
This latest deal follows the announcement that online price comparison platform and tech giant Moneysupermaket.com will occupy two floors in the building later this year.
GCA Altium is the European business of GCA, a global investment bank that provides strategic M&A and capital markets advisory services to growth companies and market leaders.
The firm offers worldwide coverage with over 400 professionals in 20 offices across America, Asia and Europe.
GCA Altium is moving from Belvedere near Albert Square to take larger space in No 1 Spinningfields due to recent expansion of the business in Manchester.
Jourdan Rajwan, Investment Manager, Schroder Real Estate said: "We are delighted to add another brilliant tenant to complement the mix at No.1 Spinningfields, following hot on the heels of Moneysupermarket.com.
"The building is made up of a diverse tenant mix and continues to attract top talent form both outside the city and from within offering the best in class office space, amenity and connectivity."
The acquisition of No.1 Spinningfields by clients of Schroders in 2017 from Allied London was one of the largest single-asset trades recorded in the region £200m.
Schroders has continued to work with Allied on the transition from a development to a virtually fully let building offering the highest levels of occupational performance.
Currently, the building boasts a diverse tenant portfolio across professional services, legal, tech and leisure.
The building also offers significant amenity including flagship restaurant and bar 20 Stories, independent coffee operator Pot Kettle Black, excellent connectivity with a Wired Score Platinum rating and one of the most sustainable buildings in Manchester.
Jourdan added: "The lettings strategy for No.1 has proven very successful and in addition to the remaining vacancy on the part 3rd floor we have recently taken a surrender of level 17.
"Level 17 is the highest office floor in the building and boasts panoramic views of the Manchester city scape."
2018 set a record for office space take-up in Manchester at 1,750,276 sq ft over 314 transactions – driven largely by the tech sector, as global giants Amazon and Booking.com took up 89,449 and 225,000 sq ft respectively.
Phil Adams, CEO, GCA Altium said: "We are really excited about our forthcoming move into No 1 Spinningfields.
"Our business in Manchester has grown dramatically in recent years and we believe our new home will provide us with the perfect base to give our employees a contemporary, flexible working environment and our clients a superb facility to enjoy when they meet with us.
"We are delighted to make No 1 Spinningfields our latest office along with the other 20 offices we have globally and can't wait to move in."
Michael Ingall, chief executive of Allied London said: "We're pleased to see No.1 Spinningfields reach near full occupancy, with GCA Altium becoming the latest occupier, a real testament to the design and vision Allied London had for this world class commercial building.
"With an almost full house of occupiers and successful retail & leisure offering now in place, No.1 has set a new standard for commercial workspace in Manchester."
Will Lewis, transactions and asset management, OBI said: "We are delighted to have concluded this acquisition. It was a complex transaction as it involved assigning GCA Altium's lease in Belvedere simultaneously with legally committing to the new lease at No 1 Spinningfields. The level of amenity within No 1 Spinningfields and the critical mass of high quality occupiers on the estate were stand out factors in the decision making process."
Norton Rose advised Schroder Real Estate on the deal.
Cushman & Wakefield are joint agents alongside OBI Property.
Last year total revenues for GCA Altium across Europe and Asia increased 35% compared with 2017 to £181m and soared threefold over the past five years.
Net income also increased by 115% compared with the previous year.
Over the course of 2018, the firm closed 145 deals globally – up 30% on the prior year.
More than a third of these transactions were cross-border, as a result of GCA's growing international network.