People on the Move: Lichfields; EuroSite Power; Satplan; Armstrong Craven; Infinity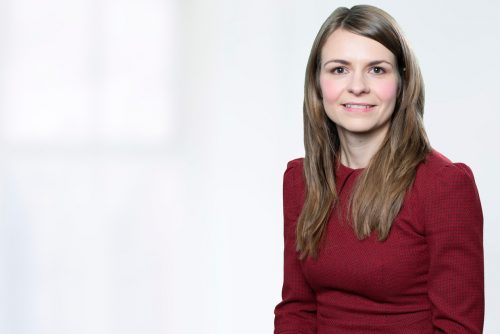 Planning and development consultancy Lichfields has promoted a member of its Manchester team to senior director.
Caroline Musker, who joined the office as a graduate 15 years ago, has moved up the career ladder from the position of director.
Lichfields chief executive, James Fennell, said: "Caroline's promotion is a well-deserved recognition of her skills and abilities in delivering for our clients in the North West.
"She has amply demonstrated her capabilities as a director and we look forward to supporting the further development of her career with Lichfields."
Caroline is an experienced planner, having delivered permissions for many large-scale commercial, mixed-use, residential, hospital and hotel developments.
She recently secured a hybrid planning permission for 1.4 million sq ft of logistics floorspace on green belt land at M6Major.com, St Helens, for Bericote Properties.
The Amazon Logistics hub on this scheme is due to be completed next month.
One of her most high-profile jobs was to deliver, as part of a large multi-disciplinary team, a development consent order at the complex Daventry international Rail Freight Terminal.
This development comprises 7.9 million sq ft of logistics space, a new rail freight terminal, and a 193-acre nature reserve, known as Lilbourne Meadows.
Caroline said: "I could not be more thrilled about becoming a senior director. I am very fortunate to have such fantastic people around me who have mentored me since I joined as a graduate in 2004.
"Myself and my team are very excited about the future. Having worked on high-profile schemes in the North I am eager to assist in steering the growth of the office to achieve our future goals, and build on the strong foundations of the Lichfields brand."
Caroline has been joined as a senior director by her colleague, Chris Darley, who is based in Lichfields' Leeds office.
::
Macclesfield company EuroSite Power Inc has appointed Paul Hamblyn to the role of chief operating officer and Chris Marsland joins as UK general manager
The firm is an on-site utility solutions provider to healthcare, hospitality, housing and leisure centres in the UK and Europe.
As COO Hamblyn will lead the company's strategic and new business development, while Marsland will lead the UK operational company and direct its operational and administrative functions.
Appointment of Hamblyn to the role of COO is part of the company's plan to focus senior management time on the primary strategic objectives of expanding its service offer and geographical reach, while also exploiting its recent entry into the London Stock Exchange's ELITE programme.
Hamblyn will retain his role as managing director.
Until last year Marsland was technical director at Centrica Business Solutions, formerly ENER-G Combined Power Limited.
During his near 20-year tenure he led a team responsible for developing and installing its cogeneration and other distributed power generation systems.
He was also chair of The Association for Decentralised Energy Commercial Forum and an association board member.
"Chris joins EuroSite Power with a wealth of operational and management experience at both early-stage and mid-sized companies," said chief executive, Elias Samaras.
"We are thrilled to have an experienced and steady hand at the helm of the operational business as Paul puts in place our plans to expand our range of technical solutions and broaden our customer offer."
Marsland said: "EuroSite Power has established a good reputation and secured some great projects. It is also positioned ready for growth, so it's a tremendous pleasure to join Elias, Paul and the EuroSite Power team, and I am excited and eager to help further the company's success."
::
Liverpool-based planning consultancy Satplan, now in its seventh year of business, has promoted Hayley Knight to the role of planning director.
Knight joined the firm in 2016 having previously worked for GL Hearn and GVA and specialises in immediate opportunities in the residential and commercial sectors.
Managing director, Shaun Taylor, said: "2018 was another record-breaking year for Satplan, with new clients added to our portfolio and the delivery of viable planning permissions and development plan allocations.
"The hire of Joanne McGrath in August 2018 has also had a significant contribution to further strengthening our strategic land capabilities across the country.
"Hayley's promotion to planning director is a further sign of our confidence in the development industry in the North West and beyond. Hayley is a valuable member of the team and is highly regarded by her peers and clients with whom she has built meaningful and long-term relationships with.
"I look forward to working with both Hayley and Joanne as we enter our next phase of growth."
Hayley Knight said: "It has been really exciting to be part of this growing and dynamic business over the last three years.
"The varied projects and clients we have at Satplan have ensured an interesting and busy few years which looks set to continue. Many thanks to my clients and Shaun for your ongoing support."
::
Global talent mapping and pipelining specialist Armstrong Craven is continuing its global expansion with the appointment of a head of Americas.
Leslie Lazarus has an extensive background in executive search, including senior roles at firms including Korn Ferry.
During more than 15 years with leading global and boutique executive search firms, Leslie has worked with public and private companies, as well as private equity, in multiple industries on senior and C Level placements, with a focus on finance, tax, HR, sales and operations roles.
She has vast experience working in the US and globally, in both in-house and consultancy roles.
Leslie's appointment follows the opening of Armstrong Craven's New York office at the start of this year. Armstrong Craven's other offices are in the UK, Singapore and Switzerland.
The firm, which is headquartered in Hale, Greater Manchester, and employs 75 people, provides clients with a range of services including talent mapping, pipelining, insight, executive search and executive RPO.
It specialises in several key sectors including financial services, healthcare and life sciences, technology, consumer, industrial and professional services.
Rachel Davis, deputy CEO of Armstrong Craven, said: "The US is already a major market for Armstrong Craven and we have long-lasting relationships with some of the largest US brands.
"We believe there is significant potential for further growth as more businesses look to embed a strategic approach to their talent acquisition.
"Leslie brings with her a significant amount of experience in executive search and talent acquisition strategy, as well as an in-depth knowledge of the US market and an established network of contacts across HR and TA.
"Leslie's appointment and the opening of our US office is the latest extension of our hub structure aimed at providing clients with a truly global approach to talent acquisition."
She added: "We anticipate making a number of additional appointments in the US over the coming months as we look to continue providing an unrivalled level of service to our clients."
Prior to her move into executive search, Leslie held senior roles in retail and sales.
Leslie, who was educated at the University of Vermont, said: "Armstrong Craven is disrupting the way talent acquisition is done and bringing a breath of fresh air to the sectors in which it specialises.
"I have seen at first-hand, and from both sides of the fence, the limitations of traditional search.
"The services AC offers enables clients to be far more strategic and thoughtful in the war for talent, moving away from the traditional transactional model.
"Our talent mapping, pipelining and insight services go far deeper, helping organisations to identify and attract the best talent and providing a far greater return on investment."
::
Investment group Infinity has bolstered its senior team with the appointment of Anna Kerrane as a director.
Anna has joined Salford Quays-based Infinity from the Manchester office of law firm Shoosmiths where she was a senior associate.
Before joining Shoosmiths, Anna spent a decade at Weightmans, in Manchester.
She is an experienced corporate lawyer who has advised on a range of transactions, including mergers and acquisitions, private equity investments, joint ventures and company restructurings.
Over the years she has advised Infinity on a number of deals.
Anna's arrival follows the appointment last year of another director, Paul Wogan, who joined in a business development role.
Infinity, which is led by partners Daniel Finestein, Sarah Butler and Phil Vickers, provides fund management and corporate advisory services across the UK and internationally.
It specialises in the formation, management and operation of investment funds throughout their lifecycle through to exit.
Infinity creates and manages funds for clients utilising its FCA regulatory umbrella service, which offers prospective fund managers a faster route to market.
It also manages its own funds, including ones focused on private equity and property.
Managing partner Daniel said: "We've worked with Anna on a number of deals in the past and her experience and approach fits in very well with our team and our vision.
"Her legal background brings a fresh perspective to the services we offer, working alongside our external advisers."
Anna said: "I know the Infinity team well, having advised on a range of transactions over several years, so I jumped at the chance to join the firm when the opportunity arose."