People on the Move: Big Partnership; Galliford Try Partnerships; Big Cloud; Powell Williams; MSB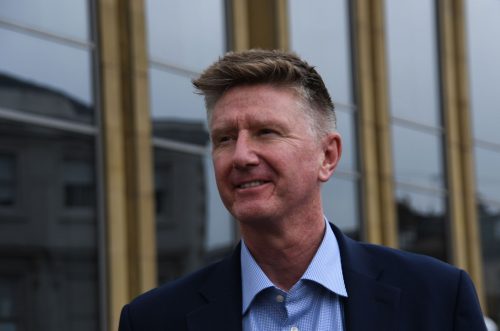 Marketing and communications agency, Big Partnership, which has a Manchester operation, has appointed the former chief commercial officer at Telegraph Media Group as its first chief executive.
Steve McLaughlin (55) who was responsible for TMG's digital strategy, subscription programme and syndication, has also held senior management roles at the Daily Mail, Trinity Mirror, ICS Learn and Scottish Radio Holdings.
He joins Big from Dubai-based Gulf Sports Media, a digital and print content business, where he trebled digital revenues during a three-year spell as chief executive.
Founding director Neil Gibson said: "With turnover this year of around £10m, our highest-ever, we're ready to take the next step forward in Big's evolution and Steve's appointment will play a major role in further accelerating our expansion.
"He has a superb, sustained pedigree of driving business growth, with a specific focus on digital performance, as his track record in his last two leadership roles with Gulf Sports Media and ICS Learn amply demonstrates.
"We had over 260 applications for the role, and interviewed several extremely strong contenders, but Steve was the outstanding candidate and the unanimous choice of the board.
"Working with our senior team, he will play a pivotal role in accelerating the strong growth we've seen in recent years, with a particular emphasis on further integrating our content, digital and design offerings for our clients' benefit."
Steve McLaughlin said: "I'm hugely excited to be coming back to the UK to work with such a well-regarded agency at a really exciting period in its growth.
"I know from many people within my own network that Big has a hard-earned and justified reputation as a firm which really delivers for its clients. It's clear that the team is ambitious for further growth and I'm looking forward to playing my part in the years ahead."
McLaughlin's appointment follows a number of recent senior hires at Big, with content director Stephen Noble joining from Equator and the arrival of former Multiply creative director Steve Hill.
With 120 staff and 350 clients, Big Partnership operates from offices in Glasgow, Edinburgh, Aberdeen and Manchester.
::
Regeneration specialist Galliford Try Partnerships has added six new recruits to its North West team.
The appointments take up varying roles to bolster the organisation's offering across the region.
They include David Rogers who has joined as a quantity surveyor. David, previously at Abercorn Construction, is the latest addition to the commercial team. He will focus on Watling Street, Northwich, where Galliford Try Partnerships is developing 70 new apartments for the over-55s, in partnership with Cheshire West and Chester Council.
David Yates brings 35 years of commercial experience to Galliford Try Partnerships. He takes up the role of managing quantity surveyor and joins from Avant Homes.
Two more quantity surveyors – Helen Nevins-Batty and Jonathan Hunt – have also recently been recruited.
Helen arrives from Beaumont Morgan and will be working predominantly on sheltered housing scheme QEII Court, Fenton.
Joining Helen is Jonathan, who will focus on Waters Edge, Droylsden and Grace Gardens, Gorton, where Galliford Try Partnerships is building 62 family homes for market sale in partnership with Great Places Housing Group.
Phil Rees, who previously worked at Keepmoat, joins the technical team as a design co-ordinator. With a wealth of experience within the construction industry, Phil is assigned to some of the exciting developments taking place across Stoke, Manchester and Northwich.
The organisation's final appointment is Mike Grindrod, who will be its new services co-ordinator. Mike, who joins from Redrow Homes, will ensure timely installation of mains and services on all Galliford Try Partnerships schemes.
Brendan Blythe, Galliford Try Partnerships regional managing director, said: "We are delighted to welcome our six new employees following a significant period of growth.
"They bring with them a wealth of skills, experience and talent which will enable Galliford Try Partnerships to further deliver success for our partners."
::
The Big Cloud team has now reached 20, with five new starters joining them this year.
The team are happy to welcome head of executive search Andrew McLoughlin who will be bringing more than 10 years' experience to work on executive search across the USA.
He is joined by recruiter Liam Hopkins who will work with candidates in data science, machine learning and deep learning across the US. Also joining the US team is technical recruiter Leilah Ruan, with a focus on the computer vision and deep learning market.
Carsten Jahn joins the Manchester firm's European team, who will be centering on the machine learning contract market in Germany following a successful history recruiting freelance software engineers in the region. He is joined by recruiter Elicia Hermitt, responsible for sourcing machine learning talent in Germany and the Netherlands.
The demand for data science and machine learning professionals is showing no sign of slowing down. Big Cloud have announced its latest expansion after reaping the rewards of such a hot market over the past five years.
Big Cloud is part of the growing digital scene in Manchester, with a well-established global reach.
"These are exciting times for Big Cloud," said founder and chief executive Matt Reaney.
"We can't wait to welcome more great people on board who are interested in working with global AI companies using tech for good."
::
National building consultancy Powell Williams has appointed health and safety expert Mark Slocombe as senior principal designer.
Based in the firm's Chester office, Mark will provide PD support to clients across the UK via the firm's network of regional branches.
Mark joins the business from Keelagher Okey Klein after 11 years in post, working directly with a broad spectrum of commercial property clients alongside health and local authorities, such as Halton Borough Council, Halton Hospital, and Liverpool Royal Hospital.
A highly-experienced health and safety professional, who also worked previously at Morgan Est, Simpson York, and Mears Group, Mark originally trained and worked as an oil rig medic and paramedic in the UK and overseas.
His arrival boosts Powell Williams' principal design team, headed by David Hollingsworth, allowing the firm to provide the crucial PD role alongside traditional project management, or independently, to clients.
Focusing entirely on health and safety management, Mark will support the project management and development monitoring teams, and provide PD as a stand alone service to new and existing developer, fund manager and operator clients.
He said: "The role exists to ensure that each of the stakeholders complies with their responsibilities towards health and safety on both new-build and refurbishment projects.
"I will be overseeing the whole health and safety process on behalf of our clients, giving them reassurance that the correct plans are implemented, and processes followed.
"We work alongside the contractor and designer to support their development of the pre-construction information which must be in place before work can start, to eliminate or mitigate risks.
"We continue to work with them throughout the project and have responsibility for collating the information for the health and safety operational and maintenance file upon completion. We can take on clients' duties as well as our own."
He added: "My previous career as a paramedic gives me great insight into the consequences of when health and safety regulations are not followed to the letter, something I often talk to site teams about. Those experiences were one of the reasons I came into health and safety management and underpin my total commitment to site safety."
David Hollingsworth said: "With more than 16 years' hands-on experience of health and safety management Mark is one of the region's foremost experts and will provide an invaluable asset for our clients. We welcome him to the practice and will be introducing him to projects across the North West and beyond."
::
Liverpool law firm MSB has appointed Emma Palmer to head its nationally-renowned family law department.
A partner at the firm since 2017, Emma brings considerable experience on all aspects of family law and offers particular expertise in the rapidly-expanding area of international family law.
A Resolution-accredited lawyer whose specialisms include child abduction, domestic abuse, forced marriage and honour based abuse, Emma is regularly praised by clients for her "direct yet sensitive" approach to work.
She has a global client base with clients instructing her on international matters in the High Court and is described in the Legal 500 directory as having "state-of-the-art knowledge of abduction, jurisdiction and relocation cases".
Emma's expertise extends to training other family lawyers, CAFCASS and charitable organisations on topics including child abduction, international divorce, forced marriage and honour-based abuse.
A member of the Law Society's Children Panel, she has a Masters Degree in Professional Legal Practice with her dissertation in human rights within family proceedings.
She follows in the footsteps of MSB's managing partner, Emma Carey, who was previously head of the family department and was responsible for building one of the most well-respected family teams in the North West.
"I'm immensely proud to have been appointed to head of family at MSB," said Emma Palmer.
"Emma Carey has established an award-winning department and I am privileged to lead a team of highly-motivated experts capable of serving our clients to an exceptional standard in what is a fast-changing area of the law."
She added: "I am excited for the future of MSB and relish the opportunity to lead the department on to even greater success"
Emma Carey said: "Emma joined us in 2007 and I feel fortunate and privileged to have watched her blossom. She is a fantastic lawyer who successfully combines dynamism with a genuine empathy for her clients – qualities that we value very highly at MSB.
"Our family law department has grown significantly in recent years and was boosted last year with the acquisition of family law specialist, Cheesman's. The team is now 45-strong.
"I have no doubt Emma's appointment will contribute to our continuing success.