Ancoats architects is now an employee ownership trust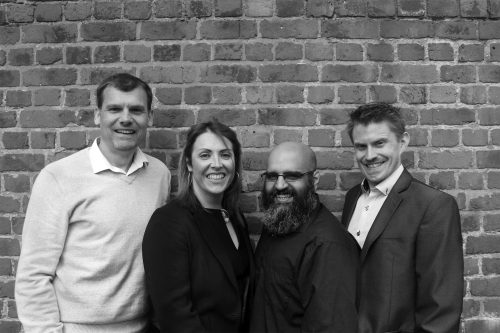 Ancoats based Triangle Architects has had a change of ownership with four directors taking the helm.
The takeover following a full transfer of share ownership from the founding directors into an Employee Ownership Trust.
The trust will ensure that all the staff will now own the practice collectively and will, in addition, provide a platform for them to engage with the board of directors on the running of the business and its performance.
It is an ownership model already well established within the architectural profession.
Set up in 1986 by co-founders, David Ward and Tim Wallbank, the RIBA-Chartered practice is now wholly owned by its staff, however the founding partners will remain on hand as trustee directors to offer support throughout the succession process.
The employee-owned business has a strong history within both the public and private sectors and of collaborating creatively with existing communities, stakeholders and bespoke client groups.
The business is supported by a new board of directors boasting collective experience in excess of 60 years, all of whom have already worked within the practice for much of their professional lives; Mark Trayhorn, Harry Randhawa, Barry Murphy and Alison Duxbury.
Prominent in the housing sector, Triangle's 2019 development pipeline is set to include more than 2,000 residential units for projects including Cheshire Junction in Warrington, Middlewood Plaza in Salford, Silbury Boulevard in Milton Keynes and Hattersley Central in Greater Manchester.
Barry Murphy said: "Our objective has always been to achieve effective, successful and sustainable design solutions that enhance the lives of the people we serve.  Central to achieving this ambition has been our commitment to creating a happy and fulfilling workplace for our staff.
"Fifteen per cent of the UK's top 100 architectural practices have adopted the employee ownership model, so it's a proven method of ownership within the sector and one we wholeheartedly believe will work for Triangle."
David Ward, founder trustee director, added: "The employee buyout continues our legacy of helping people to feel valued, understood and supported and we're tremendously excited to be a part of guiding Triangle's future success."
Deb Oxley OBE, chief executive of the Employee Ownership Association, concluded: "We congratulate Triangle Architects on its transition to employee ownership.
"By widening ownership of the business to its employees Triangle Architects is securing the future of the business, including its ethos, values and employees, while rooting itself locally for the longer term to the benefit of the communities which it serves."