5G network to be launched in Manchester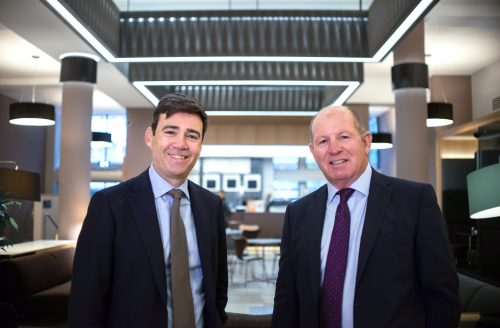 EE has today announced the launch of 5G in Manchester next Thursday, May 30, with new 5G plans, a range of six new 5G smartphones and devices.
Other launch cities include London, Cardiff, Edinburgh, Belfast, and Birmingham.
From today, consumers and businesses in Manchester can pre-order the new devices. EE is also announcing a 5GEE WiFi and 5GEE home broadband with pricing and availability to follow.
The new 5G Smart plans will give customers access to the UK's first 5G network, BT Sport HD HDR, and an exclusive Gamer's Data Pass with zero-rated data, as well as the chance to upgrade anytime, and get a device warranty for the duration of their contract.
Mayor of Greater Manchester, Andy Burnham, said: "Our ambition is to become the UK's leading digital city region with the best connectivity and the fastest speeds.
"5G is key to us achieving that aim.
"Businesses and citizens are connecting more and more these days, particularly to help drive change, and we need the best possible technology to support this connectivity."
He added: "5G will help us to make Greater Manchester a great place to live, connecting all our communities and building a strong digital infrastructure to attract bright young talent to our city."
Marc Allera, chief executive of BT's consumer division, said: "This is the start of the UK's 5G journey and great news for our customers that want and need the best connections.
"We've started with 5G in some of the busiest parts of the UK, the widest range of 5G devices in the UK, and plans that give customers the best mobile connection and great benefits.
"We're adding 5G to the UK's number one 4G network to increase reliability, increase speeds, and keep our customers connected where they need it most. 5G will create new experiences with augmented reality, make our customers' lives easier, and help launch entirely new businesses that we haven't even imagined.
"We're upgrading more than 100 sites to 5G every month from today to connect more places to what 5G can enable."
He said: "Our partnerships with Google and Niantic are just the start of our commitment to work with the most innovative and exciting companies in the world to ensure that EE customers are the first to benefit from the exciting new experiences that 5G will bring."
EE expects customers in Manchester to experience an increase in speeds of around 100-150Mbps even in the busiest areas.
Some customers will break the one gigabit-per-second milestone on their 5G smartphones. The fastest speed possible when EE launched 4G in 2012 was just 50Mbps.
In addition to the six launch cities, in 2019 EE will also be introducing 5G across the busiest parts of Bristol, Coventry, Glasgow, Hull, Leeds, Leicester, Liverpool, Newcastle, Nottingham and Sheffield.
And in 2020, even more towns and cities will get 5G sites.
5G is built on top of EE's 4G network – customers will connect to both 4G and 5G at the same time to get the best possible experience, even in the most crowded areas.
As well as upgrading more than 100 sites to 5G every month, EE is expanding 4G coverage into rural areas, and adding more capacity to 4G sites by turning 3G signal into 4G to enable more spectrum for a better network experience wherever EE customers go.