People on the Move: St Helens Chamber; Hotfoot; Simpson Millar; TLT; Freeths; Catalyst Business Finance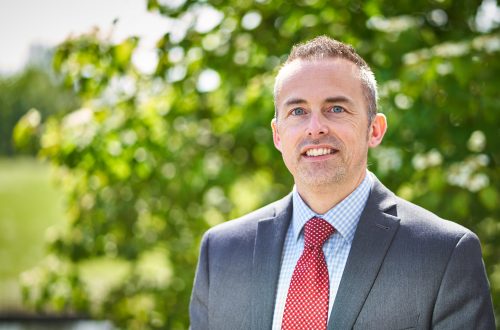 St Helens Chamber has welcomed John Westhead, their new director of training services, to their senior management team.
Highly experienced in the world of training, John joins the chamber after 11 years in senior training positions in Lancashire.
He is now relishing the opportunity to bring his expertise to St Helens and support many more local people and businesses invest in their futures through training.
John said: "I'm very excited to join such a high-performing training provider and get involved with the wide provision of training on offer at St Helens Chamber, whether this is our free courses to help job seekers find their next opportunity, programmes for young people at the very start of their working lives, or advanced and higher level Apprenticeship training for experienced business professionals."
John began his career working in engineering and manufacturing firms and has also worked in a number of public and private sector organisations, so understands the pressures businesses face.
Having gone down the vocational training route himself, he is passionate and committed to highlighting the benefits of Apprenticeships to businesses in the region.
He wants to ensure that St Helens Chamber continues to help people to realise their ambitions and create the highest calibre of talent for local employers.
He added: "The last couple of years have been very turbulent times for training providers, since the 2017 Apprenticeship reforms. Only the best performing providers like St Helens Chamber have weathered this storm well, however there are still challenges ahead as work continues to meet the Government's ambitions for Apprenticeships.
"I am excited to be able to help St Helens Chamber meet these challenges and become even stronger in the years ahead."
Kath Boullen, chamber chief executive, said: "St Helens Chamber has a proud and long history of delivering high quality training to businesses and people across a wide range of sectors and occupations.
"We have recently made a significant investment in our new digital training centre, Clickworks, supported by partner funding and the Liverpool City Region Combined Authority.
"Now is the right time to take our services to the next level, and John has the experience, capability and ideas to do that. I am delighted to welcome him to the team."
::
Multi award-winning creative agency Hotfoot Design has appointed Henry Gummett as senior designer to further strengthen its team.
Henry brings almost a decade of agency and in-house experience to the Lancaster agency, having worked on brands such as Amazon and Sage, as well as more recently at Wax Lyrical, the UK's largest home fragrance company.
Trained as a graphic designer at Northumbria University, Henry has a wealth of skills including branding, editorial design, packaging, website design and motion graphics.
The new appointment takes Hotfoot's team to more than 16 creative specialists working across a variety of sectors, including hospitality and leisure, public and third sector, luxury retail, B2B and tech.
Charlie Haywood, founder and creative director at Hotfoot Design, said: "We're excited for Henry to join our team of experts.
"We always look to appoint people who match our drive to bring outstanding creativity and strategic understanding to every client project. Henry fits that bill and will further strengthen what our fantastic team has to offer."
The design team has been further bolstered this month, with designer Emily Fell now taking on a full time role at the agency.
Hotfoot is celebrating a brilliant start to 2019 having been appointed by Thwaites to refresh the brand identity and website for its iconic Blackpool showbar Funny Girls, and by Lakeland Arts as a design partner for Windermere Jetty. Hotfoot also won Creative Business of the Year Award at this year's Red Rose Awards.
The agency's current client roster includes Lancaster University, Breathing Space, Lancaster Brewery, and Leonard Dews.
::
Simpson Millar has revealed Sarah Ryan as the new head of its private practice area in a move that also sees her join the law firm's senior management team.
The private practice area includes the wills, trusts and probate team, as well as the Court of Protection, commercial property, conveyancing, dispute resolution, employment and family law departments.
Sarah, who joined the rapidly-expanding national firm earlier this year as partner and national head of conveyancing, will now take on responsibility for overseeing the wider private client offering – the latest move in its five-year, £50m growth strategy, which includes significant investment in its people, technology and marketing.
Boasting 20 years' conveyancing and management experience, she will continue to lead the firm's 43-strong conveyancing division – operating across the firm's Liverpool, Manchester, Kingston-Upon-Thames, Southport and Lancaster offices – while also taking an active role in the strategic direction of the business as a whole.
Formerly chief executive for a leading firm in Chester, as well as head of conveyancing and regional head of probate operations Co-operative Legal Services, Sarah is one of a number of recent senior appointments for Simpson Millar which has recruited a new director of HR and a new national head of personal injury and clinical negligence in the past 12 months.
Earlier this year the firm also announced plans to expand its team by nearly 20% by the end of 2019, filling an initial 47 new roles in the North West as part of a wider recruitment drive across the country which will create almost 100 new positions.
It has now also introduced its open proposition which is dedicated to providing access to legal services which meet the needs of clients, while managing often complex legal issues in a simple, open way.
Greg Cox, Simpson Millar's CEO, said: "We are keen to continue to grow, develop our teams and add talent in order to offer an unrivalled service and deliver on our ambitions to be recognised as forward thinking, open lawyers.
"Sarah has an excellent track record in the strategic management of a private client division – both here at Simpson Millar, and in previous roles – and her contribution to growing that division, and the firm as a whole, will be most valued.
"We are also delighted to be welcoming her onto the senior management team."
The investment growth strategy, which follows a review last year by the firm's owner Doorway and the management team at Simpson Millar, is intended to capitalise on the opportunities in the consumer legal market driven through continued regulatory reform, cost pressures and changing client demands.
::
Following TLT's appointment to the Insolvency Service's £16m legal panel early this year, the firm has announced the appointment of Claire Graham, insolvency and disputes lawyer, as partner in its growing Manchester office.
Graham, who joins from DWF, will jointly manage the Insolvency Service relationship with former colleague and past President of Manchester Law Society, Jon Hainey, who moved to TLT as partner from DWF in May 2018.
Graham specialises in dispute resolution with considerable experience in dealing with disputes involving insolvency issues, fraud, public interest litigation and company law. The appointment further strengthens TLT's UK-wide restructuring and insolvency team and specialist UK-wide public sector team.
Graeme Orchison, partner and location head for TLT in Manchester, said: "Claire's appointment reflects the continued success and growth of TLT in Manchester and our commitment to investing in our people and our clients to deliver exceptional legal services.
"Claire brings a wealth of experience to the team and we are pleased to have her on board."
Jon Hainey, partner at TLT, said: "We are delighted that Claire has joined our restructuring and insolvency team and I am pleased to once again be working alongside her as we support the Insolvency Service through its new legal panel.
"Winning the contract with the Insolvency Service strengthens our long-standing relationship with them and provides us with an excellent platform for further investment in our UK-wide restructuring and public sector teams, particularly in Manchester where we have built a strong reputation in the market and will be looking to expand the team further this year."
Claire Graham said: "I'm delighted to be joining TLT's leading team, especially in a period of such exciting growth. I'm looking forward to working with Jon again to manage the firm's key contract with the Insolvency Service and helping to achieve the firm's significant ambitions in Manchester."
::
National law firm, Freeths, has announced that Chris Ali has been promoted to partner.
Chris joined Freeths in 2009 as a solicitor and has played a pivotal role in helping grow the Manchester office.
He specialises in all aspects of transactional restructuring and insolvency and has been recognised as a 'Recommended Lawyer' in the 2018 and 2019 editions of The UK Legal 500.
Chris deals with a wide range of non-contentious issues on behalf of company directors, accountants, insolvency practitioners, debtors, creditors and financial institutions.
In addition, Chris has developed a strong practice advising clients on the real estate issues arising from and surrounding insolvent estates.
Chris said: "Being invited to join the partnership is a huge source of personal pride.
"It represents the latest step in a highly-rewarding professional journey with one of the country's most progressive national law firms. I look forward to playing a greater role than ever in contributing to Freeths' continued growth and success."
Joey Byrne, national head of insolvency and restructuring, said: "This is a great achievement, Chris has played a key role in helping grow the insolvency offering in Manchester, which has seen a significant number of new client wins over the last 12 months, this recognises his hard work and commitment to the firm."
John May, managing partner for the Manchester, Leeds and Sheffield offices, said: "We are delighted to announce the promotion of Chris to partner, he has played a pivotal role in helping grow the Manchester office, Chris has a wealth of experience in insolvency and restructuring and he is a great asset to the firm, on behalf of us all at Freeths, we congratulate him."
::
Martine Catton has been appointed as chief executive of Manchester-based specialist short term financier Catalyst Business Finance.
She has been with the business since 2015 and in 2017 was appointed as a board director. Prior to joining Catalyst, Martine held several senior positions at Aldermore Bank, Hitachi Capital and Barclays Bank.
She will be appointed as CEO with immediate effect and will be working alongside the board to continue to fulfil the growth aspirations of the business. Stuart Fraser, who was CEO, has been appointed as chairman.
Ms Catton said: "I'm delighted to be chosen to lead Catalyst Business Finance.
"We've experienced an exceptional 12 months in the business. We hit, and have since surpassed, the £500m funding milestone, and experienced one our most successful trading years since the business started in 2012.
"I am honoured to work with an exceptional team that are delivering today whilst we continue building for tomorrow."
She added: "We have a huge opportunity to further build the business. One of our major focuses for the immediate future is the acceleration of our ability to create operational efficiencies.
"This will allow us to improve our service and help bring new and innovative products to both our clients and introducers."