Law firm celebrates a decade of work in Manchester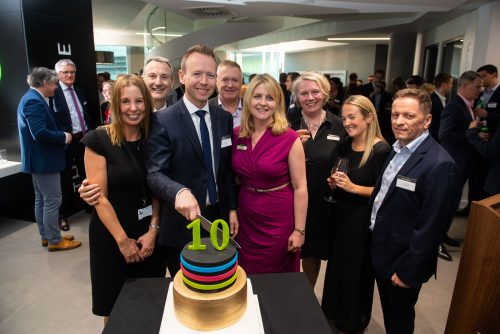 Law firm Shoosmiths has been celebrating 10 years of work in Manchester this month.
The anniversary was marked with a special event at the firm's XYZ office in Spinningfields.
Over the last decade the office's income has grown from £1m to £20m in the last financial year.
In the last decade Shoosmiths has advised on some of the most high-profile real estate deals that have transformed Manchester's skyline, including the £200m sale of Allied London's No 1 Spinningfields development in 2017, the £300m funding partnership between Allied London and Aviva Investors to create Enterprise City and several high profile acquisitions for Select Property Group including Circle Square at the former BBC site on Oxford Road and Vita Student on First Street.
Shoosmiths also advised Renaker on key developments including the sale of Exchange Court, Greengate and the next phase of Great Jackson Street, the huge development set to change the skyline of Manchester.
The firm's active corporate team has advised on major deals, such as advising Altrincham based Matillion, a fast-growing provider of disruptive cloud-based integration software, on its Series B fundraise of $20m from Silicon Valley, the £60m sale of North West-based specialist motorbike insurer Carole Nash and AIM-listed financial services provider ThinkSmart's sale of 90% of ClearPay Finance in Old Trafford to Australian giant Afterpay Touch Group.
Commercial team highlights include advising four of the big mobile phone telecoms providers on the roll out of revolutionary new handset propositions, positioning Shoosmiths as market leaders in the space.
The firm first opened office in Manchester in 2009 with a team of 27 employees, moving into Allied London's 3 Hardman Street development and taking 10,000 sq. ft of space.
The office expanded rapidly during this time, meaning that new and larger premises were necessary to support the firm's growth over the next few years.
After a series of temporary moves, in 2017, the Manchester team moved into its current home at The XYZ Building in Spinningfields.
Shoosmiths' award-winning Manchester office occupies 32,000 sq. ft. of workspace at XYZ and is designed to promote an agile working environment and workstyle for employees.
Head of office at Shoosmiths Manchester, Wayne Nash, believes the firm's success over the last ten years can largely be attributed to the firm's people-centred culture.
He said: "It comes down to our core values. Our business is about working with people and it always will be and building strong relationships that place people first has been instilled in the foundations of our Manchester team since the very beginning.
"When we moved to XYZ in 2017, we really broke the mould in terms of law firms. It gave us the opportunity to do something that hadn't been seen before in the legal sector, where the building itself positively contributes to our business and way of working. The environment that we've created brings out the best in people and makes people want to be here.
"If people are happy in work and they feel engaged, motivated and energised, then they're going to want to do well.  And if they do well, the clients are happy, so it's a virtuous circle and it all comes back to the people-first culture."
Shoosmiths Manchester now employs 212 people, including 32 partners – 14 of whom are women (44%). The office is home to the largest legal real estate team in Manchester and operates leading corporate and commercial practices.
The office has been widely recognised for its achievements over the last decade, winning 'Law Firm of the Year' at the Manchester Legal Awards in 2017 and more recently being crowned the 'Legal Team of the Year' at the Estate Gazette awards.
Wayne added: "We're incredibly proud to be celebrating 10 years in business in Manchester. The pace of development taking place across the city is astonishing and we're honoured to have played a role in securing some of the major deals that acted as a catalyst for this transformation.
"It's been an incredibly exciting journey so far and looking ahead to the next decade we will continue our ambitious growth plans, particularly in our corporate and commercial divisions, delivering a superb client experience until we are the No.1 law firm across every division in Manchester."