People on the Move: Suresite Group; BDO; Northcoders; Forbes; Glorious Creative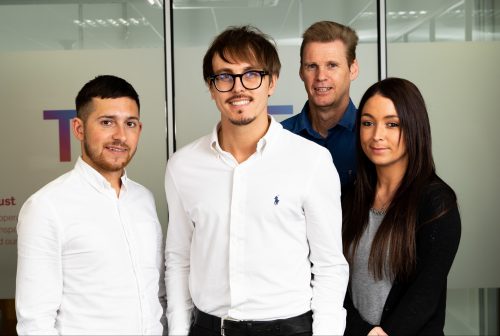 Retail services company Suresite Group has welcomed four new starters.
Matthew Bass, Joel Reynolds and Oliver Wintle have joined the Preston firm as regional sales executives, while Kerry Sabin has been appointed to the role of direct sales representative.
All four will be selling across Suresite Group's product portfolio, which includes card payment processing, training, wetstock management and H&S auditing.
Matthew was previously business development manager with Handepay merchant services. Before that, he spent 25 years in banking, most recently at Santander.
Joel comes from a big brand background, most recently working for Coca Cola and Brabantia, where he was a key account manager.
Oliver joins from merchant services company Payzone, where he was a card payment specialist and named the company's top sales person.
And Kerry brings 14 years of direct sales and customer service experience, having spent time with broker Ideal4Finance and finance specialist call centre NCO Europe.
Keith Bevan, chief business development officer, said: "Kerry, Matthew, Oliver and Joel will play key roles in selling across our product range and we are very excited to bring them into our company."
::
Accountancy and business advisory firm, BDO, has welcomed a senior hire to its Manchester team, appointing Liam O'Doherty as tax partner.
An experienced director, O'Doherty joins BDO following 25 years at PwC where he held a series of senior positions, most recently as tax director, leading property and construction in the North.
He brings vast experience to his new role, having advised a wide range of businesses in a variety of sectors, from institutions, private equity funds and private investors, through to local authorities, housing associations and national housebuilders.
He said: "I'm looking forward to working with BDO's talented – and growing – North West team, utilising my experience to ensure that clients continue to receive the highest quality advice from the firm's specialists."
Ed Dwan, partner and head of the North West at BDO, said: "Liam will be an invaluable addition to our team as it continues to grow, contributing substantial, multi-sector expertise to advise clients as they navigate complex challenges and achieve their goals."
In February this year BDO announced its merger with Moore Stephens, making it the UK's number one accountancy and advisory firm focused on entrepreneurially-spirited mid-sized businesses. Since the start of 2019 the firm has appointed nine new partners spanning the business' London and regional offices.
::
Coding bootcamp Northcoders has added four new members of staff to its teaching team at its campuses in Manchester (Federation House) and Leeds (Platform).
The new recruits are Shaq Hobbs-Daley, Isabel Maccabee, Nicola Derrick and David Bartlett.
All four are qualified coders and will be responsible for delivering Northcoders' curriculum, mentoring students on a group and one-to-one basis, as well as researching and staying abreast of industry news, technology trends and changes in tech.
Prior to joining Northcoders, Shaq worked in the technology recruitment sector after studying for a Material Science and Engineering degree at Manchester University, whilst Isabel previously worked as an assistant project manager for a translations company in London. She holds a degree in Linguistics
David is a graduate of Leeds University after completing his Masters in Physics, and Nicola studied Architectural Engineering – again at Leeds University – after which she travelled for a couple of years before working in retail management in both Australia and New Zealand.
Nicola said: "I loved my time at Northcoders and didn't want to leave so I was thrilled when I was offered the chance to join the teaching team. My focus is now on helping to expand the Northcoders community and to develop the best new tech talent."
Shaq added: "I'm really excited about this new phase of my career as I've always had a passion for teaching. I'm looking forward to sharing my expertise and helping others to gain a strong understanding of coding."
Northcoders founder, Chris Hill, said: "As a business, we want to offer the very best standards of teaching possible. Shaq, Isabel, David and Nicola are fantastic coders but also have empathy and patience which are key attributes that we need in our teaching staff. We are delighted they are now part of the Northcoders team."
Over the past few months Northcoders has opened a brand new campus in Leeds, was selected as one of the country's brightest tech stars in Creative England's CE50 list, and was named Business of the Year at the 15th Annual Chamber Business Awards.
::
Legal firm Forbes Solicitors has appointed Jennifer Ross as an associate in its conveyancing department.
Jennifer, who is based in the Blackburn office, is a lawyer who has qualified as a Fellow of the Chartered Institute of Legal Executives in 2003, having worked in the legal sector since 1995.
She advises clients on residential property matters, whether they are moving home, remortgaging or transferring the legal title from one person to another.
Jennifer also specialises in more complex areas of property law, including leasehold flat extensions, purchase of freeholds, private mortgages and deeds of rectification.
Jennifer, who first worked for Forbes between 1995 and 2000, said: "I am delighted to be rejoining Forbes and a great team, which has a reputation for high quality work across the full range of property matters."
Michelle Thompson, partner in conveyancing at Forbes, said: Jennifer has considerable expertise in residential property and I am delighted to welcome her to our team."
::
Manchester-based branding agency Glorious Creative continues to expand the team at its Northern Quarter offices following a number of recent client wins.
Marketing and PR director Dalia Jaffar has joined the team at Stevenson Square and will spearhead the company's ambitious growth plans.
Her appointment follows the departure of long-standing new business director Jeff Edis who retires from agency life, and the arrival last year of creative design director Grant Mitchell who is leading the agency's property and healthcare arm, having worked with companies including Cole Waterhouse, Bruntwood, and Colliers, Kingston Hospital NHS Foundation Trust, and Greater Manchester Health and Social Care Partnership.
The eight-strong agency was established in 2002 by Mark Ross and Tom Shaughnessy and has built a reputation for delivering award-winning creative services to established companies and start-ups in property, food and beverage, healthcare, arts and technology sectors.
Mark Ross said: "Dalia joins us at a really exciting time and brings a wealth of expertise in digital and marketing strategy to the team.
"We have a wonderful mix of clients and are delivering work nationally and internationally. We've also undergone our own brand re-positioning exercise and have made a significant investment into our marketing. It's something that agencies often overlook for themselves, but we recognise is fundamental to our growth strategy."
"Our focus is to make sure we help businesses to really stand out and nowhere is that more evident than in the work Grant has being doing in the property and healthcare sectors which are rapidly growing areas of our business.
"He is a specialist in creating meaningful and outcome-driven branding for companies and with Dalia's support we will continue to work with bold, forward-thinking companies."