Fourth Industrial Revolution: Pace of change continues to accelerate

Throughout the week TheBusinessDesk.com is running a series of articles focussing on the Fourth Industrial Revolution.
Today we interview key people from the Liverpool LCR4.0 project.
The pace of change continues to accelerate and Liverpool's ground-breaking LCR4.0 initiative is driving the city region's ambitions to be the UK centre for digital manufacturing.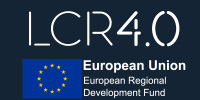 LCR 4.0 was created to help SMEs understand the business benefits of implementing advanced technologies and digitalisation and to help them identify the skills they will need for future success.
Anthony Walker, LJMU strategic manager for LCR 4.0, says the programme will have helped 300 businesses take on the challenges of 'Industry 4.0' when it ends in September.
And as a result more than 100 jobs will have been created. It is a strong legacy
The LCR4.0 team works to aid SMEs in finding the opportunities to exploit such things as the rise of automation and AI, the advance of the 'Internet of Things' and the power of data exchange.
Antony Walker says: "We have made an impact. The key is working to demonstrate thevalue of Industry 4.0, to show businesses that it is not necessarily a huge expense to them. It could be something as simple as fitting two £60 sensors on a machine.
"It's showing them how they can use the information they get from that in a smarter way to make informed decisions.
"We are here to help SMEs to increase productivity and de-risk innovation by supporting the development of smarter products, processes and supply chains through the adoption of these technological advances."
As well as tech support, businesses who take advantage of LCR4.0 can also plug into its business support. It helps with grants and funding, IP issues and the commercialisation of products.
Collaboration is key
Ensuring training and education is matching the demands of the revolution taking place in advanced manufacturing will be vital if the UK is to be successful in the brave new world.
The worlds of industry and academia are coming together to meet that challenge. Dr Steve Jones is leading the development of engineering giant Siemen's national 'Connected Curriculum' initiative.
The aim is to merge Siemens' latest Industry 4.0 practices and technologies into learning materials for the Higher Education sector.
Institutions will be given the freedom to share and tailor industry tools, resources, and course materials to their teaching style.
The initiative will bring industrial hardware and software together into an off-the-shelf bundle that includes simulation environments, curriculum examples, case studies, and real-life problem-solving tutorials.
Dr Jones says: "It provides a once-in-a-generation opportunity for academia and industry to work together. The value for both is massive. We are working on things that are truly cutting edge."
He also led LJMU's Advanced Manufacturing and Automation Catalyst Project in collaboration with the Manufacturing Technology Centre in Coventry.
Collaboration has been at the heart of this project, speeding up the transfer of knowledge and skills from cutting edge Industry 4.0 technologies into "blended course content" accessible by employees across the UK manufacturing sector.
Dr Jones says it is about creating courses that are truly "industry relevant" in a quickly changing and evolving landscape. "We're getting on the front foot," he adds.
Engineering change
Promoting engineering careers to more women and girls is vital if the industry is to tackle its skills crisis and take full advantage of Industry 4.0 – but just 12 per cent of the sector's workers are women.
Sara Rioux, head of operations at LJMU, is working to help address that worrying gender imbalance.
Her focus is on STEM engagement, inspiring new talent and women in engineering.
Through reaching out to local schools in the area, Rioux is looking to break down barriers which are preventing young girls from taking on STEM subjects and look to a career in the sector.
That includes working with the Liverpool 'Girl Geeks' group to provide encouragement and support for young women who are taking technology-based subjects.
Educating teachers about STEM and the possibilities the subjects can unlock is another initiative the university has embarked on.
Rioux says it is about giving girls' confidence and showing them how the skills they can gain can set them up in the future. Female role models also play a part in the process.
The work starts at primary school level and the mother of two young girls says: "I think we are making progress. It is about building relationships with the schools.
"We look to put people in front of the girls that they can relate to; people close to their age who can talk enthusiastically about the subjects.
"When it comes to teachers, they are interest in how they can advise their students in terms of careers."
Innovation through collaboration
Andrew Ross sums up the advantages of Knowledge Transfer Partnerships. "They are great vehicles to get companies and universities to work together without barriers," he explains.
Put simply KTPs as they are known look to transfer knowledge from universities into industry and society to accelerate innovation across diverse sectors. Government-backed, they have been operating under various guises for more than 40 years.
LJMU has a strong track record of KTP delivery and is seeing increasing interest from businesses looking to take advantage of the university's expertise in areas ranging from digital technology to the built environment.
Dr Ross, from the School of the Built Environment, is a strong champion of the power of KTPs and the results they get.
He says: "They have to be about innovation and the company has to commit to the investment that is required from them. They are relevant and flexible and businesses that get involved in the process can see the return on investment."
Dr Ross says KTPs increasingly have an Industry 4.0 feel to them. Recent KTP projects the university has been working on include a manufacturing company looking to make the most of the data that 3D printing and design machines produce.
Working with the university's digital and manufacturing systems experts, the work looked at the creation of an integrated system that could use the data to optimise production.
Another KTP centred round the built environment has been working on the creation of energy monitoring services in buildings and the commercial possibilities that could bring.