TRP appointed to £15m Wirral Waters care home plan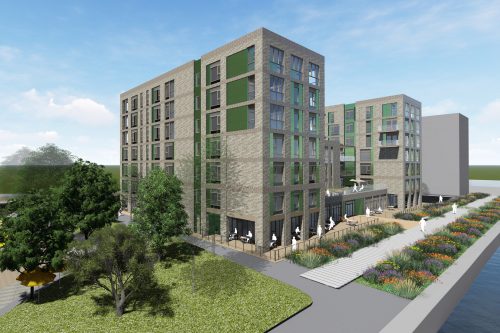 Structural engineering specialist TRP Consulting has been appointed to help create a state-of-the-art care village as part of the large-scale Wirral Waters regeneration masterplan.
The £15m development will help to establish a new city neighbourhood – a key part of the Peel L&P redevelopment of the 500-acre site, which sits on the banks of the Mersey.
The village is being developed by care provider Belong and is the latest in a series of projects TRP's team has been involved in for the not-for-profit specialist dementia care provider, which is based in Nantwich, Cheshire.
TRP Consulting, which is headquartered in Manchester, specialises in providing civil, structural and environmental engineering consultancy services.
Its highly-experienced structural engineers have a strong track record of delivery on large complex building works.
Once open, Belong Wirral, which will be part of the development of East Float Docks, will be the 11th village in the organisation's portfolio and will provide class-leading dementia care and accommodation for more than 100 people.
It will offer a mix of 24-hour care and nursing support in extended family-sized households and independent living apartments.
At the heart of the new six-storey development will be a range of village centre amenities which will be open to the public, including bistro, specialist gym, hair salon and a range of function rooms.
The village will also support people in the wider community through its registered domiciliary care service, Belong at Home, and its specialist day care service, Experience Days.
The development, which has been given the go-ahead by Wirral planners, has been designed Altrincham-based Pozzoni, specialists in architecture for older people.
TRP Consulting director Geoff Wilks said: "The Belong Village is one of the first projects to come forward out of Peel's ambitious Wirral Waters masterplan and it will help to create a vibrant new community as part of the wider regeneration of the area.
"We have a long and successful relationship with Belong, working on state-of-the-art care facilities and accommodation in communities across the UK, and we are looking forward to helping deliver this latest village on what is a stand out regeneration project."
He added: "The care and health sector is a strong growth area for us. We've seen a steady increase in work over the past few years as the need for high-quality care services and accommodation for older people continues to rise."
Belong chief executive, Tracey Stakes, said: "Wirral Waters is an ambitious, landmark regeneration project, and as innovators in the field of dementia care, Belong will create a thriving and vibrant community within it, offering much-needed provision for later life in the area.
"We will also be creating over 140 jobs in the local economy as a consequence of our new development."
Peel L&P is working in partnership with Belong to see the development through to fruition.
Richard Mawdsley, Peel L&P director of development, said: "We are really pleased that this development has now been approved by Wirral Council's planning committee.
"With an ageing population this residential project will be a crucial part of our housing offer at Wirral Waters and will help to create a thriving and diverse community.
"Belong offers an incredibly vibrant, dynamic and versatile setting for residents to enjoy, whatever their needs or abilities, and we are really excited to be working in partnership with them on this project."
Belong currently operates villages in Atherton, Wigan, Warrington, Macclesfield, Crewe, Manchester and Newcastle-under-Lyme, with more under construction or planning phases in Chester, Birkdale and Beeston, Nottingham.
TRP Consulting, which is based in Manchester's Northern Quarter and has an office in Preston, has worked on Belong projects in Chester, Birkdale and Warrington.
The practice has carried out work on building and design projects for companies and organisations in sectors ranging from sport and leisure to advanced manufacturing, aerospace and the health service.
It provides a full range of civil, structural and environmental engineering consultancy services, providing a broad knowledge base and promoting a proactive approach to project delivery.
TRP was established in November 2000 and has demonstrated the ability to deliver high quality consultancy services on major projects in both the public and private sectors.