Industry 4.0: We have barely scratched the surface

As part of our week-long focus on the Fourth Industrial Revolution Anthony Walker from LCR4.0 gives his views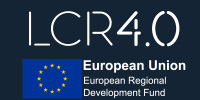 What have you learned over the course of LCR 4.0?
We have learned a huge amount over the past 3 years since the inception of LCR 4.0. We know Industry 4.0 means different things to different organisations, and although it initially needed a badge to give it an identity, for me, it doesn't matter what we call it…it is about a company increasing productivity and improving competitiveness by developing products, processes or services that are 'smarter'.
This could be through the better use of data to make more informed decisions, ultimately improving process efficiency or adopting new technology such as additive manufacturing for spare parts and embracing more flexible manufacturing processes to reduce waste. The key is it depends on where a company is on their digital journey, and we feel through LCR 4.0, we have helped SMEs to accelerate this journey and move them along their digital ladder in terms of tangible impact, hoping this a platform for further economic growth. This is just the start though…and continued support is required if we are to truly embrace the benefits of digital technology.
Furthermore, we know the adoption of new technology can lessen the burden of activities that are crucial for a business, but often considered laborious, and this enables leadership teams to develop a more innovative mindset rather than firefighting the day to day issues faced by most SMEs.
My take-away from LCR 4.0? Technology and skills are interlinked and are the two main challenges that will face an SME when considering how to adopt Industry 4.0 to benefit their business. These are not mutually exclusive, technology is rapidly advancing and we need to ensure the workforce of the future – whether that be new graduates or the wider talent pool – have the required skills and attitude to lead the UK into the 4th Industrial Revolution. I am confident this will be the case, and I have said this before…the time for talking is over and the time for action is now.
What are the main changes you've seen?
The main change I have seen is probably that there are a larger number of SMEs who want to become more digital but don't know where to start. On one hand this is refreshing as one thing that has become apparent is that leadership teams need to show ambition to drive a company through a period of change without being scared of it. Industry 4.0 is a journey that can involve the whole workforce, and communication as to why this is happening will certainly help a company embrace this.
I also believe that collaboration is one of the key elements that is required to help the UK 'win', or at least get on the podium, when the results of Industry 4.0 champions are eventually announced. We need to work together…Industry, Research Organisations, Universities, Colleges, Schools to ensure we not only develop, demonstrate and implement new technology, but also develop the next generation of the workforce. This cannot start during a degree, we need to inspire and show younger scholars that engineering and technology is exciting and we want passionate technologists coming through the educations system. We then have a responsibility within FE and HEI to ensure these people gain the vocational and practical skills to be the next generation of independent thinkers and problem solvers – qualities that will be essential in the workforce in 10 years time.
What are three key steps companies can take?
SMEs make up 99% of the manufacturing sector and there are 2,640 manufacturing SMEs in Liverpool City Region alone. It is with this statistic in mind, that the focus of support must be on SMEs, and across the supply chain.
There isn't a rule book for adopting Industry 4.0, but there are a few things that can help a business realise the benefits. One of these is to see technology in action. At Liverpool John Moores University's Faculty of Engineering, we have developed an Industry(4) Innovation Zone, demonstrating technologies such as IoT, process automation, smart manufacturing processes and even developed a Meccano factory with robotics and sensors. The reality of this is we can now show these technologies in practice and SMEs can see these and start to visualise more clearly how this could lend itself to their own operations.
It is all very well for a company who may want to build a new factory, can simulate this, use AI and VR to augment their operations, but this takes time and money. So, what about a company who doesn't hold any data? Machines are 15 years old? Well start small, we demonstrate sensors that cost £50-£100 on legacy lathe's, providing real time information to a dashboard on a smart phone, providing information to move from reactive maintenance to predictive maintenance and reduce downtime. So, if you thought Industry 4.0 would cost too much and you wouldn't get a return on investment, my advice would be that there are small steps that can be taken that will help accelerate your digital journey.
Will Industry 4.0 ever come to an end and what does the future hold?
The one question that tends to repeat itself is 'will the robots take our jobs'? I firmly believe that automation in the workplace can streamline processes and we should ask ourselves not 'why is a robot doing a human job, but rather why is a human doing a task a robot should do'.
The analogy I tend to use is a smart farm…imagine a farm where drone technology is used to map weeds, where a driverless tractor tends to crops, wireless sensors monitor livestock etc… all of this is providing efficiency improvements, time savings, data in real time on wellbeing of livestock, but 'not' replacing the farmer. The role of the farmer just shifts, to one that utilises the data to make more informed decisions, improve efficiency and make cost savings. This can be the case for so many organisations.
It is interesting that some experts are starting to murmur about Industry 5.0! We have barely scratched the surface of Industry 4.0, but it is interesting to note that the timeframe between industrial revolutions is dramatically shortening, so I would say in the next 10 years, organisations will already be being pushed to move towards Industry 5.0, but the focus should be on technology and skills, no matter what we call it.
LCR 4.0 is part funded by the European Regional Development Fund, to help SMEs in Liverpool City Region adopt Industry 4.0 technologies. The project is a partnership between Liverpool John Moores University – Faculty of Engineering & Technology, University of Liverpool – Virtual Engineering Centre, Sensor City, Hartree Centre and Liverpool City Region Local Enterprise Partnership.