Manchester Airport Group fires Brexit warning despite rise in passenger numbers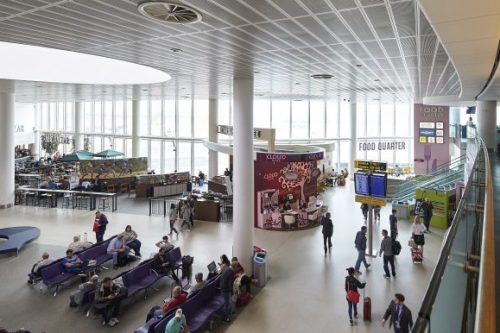 The firm behind Manchester Airport say that the ongoing uncertainty surrounding Brexit is affecting passenger demand and the growth of the business.
The Manchester Airport Group, which is largely owned by the ten councils in Greater Manchester, has published its full year results.
The firm said group passenger numbers rose by 4.9% to 61.8m across its three UK airports.
However, it added that the continuing uncertainty around Brexit is creating a more challenging outlook in terms of economic growth and passenger demand.
Group adjusted EBITDA increased to £379.8m (+5.9%*), supporting the ongoing investment in new facilities and infrastructure at Manchester and London Stansted.
Over the last year, the group invested £591m, a 73% increase over the previous year:
– Manchester Airport's Transformation Programme (MAN-TP), which started in July 2017, continued apace throughout the year. At the end of the period, the first phase of new facilities was opened to passengers on time, less than 18 months after construction began.
– London Stansted Airport made further progress in delivering its Transformation Programme (STN-TP), which over the next 12 months will see the delivery of new facilities to improve customer experience.
– At East Midlands Airport, MAG is enlarging the cargo apron, alongside a significant expansion of UPS's facilities, which will enable it to play an even bigger role as the UK's leading airport for cargo aircraft.
Manchester Airport saw passenger numbers grow to 28.6m, driven by extra aircraft from Ryanair and Jet2.com, additional capacity from Thomas Cook Airlines and easyJet, and new long-haul routes to Africa and North America.
London Stansted Airport passenger numbers rose to 28.4m this year. Passenger growth at Stansted was driven by a popular new route to Dubai with Emirates, growth of existing carriers Ryanair and Jet2.com, along with new entrants like Laudamotion.
East Midlands Airport is the country's busiest airport for 'pure cargo' aircraft and saw tonnage increase to 366,815 tonnes, with passenger numbers flat at 4.9m.
Chief executive Charlie Cornish, said: "MAG continues to play a vital role in connecting different parts of the country to key global markets.
"The investments we are making in our facilities will allow them to play an even bigger role in the years to come. We are matching that capital investment with a focus on the experience that every one of our passengers has as they travel through our terminals, something we are looking to make as smooth as possible.
"By improving international connectivity to different regions, MAG airports will do far more to secure economic growth and rebalancing across the UK than a third runway at Heathrow will. The Government must now show an active commitment to supporting the future growth of airports like Manchester, London Stansted and East Midlands.
"To achieve this, the Government must support the delivery of better transport links to airports across the country as part of an integrated plan to grow global connections from the North, Midlands and the South.
"We welcome the Government and EU's commitment to maintaining vital air connectivity between the UK and Europe even in the event of a 'no deal' Brexit, something which allows passengers to book and travel with confidence.
"But continued uncertainty about Brexit will ultimately act as a drag on the economy and damage consumer confidence. It is vital that the Government finds a political solution to Brexit over the coming months to enable the country to move forward and to rebuild consumer confidence."
Manchester Airport served 28.6m passengers this year, with a range of new long-haul routes, including a direct Virgin Atlantic route to Los Angeles, and an Ethiopian Airlines route flying direct to Addis Ababa.
This year, easyJet also announced its largest ever operation at Manchester Airport, adding five new aircraft to it fleet, allowing it to serve five new routes across Europe to Innsbruck, Lanzarote, Faro, Barcelona and Bordeaux. Jet2.com also announced an expansion of its route network from Manchester for Summer 2019, now flying to destinations including Bourgas, Chania and Izmir.
The first phase of the £1bn Transformation Programme (MAN-TP) at Manchester Airport was completed on time, less than 18 months after construction began, when Pier 1 opened in April this year. The next phase of the project is due to be completed in 2020, with new terminal capacity as part of an extension to the existing Terminal 2.
East Midlands Airport continues to be the UK's number one airport for pure cargo operations, this year handling 366,815 tonnes of freight.
UPS announced a £114m development project, which will increase the number of cargo aircraft the airport is able to host and will double the overall size of the cargo operation at East Midlands.
Simultaneously, East Midlands continues to be a popular passenger airport for the region, serving 4.9m passengers per year. Key to its enduring popularity is the increased variety of destinations available to passengers, with new routes to Nantes and Shannon with Ryanair, and Inverness and Brussels with Logan Air all launched this year.
This growth will be facilitated by plans for a new arrivals hall, which will provide capacity for five new e-gates at passport control and enhance the experience for passengers travelling through a growing East Midlands Airport.