People on the Move: PWA Planning; NVM Private Equity; St Ann's Hospice; DWF; Greystone Technology; New Care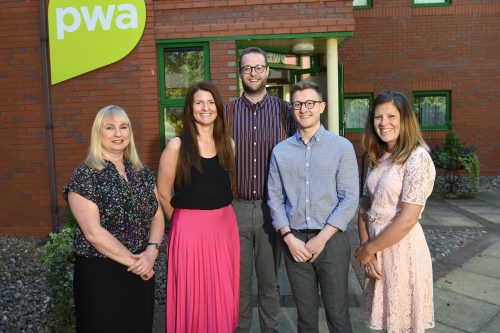 Lancashire-based planning consultancy PWA Planning has made two senior promotions and three new appointments.
Lydia Harper and Joshua Hellawell have both been promoted from the role of planner to senior planner at the Preston-based firm.
Gemma Newall has joined as senior planner after almost three years with WSP in Manchester.
She brings more than 10 years' experience in town planning and environmental management. Her other previous roles include Wardell Armstrong, Myriad CEG and Fairhurst.
Mike Sproston has joined as an assistant planner after completing his MSc in Planning at The University of Manchester. His experience includes planning and environmental roles with Wigan Council and the Wildlife Trust in Wigan and Greater Manchester.
Meanwhile, Samantha Ireland has joined as an administration assistant, bringing more than 30 years' experience in secretarial and administrative roles with organisations including the Ministry of Defence and Crown Prosecution Service.
Director Paul Walton said: "We continue to invest in the team at all levels to offer an efficient and effective planning service, helping our clients get their developments moving.
"Gemma brings an enormous amount of experience with her from some of the major planning consultancies and multi-disciplinary firms she's worked with. Mike and Samantha's appointments add further depth and capacity to our team.
"It's also great to recognise Lydia and Joshua's contribution to our growth and success with these well-deserved promotions."
Lydia joined PWA Planning in October 2017 having spent more than 10 years in local authority planning roles. Joshua joined the firm in January 2016 as an assistant planner.
The latest appointments take staff numbers at PWA Planning to 15.
::
NVM Private Equity has appointed Oliver Wildig as an investment manager.
He will be based in Manchester within the buy-out team with responsibility for sourcing new investment opportunities, execution and portfolio management.
This appointment continues a period of significant expansion at NVM who now have more than £430m under management and a combined investment team of 20 investors.
Oliver joins NVM from PwC, where he qualified as a chartered accountant before spending four years in their corporate finance team.
During this time he advised on a number of buy-side and sell-side transactions across a range of sectors including the sale of Platinum Stairlifts, MJ Quinn's disposal of its telecoms division, and the acquisition of Bollington Wilson Group.
NVM closed its latest fund, Vintage III, at £142m in 2018 and has since led three equity investments totalling more than £24m.
In the past 12 months NVM has also achieved six exits, delivering an overall 3.1x multiple on invested capital and completed eight new growth capital investments.
Martin Green, managing partner of NVM, said: "We are delighted to welcome Ollie to the NVM team. NVM has generated significant momentum over the past 12 months. Both our MBO and growth capital teams continue to go from strength to strength and with a strong local network Ollie is an excellent addition."
Oliver Wildig said: "NVM has a proven track record in supporting high quality management teams and creating shareholder value. It's an exciting stage in NVM's growth and I'm looking forward to working with the team in identifying and helping ambitious businesses realise their potential."
::
St Ann's Hospice in Cheadle has announced the appointment of Dr David Waterman as its new associate medical director.
Dr Waterman, who is a consultant physician in palliative medicine, has been working within Stockport NHS Foundation Trust, Stockport Community, and St Ann's Hospice since 2005.
He has been the Greater Manchester and Eastern Cheshire Strategic Clinical Network palliative care clinical lead since 2015.
Hospice chief executive Eamonn O'Neal said: "Dr Waterman has been an important part of the St Ann's team as a consultant for many years, and his knowledge and experience has been invaluable.
"We're delighted he has agreed to take up the post, especially at what is a very exciting time for the hospice as we approach our 50th anniversary in 2021.
"We have ambitious development plans as we head towards this important historical landmark, and with Dave's significant strategic clinical experience helping us, we are looking forward to continuing to evolve and ensure we can provide care to local patients well into the next century, too."
Dr Waterman will be working closely with the hospice's medical director, Dr Philip Lomax, while continuing his roles in Stockport and for Greater Manchester.
He said: "I'm pleased to have taken on the role of associate medical director at St Ann's.
"The hospice is an organisation which has a clear vision for the future, and is committed to ensuring that it can support as many patients with life-limiting illnesses from across Greater Manchester as possible.
"Its innovative and ambitious approach is exciting, and I'm looking forward to being part of the plans for the future development of high quality, specialist palliative and end of life care at St Ann's."
Dave graduated at Newcastle University in 1995, and undertook his specialist training in palliative medicine in the North Western Deanery. His clinical role allows the delivery of specialist palliative care for patients and their families across Stockport and within St Ann's Hospice.
::
Legal business DWF has appointed Ben Southworth as transformation director of managed services
Ben joins from the Co-op Group where he held several senior roles including chief of staff to the group CEO, head of risk and head of franchising.
Before this, he spent 14 years as a management consultant working with a wide range of clients in the UK and overseas, including multinational corporations, international banks and national government entities.
At DWF Ben will work alongside the newly appointed CEO of managed services, Mark St John Qualter to further develop DWF's managed services proposition.
Mark St John Qualter said: "We are delighted that Ben will be joining the managed services senior team. He brings an extensive experience in business change in many contexts.
"His understanding of working across various industries aligns well with our business, which offers legal and non-legal services spanning a wide variety of sectors."
Ben said: "There is a huge potential for managed services to deliver greater value for clients in the legal market, and at DWF I see a business that is ready to drive change for better outcomes for its clients. I am looking forward to working alongside Mark to help the business successfully realise its strategy."
::
Greystone Technology, the Manchester-based IT and software solution consultancy, has hired Adam Ferrari from infrastructure giant Balfour Beatty as technical consultant.
Adam joins Greystone after spending six years at Balfour Beatty, where he was technical training co-ordinator and was responsible for the regional training needs of the organisation.
He joins Greystone as the company experiences a period of growth, both on the IT services and software development sides.
Adam is one of a number of new hires in the past year, taking the consultancy to 12-strong.
Ben McDougall, director at Greystone, said: "Adam brings a wealth of experience in both the business and IT arenas, in particular desktop and network support. He looks to build his IT skillset and will be invaluable to our clients at this exciting time in Greystone's growth."
Greystone Technology looks after the IT and software solutions for a range of companies across the North West, including FirstFound and Alliance National.
::
Cheryl Bris, from Maghull, north Liverpool, has been appointed by New Care as home manager for Formby Manor, a new, and purpose-built care facility located on Liverpool Road in Formby, north Liverpool.
The care home, which will officially open in August, is a stylish, state-of-the-art 76-bedroom care facility providing an exceptional clinical offering including residential, nursing and dementia care services.
Cheryl, who is a registered nurse and previously worked in the NHS for many years, is well placed to manage Formby Manor and its team of 80-plus staff.
Having started her career in the social care sector as a manager for a nursing home, Cheryl comes to Formby Manor with vast experience and a wealth of knowledge.
She said: "I am incredibly passionate about my role as home manager at Formby Manor; it is a privilege to be involved from day one and I am looking forward to welcoming our first residents next month."
New Care chief executive, Chris McGoff, said: "We are thrilled to welcome Cheryl to New Care and with her in-depth knowledge and experience of the sector, combined with her passion, we are confident she will do an exceptional job at Formby Manor."
Altrincham-based New Care is one of the UK's fastest growing development-led care home operators. Catering for the aspiring needs of its residents, its 'new generation' care facilities provide high quality, person-centred care and an exceptional clinical offering, including residential, nursing and specialist dementia care services, in an expertly-designed purpose-built environment.