People on the Move: Slalom; NHS South Sefton Clinical Commissioning Group; Coolair Equipment; LCR Pride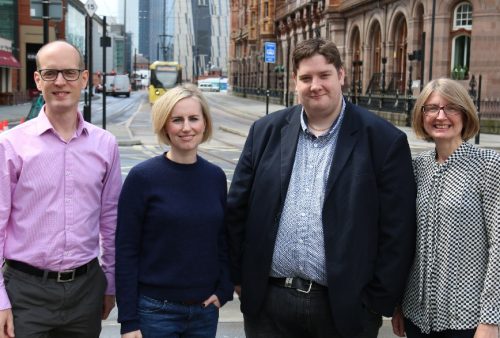 Slalom, a Seattle-based consulting firm focused on strategy, technology and business transformation, has appointed the first four leaders in its Slalom Manchester office.
Lindsay Hymas joins as director, business advisory services. Lindsay has 16 years' experience delivering technology-enabled business transformation as a director in Deloitte and her own consultancy. She is excited to work in a collaborative and agile way to deliver innovative digital solutions with clients in the North West.
Catherine Wilks joins from PwC where she held the position of chief operating officer for data and analytics in assurance. Catherine has more than 10 years of business intelligence, data visualisation and analytics experience. She will lead Slalom Manchester's data and analytics team.
John Morgan joins as a client service partner and will be responsible for working with clients to shape and deliver solutions to address their most important business challenges. John was previously with Deloitte where he held account leadership roles for several of Deloitte's largest global life sciences clients headquartered in the UK and Switzerland.
Dennis O'Higgins is gead of sales at Slalom Manchester. Dennis will work with existing and prospective clients in the region to identify opportunities to work together to drive enhanced business performance. Dennis was previously with PwC where he worked with clients across a range of industry sectors. Dennis is also North West regional chair of the Institute of Sales Management.
Paul Squire, managing director for Slalom Manchester, said: "As we become part of the fabric of Manchester's business community, I'm delighted to announce the appointment of such talented leaders as a first step towards our goal of building a diverse team of 200 experienced people over the next five years."
::
Alan Sharples has joined the governing body of NHS South Sefton Clinical Commissioning Group (CCG) as its new lay member for governance.
The former NHS finance director brings more than 40 years' experience of working in the public sector to the CCG.
Until recently Alan was a non-executive director for the Walton Centre NHS Foundation Trust. He joined the trust in June 2011, where he was chairman of the audit committee and the Walton Charity Committee.
Before joining the Walton Centre Alan was director of finance, information and commissioning at Alder Hey Children's NHS Foundation Trust for nearly 15 years.
Alan said: "I am delighted to be joining NHS South Sefton CCG and to be given the opportunity to contribute to its work with partners in the borough focused on improving people's health and wellbeing and reducing health inequalities."
In his new post Alan will oversee key areas of governance for the CCG, including audit and remuneration. He will chair the audit committee and take on the role of deputy chair of the governing body during his three year term of office.
Dr Craig Gillespie, chair of the CCG, said: "We welcome Alan to the governing body and with his wealth of experience and expertise, we're fortunate to have secured his appointment as lay member for governance and we look forward to working together with him."
Alan is a former president of the North Wales branch of the Institute of Revenues, Rating and Valuation (IRRV) and vice chairman of the North Wales Local Authority Chief Finance Officers' Association.
He is also a trustee of the charity, Vision for Children and was previously a trustee and finance committee chair for the North of England Zoological Society, the charity that operates Chester Zoo.
::
Dukinfield-based air conditioning specialists Coolair Equipment continues to strengthen its nationwide aftersales division with the appointment of a new national administrator.
Leanne Duckworth, 36, will work alongside aftersales service manager Mark Cooper and contracts co-ordinator Karen Swallow.
Her tasks will include writing maintenance contracts, planning the team's work schedule and reporting to clients.
She will be based at Coolair Equipment's national headquarters in Dukinfield, Manchester, but will work with the company's other UK offices in the Midlands and Kent.
Leanne has been hired to meet the increasing demand for Coolair's maintenance service from developers, contractors and clients.
Leanne, from Stalybridge, said: "The role really appealed to me and I knew I could bring something new to the team. But what I loved was Karen's enthusiasm as she told me about the aftersales team. I also really like the fact so many staff have been here for such a long time.
"It's great to work for a local company, so close to home, who really look after their employees."
While this is Leanne's first role in the HVAC sector, she brings to Coolair a wealth of administrative qualifications and experience.
The aftersales division serves the whole of the UK and has cemented Coolair's reputation as a one-stop shop for all heating and cooling services.
Managing director, John Otterson, said: "Our business has been providing servicing and maintenance for many years. Now increased demand from our clients – impressed by our ability to deliver energy-saving solutions that reduce their costs – has prompted us to expand our one-stop-shop capabilities.
"The aftersales division was set up with two of our most experienced members of staff at the helm and we are delighted to welcome Leanne into the Coolair family.
"She brings with her plenty of vital skills and I am sure that with her contribution, this part of our business will continue to thrive."
::
The Liverpool City Region Pride Foundation has announced two new appointments to its board of directors, to support the organisation as it continues to grow.
Arts professional, Anthony Proctor has been named community engagement director, while Morecrofts Partner, David Parr, has joined the board as finance director.
The appointments come as foundation co-founder, John Bird, steps down from his role on the board to pursue other projects.
Anthony and David will now join chair, Andi Herring, governance director, Karen O'Donnell and partnerships director, Scott McLellan.
Anthony will draw on 15 years' experience in the arts world, connecting audiences and communities, to engage and unite LGBT+ communities across the city region, while David will work with the board to develop a financial strategy for the organisation and ensure its sustainability.
Speaking of the changes to the board, Andi Herring said: "It has been an exciting and formative eight months for the LCR Pride Foundation and the appointment of Anthony and David to our board will only serve to elevate the work we have been doing.
"Both bring a wealth of expertise and ideas that will support the mission to make the Liverpool City Region the most LGBT+ friendly in the UK and we are excited to be working with them.
"We are, of course, extremely sad to see John stepping down from his role as co-chair. Just over 12 months ago we set out our vision for the LCR Pride Foundation and John's passion, commitment and dynamism has been fundamental in making it a reality.
As a board, we will work to ensure that we stay true to that original vision.
John Bird said: "I am incredibly proud to have been part of establishing an organisation with a city region-wide remit of supporting the LGBT+ community.
"Having met with well over 300 organisations that support, or wish to support, the LGBT+ community in those first few months, a foundation has well and truly been created that will only continue to grow and develop into something that truly benefits us all.
"I am an activist at heart and first got involved with Pride several years ago to support the amplification of messaging around issues close to the community; being able to address a record-breaking 12,000 people who attended the March with Pride muster this year, and providing the event's first dedicated Youth Zone, sponsored by the Michael Causer Foundation and  delivered in collaboration with youth groups throughout the Liverpool City Region, was absolutely awe inspiring.
"However, as those involved are all volunteers, juggling day jobs around foundation work, I feel it is the right time for me to step away to focus on other projects that support the LGBT+ community. I am proud to have played my part, and will continue to do so in my own capacity, and I wish the board of LCR Pride Foundation the best of luck for the future."
The LCR Pride Foundation is currently recruiting further members for its board, specifically those with a background in marketing or fundraising.
The team is pictured from left: Andi Herring, Karen O'Donnell, Scott McLellan, Anthony Proctor, David Parr