Construction industries riding the rainbow in Manchester Pride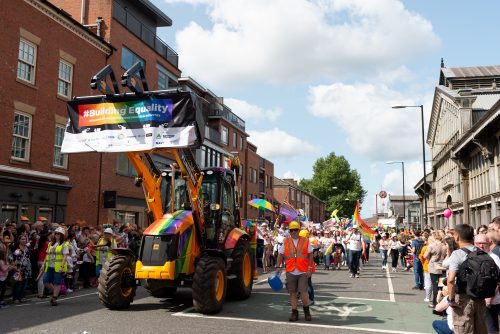 This weekend, Building Equality – the construction industry's LGBT+ alliance – is inviting Manchester Pride visitors to the North West's largest show of equality, diversity and inclusion (EDI) the industry has ever seen.
On Friday, August 23, Building Equality members from more than 25 construction, engineering and built environment organisations will be at Exchange Square, Manchester, from 8am to 7pm, showcasing the accessibility of the industry to LGBT+ individuals and other minority groups.
Members will be offering advice and guidance to anyone interested in the built environment, the work of Building Equality, and the career opportunities within the sector.
And the organisation said the celebration would not be complete without the return of the famous rainbow JCB, provided by long-term supporter Flannery Plant Hire.
On Saturday, August 24, up to 200 construction consultants, engineers, developers and contractors who are passionate about working together and harnessing their collective power to drive LGBT+ inclusion in the construction industry, will march in the world-famous Manchester Pride Parade.
This will be the biggest Pride yet for Building Equality in the North West and is the final stop in Building Equality's busiest Pride season ever, after attending pride events in Salford, Leeds, London, Birmingham, Glasgow, Bristol and Newcastle.
In another major step forward for the industry, Building Equality also supported Sparkle Weekend, the UK's largest celebration of the Trans, Non-Binary/Genderfluid and Intersex community in Manchester, earlier this Summer.
Following Manchester Pride in 2018, and reflecting on the results of recent industry surveys, Building Equality decided to become a catalyst for change on issues that LGBT+ individuals still face within the sector.
To both educate and encourage positive conversations around sexuality and gender identity, the alliance has already rolled out bespoke free resources, including the LGBT+ inclusion toolbox talk and poster campaign, designed to facilitate inclusion on both construction sites and in offices.
Luke Ives, chair of Building Equality Greater Manchester, said: "Building Equality is focused on building an inclusive construction industry, one which allows everyone to thrive, build effective working relationships and make a positive contribution.
"Recent statistics tell us that there are still daily challenges faced by LGBT+ individuals in our industry that need to be addressed. However, real progress has been made in supporting visible role models, so there is a true reflection of the communities we serve."
He added: "Manchester Pride is our biggest showcase of EDI across the North West construction industry and is real-life reflection of the diversity within our industry.
"We are enormously proud to be able to host our second public outreach day at Exchange Square on Friday, helping to change preconceived perceptions of the construction industry.
"This provides an opportunity to create positive change, highlighting the accessibility of the construction industry for all, whilst promoting and celebrating diversity in the built environment."
Sharyn Case, Building Equality member representative, said: "Building Equality have progressed some ground-breaking initiatives in the past 12 months which are encouraging LGBT+ inclusive workplaces across construction, engineering and the built environment.
"To contribute to these initiatives, as an ally helps shift the industry culture and build more inclusive and understanding working environments. This is through educating and empowering others to become part of the solution.
"Being an Ally not only means supporting the LGBT+ community, but also to call out and address inappropriate language and behaviour and to encourage others to accept all without exception."
The Organisations supporting Building Equality at Manchester Pride are: AECOM, Amey, Arcadis, Arup, Atkins, Balfour Beatty, BAM, CIAT, CIOB, Civic Engineers, Flannery Plant Hire, Hays, Homes England, ICE, ISG, Jacobs, Kier, Laing O'Rourke, Mace, Mott MacDonald, RICS, Seddon, Turner & Townsend, Willmott Dixon, Wood, WSP, WYG.