Union to recommend suspension of airport Bank Holiday strike action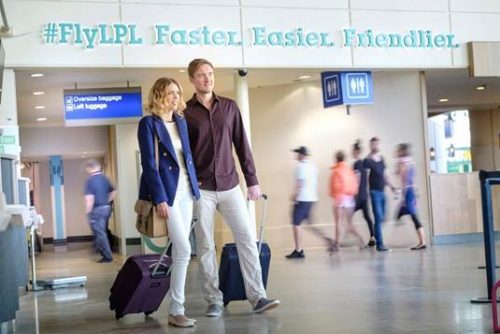 Threatened strike action at Liverpool John Lennon Airport (LJLA) over the busy Bank Holiday period is likely to be lifted.
The airport had been braced for three days of strikes by around 200 baggage handlers working on Swissport easyJet and Swissport Mainline contracts, on August 22, 24, and 29, in a row over pay.
Further strike dates were expected to follow, and workers would have been under a continuous overtime ban.
But this afternoon, a GMB union spokesperson confirmed to TheBusinessDesk.com that it will recommend suspension of the proposed action.
They said: "After two days of negotiations with Mick Whiteley, vice president labour relations Swissport International, we are to meet with our two sets of membership at Swissport tomorrow (August 22), to recommend suspension of this week's strike action, whilst we hold two on-site ballots on the Swissport proposal which is to be recommended by the GMB representatives."
Robin Tudor, head of PR for the airport, welcomed the announcement, saying: "This means it is business as usual for our passengers."
Liverpool, and Manchester Airports, are both gearing up for their busiest weekend of the year, handling tens of thousands of passengers jetting off during the August Bank Holiday weekend.
Manchester said it is set to have the busiest day in its 81-year history on Friday, August 23, with more than 115,000 passengers expected to arrive and depart.
And with around 430,000 passengers expected to travel during the busy weekend period, the airport is advising customers to leave plenty of time to arrive, and check in at least three hours in advance of long-haul flights and two hours for short-haul.
It also advises travellers to be prepared for the busy security process by having all their liquids, gels and pastes – no bigger than 100ml each – in a clear plastic bag, and put coats and belts, with large electricals in security trays to avoid lengthy queues.
Brad Miller, chief operating officer at Manchester Airport, said: "We're now in the middle of the Summer holidays and handling more than 100,000 passengers a day.
"As we gear up for our busiest weekend ever on the Bank Holiday we're asking passengers to ensure they're fully prepared when they arrive at the airport to ensure their journey through is as smooth as possible."
Meanwhile, between Friday and Monday, LJLA says almost 70,000 passengers are expected to pass through over the long weekend, with this likely to be one of the busiest August Bank Holidays in recent years.
Airport bosses say Summer favourites available from the riverside site include Palma De Mallorca, Alicante, Faro and Malaga, with weekend city breaks also expected to be popular with passengers travelling to a variety of European cities, such as Amsterdam and Barcelona.
However, locations closer to home are also expected to be among the most popular, with flights to both the Isle of Man and Jersey likely to be among the top 10 most popular destinations, despite the more unpredictable UK weather.
Robin Tudor said: "The poor UK Summer weather this year means that we expect many of the region's passengers will take advantage of the great choice of flights and the convenience of flying from Liverpool to a host of destinations a lot warmer than here in the UK, making the August Bank Holiday a very busy period for the airport once again."
Not all journeys will be abroad, tourism body VisitEngland said, with millions planning to spend time within the UK.
VisitEngland's August Bank Holiday Trip-Tracker survey shows that 8.6 million Brits are definitely planning an overnight holiday trip in the UK this Bank Holiday weekend, bringing an estimated £2.1bn boost to the economy.
The figures are the highest since this survey began in its current form in 2012.
The figures show an increase on last year's results when 7.3 million Brits planned to take an overnight holiday trip during the August Bank Holiday weekend. In 2017 the figure was 6.9 million, and in 2016 it was 5.1 million.