Social enterprise notches a first in field of international entrepreneurship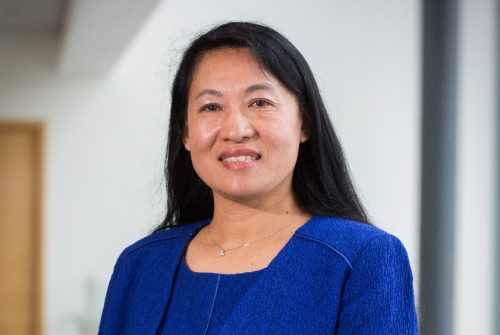 A business support agency has been hailed for its work for international entrepreneurship.
Enterprise Educators UK (EEUK) awarded Beijing-based Jing Zhang its first international fellowship at a ceremony in Oxford last night.
Jing, from Beijing Weishengchang International, works as a partner for Liverpool and Manchester social enterprise The Women's Organisation, with its consultancy arm, Enterprise Evolution which has worked in China, Nigeria and Thailand, as well as across the UK.
Her colleague, Alison Price, principal consultant and co-founder of Enterprise Evolution, was also awarded a fellowship at the gala dinner which recognises the personal professional achievements of individuals at the centre of enterprise education, rewarding their pioneering work.
The accolades follow a similar award last year to their colleague Lisa McMullan, and makes The Women's Organisation the only one of its kind to have all its staff recognised by the EEUK for their consultancy services delivered throughout the UK and internationally.
The pioneering award offers the only sector-wide recognition that is equally available to all those working as enterprise educators, including academics, practitioners and influencers.
To become a fellow of EEUK, individuals are required to demonstrate their professional practice through a written portfolio comprising four written pieces reflecting on their professional practice.
Jing said: "I am excited to get the fellowship of EEUK, which recognises my professional achievement in enterprise education against an international benchmark, achieving this fellowship is so important for me."
EEUK Chair Gareth Trainer said Jing's submission demonstrated that she is "a very competent and accomplished influencer, working as a national champion of enterprise and entrepreneurship education across China".
Lisa McMullan, director for development and consultancy at The Women's Organisation and Enterprise Evolution, said: "The EEUK fellowship is a valuable accolade in the enterprise education sector, offering the only sector-wide recognition of its kind and ensuring that the contributions of enterprise educators to teaching and research are widely celebrated.
"I am delighted that Jing and Alison have been formally recognised for their extensive and valuable work in championing enterprise and entrepreneurship across China.
"Through Enterprise Evolution we have developed significant international partnerships and reach and we are delighted that this has been honoured by EEUK."