Travel firm forms new sports division after snapping up former Thomas Cook experts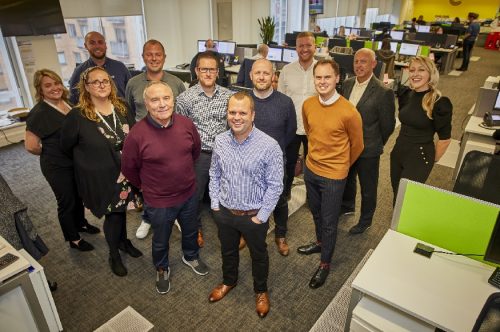 A specialist group of former Thomas Cook staff has been re-employed within 48 hours of the travel giant going under.
In the first of many examples of highly-skilled workers being picked up by rivals, half of the staff of Thomas Cook Sport have joined Manchester business travel agency Clarity.
Thomas Cook Sport provided team transport for elite clubs including Premier League football, including Manchester City and Liverpool FC, and Premiership and Pro14 rugby.
Now they have formed a new division of Clarity, entitled Clarity Sports, and have taken all their old clients with them.
The collapse of the Thomas Cook empire on September 23, had left many clubs in turmoil due to the complexities of organising elte team travel.
While former staff at Thomas Cook Sport continued to help behind the scenes even after the business went under, Clarity stepped in and employed the entire team travel management team of Thomas Cook Sport within 48 hours of the collapse.
Clarity used its industry expertise to put in place a speedy solution for the clubs' greatest assets – the team.
As these travel experts were known and trusted by the clubs to handle all aspects of player travel, the seamless switch of these clubs to Clarity Sports happened within 24 hours.
Clarity chief executive Pat McDonagh said: "Players, fans and officials of multiple teams across football, rugby and cricket have all been left in a very difficult situation following the demise of Thomas Cook Sport.
"The logistics of moving sports teams from game to game is a complex operation and because we were already working with many of these clubs we were able to move quickly to offer jobs to those impacted by the Thomas Cook situation.
"They quickly joined our team and together we had the industry knowledge to step in at short notice and give practical solutions.
"For instance, Ulster Rugby were due to travel to South Africa for PRO14 fixtures against the Cheetahs and the Southern Kings."
He added: "We have enormous sympathy for the fans who have also been affected by the collapse of Thomas Cook Sport and understand that the clubs and the CAA are doing everything they can to ensure they don't miss out on the games they'd already booked packages for.
"Right now our focus is on team travel and logistics, however, where possible we are assisting the clubs with future supporter travel plans."
Clarity has employed 17 new staff, all from Thomas Cook Sport, to form the new Clarity Sports division, headed by Rob Slawson, formerly head of Thomas Cook Sport. They will be based at Clarity's Manchester headquarters.
The value of the business is not being predicted at the moment, with Clarity wanting to give its new division time to settle. However, Thomas Cook Sport was a part of the former travel empire that was in growth.
Rob Slawson said: "My team found out about the situation with Thomas Cook at the same time as every other employee and we were given no time to tie up any loose ends before exiting the building.
"Clarity is a business we already knew and it was a natural move for me and my team. We know this is one of many situations where the skills and expertise of former Thomas Cook staff are going to be in demand across the travel industry."
As the Clarity Sports proposition matures, Clarity is looking at the next phase of its sports division being the creation of a supporter-based operation, offering ticket and travel packages to 'bucket list' sporting events worldwide.