Airport to open education centre able to handle 5,000 pupils each year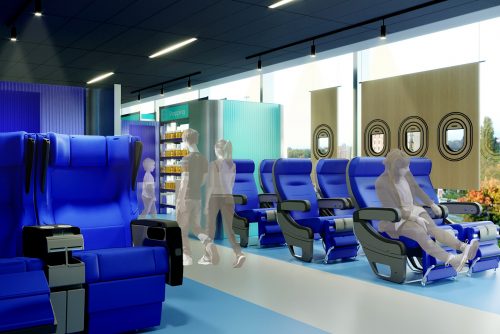 Manchester Airport is to open a state-of-the-art education centre on its campus.
Called AeroZone, it will launch in the new year and host more than 5,000 pupils aged between four and 18 every year.
Sessions will seek to inspire young people about the wide range of careers they can pursue in aviation, as well as giving them practical advice about how to access employment opportunities and prepare for the world of work.
Cutting-edge design and educational technology will be used to link aviation-related activities to the curriculum at the AeroZone, which will be housed in the airport's on-site transport interchange.
CGI images released today show the layout of the centre, as well as an indication of how each of the classrooms and spaces will look.
The design of the centre is heavily influenced by aviation with airplane seats as classroom seating and windows like those found on board an aircraft. A dedicated 'careers wall' will showcase the wide range of careers available in aviation and information and advice about how to access them.
The plans were revealed as the airport's parent company – MAG – released its latest corporate social responsibility (CSR) report, which as well as committing to linking local people to jobs and education, also detailed the group's ongoing commitment to the environment.
Chief executive Andrew Cowan said: "Manchester Airport has a proud track record of giving back to the communities we serve, through initiatives like our Community Trust Fund, colleague volunteering schemes and our wide-ranging education programme.
"As we deliver the biggest investment in our 81-year history, through our £1bn transformation project, it is only right that this also marks the start of an exciting new era for our CSR programme.
"AeroZone will form the centrepiece of that and I am sure it will prove to be an engaging and inspirational education space for students of all ages.
"We are committed to bridging the gap between education and the world of work and I am grateful to all the partners we are working with on this exciting project."
The AeroZone is a flagship commitment as part of MAG's 'MAG Connect' initiative.
MAG Connect also includes on-site further education colleges, along with partnerships with job centres and skills academies, which, together, aim to equip communities with the skills to take key jobs at airports.
Manchester has had its onsite Airport Academy running since 2005, which supports and helps unemployed local people get back into work, the AeroZone will work alongside this as part of the MAG Connect initiative.
It is being delivered as part of Manchester's £1bn transformation programme, ensuring the biggest investment ever made in its 81-year history leaves a lasting legacy for the region.
MAG has worked with contractor Laing O'Rourke to deliver the AeroZone, while Manchester-based design specialist Space Zero – a world leader in creating education spaces – has provided design services.
The AeroZone will be staffed by educational professionals and give children relevant education to help them in their studies and also, for older children, give tailored careers inspiration to encourage them to think about jobs on offer at their local airport as they consider their further education choices.
Sessions will focus on three core areas including STEM subjects, careers and the history of the airport.
The AeroZone will also be used in school holidays and out of hours, to provide activities in partnership with other community organisations. Technology will be at the heart of the AeroZone and aviation-themed exhibits will provide a number of interactive activities.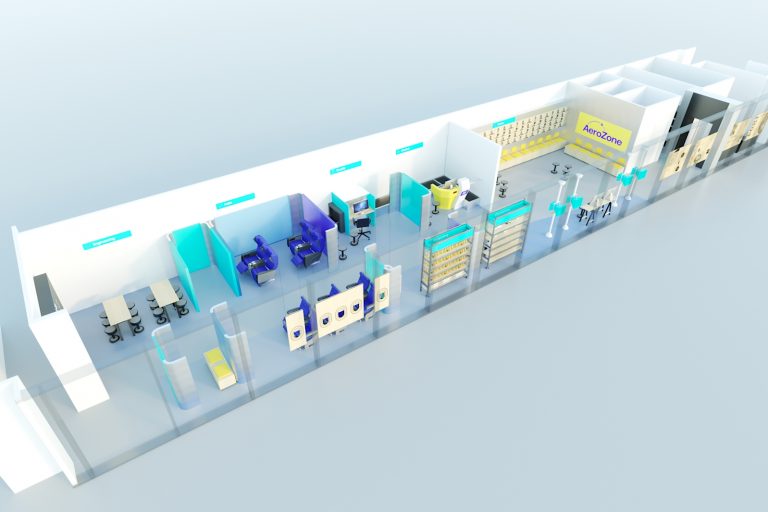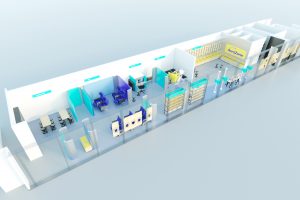 Neil Robinson, CSR director at MAG, said: "As we look to the year ahead we are more determined than ever to ensure that the benefits of MAG's success are shared and I am proud of the way that we play our part in providing 'opportunities for all,' particularly where there are areas of inequality and deprivation around our airports.
"That is why we are extending our successful AeroZone concept to Manchester, which I am sure will prove popular with students and teachers from schools across the region. By engaging with children in their formative years, not only can we boost and build their confidence, we can also highlight a range of roles and careers available on their doorstep."
Manchester Airport already has a wide-ranging education outreach programme, where in the past year more than 15,000 schoolchildren have benefited from a wealth of initiatives and activities. These include offering work experience, internships, STEM masterclasses, and in-school sessions and classroom materials.
Gareth Jacques, project diector from Laing O'Rourke, said: "As we continue to deliver part of Manchester Airport's £1bn transformation we have been on a journey with the Northern hub, and it is great to extend that journey into something that will make a difference and lasting legacy for the thousands of school children around the airport."
Wayne Taylor, chief executive of Space Zero, said: "We believe that learning experiences are the most powerful way to engage young minds with a subject. That is why this project, which not only aims to bring the curriculum to life, but to inspire young people about future careers, is particularly exciting."