Building sound foundations for the future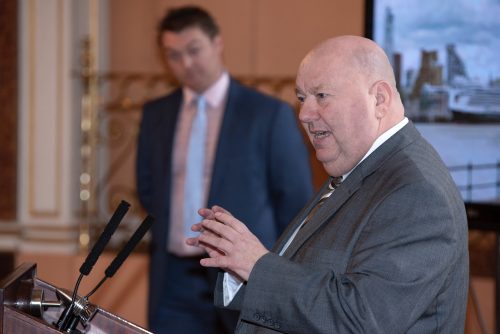 Mark Kitts is in no doubt over the mission tasked to the pioneering housing company he heads. It is, he declares, "to break the mould."
He is chief executive of Liverpool Foundation Homes – the creation of Liverpool Mayor Joe Anderson, who wants to use the company to rebalance the city's social housing stock, revolutionise the rent-to-buy sector and drive up council tax receipts.
Described as an ethical housing company, it has also been tasked with creating bespoke properties for the homeless, foster carers, large families, the elderly and people with a disability and to improve the availability of good quality, affordable homes in the city.
These are challenging targets at any time and even more so in a landscape where council budgets are being stretched to the limit and beyond.
It has been estimated that the city will need 27,000 new homes by 2030 to meet demand. Foundations is looking to create public-private partnerships in its bid to deliver many of those properties.
Foundations has also been tasked with driving up home ownership in a community where only 47 per cent of households are owner occupied. The figure for the rest of the country stands at around 65 per cent.
Almost 30 per cent of homes in the city are privately rented and that figure rises to 50 per cent in the more deprived parts of Liverpool.
Announcing the initiative back in 2017 the mayor said it was called Foundations because "that is precisely what it will provide for generations of people."
Launched last December it is already looking to make an impact. The company is leading a rent to buy programme meaning people can rent their new home at 80 per cent of the market rate while saving the rest towards a deposit for a mortgage on it. A pilot was launched in Dingle in June last year.
And that launch followed reports that the city council intended to start building council homes for the first time in 30 years.
Kitts says that Foundations is "fundamentally about providing property opportunity and talks about providing "quality new homes for people moving up the housing ladder".
He says of the rent to buy scheme: "What we want to do is try and find ways of driving up the home ownership agenda in the city.
"We are offering properties at 80 per cent of the market rate but we expect the resident to save 20 per cent towards a mortgage and hopefully after a five-year period they will have enough saved up for a deposit, get a mortgage and buy the property."
Kitts says Foundations is also looking to support those groups of society "underserved with in the housing market."
He talks about affordable properties for people in care and foster caring families. Then there is provision for older people living within the city.
That means apartments and bungalows, allowing them to downsize and freeing up properties for others.
He is hopeful that by its first anniversary Foundations will have a £50m budget secured through the city council to help deliver homes both for sale and for rent.
Kitts adds: "That should deliver us a ball park figure of 400 new homes, a mix of traditional housing and apartments, contributing to the city's much-needed delivery target."