People on the Move: Pareto Financial Planning; Suttons Group; INPD; Magma Digital; KPMG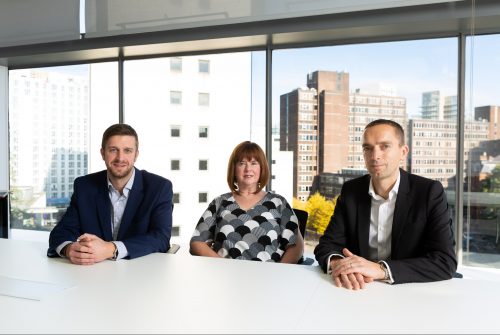 Pareto Financial Planning has strengthened its ranks with the appointment of paraplanners Caroline Singh-Bhaker, Chris Swaby and Lucas Jones.
Caroline and Lucas each have more than 20 years' experience in the financial services industry.
Chris has 10 years' experience, working with a client base made up of sports professionals. This is a growing area of business for Manchester-based Pareto.
Meanwhile, Laura Taylor and Derek Ward have been promoted to team leader roles as part of the firm's commitment to developing its own talent.
Pareto advises individual and corporate clients across the North West and beyond on all aspects of financial planning, including pensions, investments, protection and employee benefits.
The firm recently moved to bigger headquarters at Tower 12 in Manchester's Spinningfields business district to accommodate the growth of its team, which now stands at 53, including seven paraplanners.
Operations manager Nicky Aspray said: "We are delighted that Caroline, Chris and Lucas have joined us at this exciting time for the business.
"They bring with them a wealth of paraplanning experience.
"We have a strong training culture and it's great to see Laura and Derek take the next steps in their careers at Pareto."
Meanwhile, school leaver Phoebe Locke has joined Pareto as a junior administrator and will be joining the firm's in-house training programme.
::
Global logistics specialist Suttons Group has made a double appointment to its Widnes-based marketing team.
Alex Loveless and Jessica Russell join the company as marketing managers within the international and UK tanker divisions, respectively.
Alex joins from national law firm GW legal where he spent eight years developing new online initiatives for its B2B offering, while also completing a full company rebrand. He is currently studying for an MA in Marketing, Communications and Branding.
Jessica's most recent role was social, content and consumer PR manager at CollectPlus and Yodel, a UK-wide parcel carrier, where she created content across all digital channels for both B2B and B2C relationships.
Chief executive John Sutton said: "In an extremely competitive marketplace, these appointments are key as the company enters its next phase of growth. We need to ensure we are known in the marketplace as a high quality, safety-led business.
"Alex will head up marketing activity for Suttons International, creating dynamic campaigns to grow our business in the States and in new markets across the world. Jessica's experience will help our UK tankers team tell its story of success in delivering a quality, cost-effective service for our clients.
"Their skills are complementary, enabling them to not only focus on specific areas of the business, but also to work together across the group looking at everything from market research and events to all things digital."
Suttons operates in the UK with a fleet of more than 500 vehicles focused on the chemicals, gas and fuel sectors and internationally transporting more than 9,000 tank containers around the globe.
The company has key business centres in New Jersey, Houston, Widnes, Antwerp, Ludwigshafen, Kuantan, Singapore, Shanghai, Tokyo and Khobar.
::
Ambitious leadership and managing training company In Professional Development has recruited a Sandhurst-trained former British Army officer to a new senior role.
Alex Firmin has been appointed associate director of programmes to grow INPD's national presence and its network of trainers.
He is a qualified leadership coach and organisational psychologist with extensive experience of developing high-value bespoke training and learning programmes for clients in the public and private sectors.
During a 12-year Army career he rose to the rank of captain. Alex served in the Royal Anglian Regiment and then the Education Corps, holding a number of senior training and learning roles.
INPD, which is based in Wigan, provides leadership and management training to executives across the country.
The company, which began trading in March 2018, has so far delivered more than 70 courses nationwide, training more than 1,500 delegates.
Its courses cater for managers, directors, chief executives, board members and other senior leaders in the public, private and third sectors to help them improve their skills to enhance their own performance and that of their organisations.
INPD runs accredited courses in conjunction with academic and professional partners, including the University of Chester, the University of York, the Chartered Management Institute and the Chartered Institute of Marketing.
Alex has worked with INPD as a trainer since its launch in 2018 and has facilitated a number of courses, including the company's executive mini-MBA accelerator, senior leadership, advanced management and director development programmes.
INPD co-founder and director, Dave Hall, said: "Alex's appointment comes at an important time for the business as we develop our presence and brand at a national level.
"He brings a wealth of experience to this new position and will play a crucial role in helping us to scale up by expanding our programmes and working with our growing team of trainers to ensure they continue to deliver to the very highest standards."
Dave added: "Alex will be pivotal as we build and improve our product portfolio with innovative, market-led training and development programmes and work with customers to meet their specific needs through bespoke offerings.
"As part of this approach we are looking to engage and partner with more expert trainers over the next few months and having someone of Alex's drive, reputation and experience on board to spearhead this growth is a great boost for the business."
Alex said: "I am extremely excited about my new role at INPD. I believe that training should be exciting, genuinely transformational and have a lifelong impact on all our delegates."
::
Software and consultancy firm Magma Digital is expanding its management consultancy service under the leadership of senior consultant and MD, Priscilla Coates.
Based in Chorley, the company says it is most widely known for being a tech specialist and employing some of the country's top experts in bespoke software development and IT strategy.
Magma, however, is now expanding its offer with an expert team providing organisations with a range of support in team development, technical change, strategy design, service design and transformation programmes.
Priscilla Coates said: "We have spent considerable time planning the expansion of the management consultancy side of the business, to ensure it sits hand-in-hand with our software development services.
"In essence, our work with clients sees us go into businesses to understand their issues and how we can work co-creatively. By expanding our consultancy, we have chosen to focus particularly on designing strategy and services, managing change, technical consultancy and team development. We are essentially offering a fully-rounded consultancy service."
Carrie Nestor, director of operations, added: "Priscilla is a highly-experienced consultant and a qualified change manager.
"Her background of working in large organisations, including the NHS, leading on transformation programmes, has given her a firm foundation of skills and experience that she will be sharing with organisations.
"Now that Priscilla is back in the business full-time, having completed her Master's degree in Information Technology, Management & Organisational Change (ITMOC) at Lancaster University, she will be using that expertise to lead a team to expand the management consultancy service offer."
The management consultancy side of the business will initially begin with a team of three people, led by Priscilla, with the aim to grow this further over the coming year.
::
Business advisory firm KPMG has appointed two new directors in its Manchester office as part of its latest round of senior promotions.
Christian Bower-Sloane and Debra Chamberlain have both been promoted to the role of director as the firm continues to strengthen its audit practice across the region.
Christian, who joined the firm as a graduate trainee in 2007, has been a member of KPMG's audit team for more than 12 years, working across the firm's Manchester, Liverpool and New Zealand offices.
In that time, he has built up a strong reputation in the regional business community, working with both listed and privately-owned businesses across a wide range of sectors including sport, aviation and manufacturing.
Debra began her career at KPMG in 2005 as a graduate trainee and has more than 14 years' experience in public sector audits for organisations across the health, housing and education sector.
In her new role she will continue to drive value for the firm's mixed portfolio of clients in the region.
Nicola Quayle, office senior partner at KPMG in Manchester, said: "As the North West economy continues to grow, it's vital that we invest in the talent and expertise our clients rely on as they pursue their own ambitious growth plans.
"This latest round of promotions is testament to the depth available at KPMG. Christian and Debra's own, in particular, experience means they are well-placed to guide other members of the team on their own career paths."
Both promotions reaffirm KPMG's commitment to investing in, and retaining talent, with the firm recently launching its 2020 graduate programme as it looks to take on more than 200 new graduates across the UK.