Manchester Airport is expecting busiest Christmas in 80 year history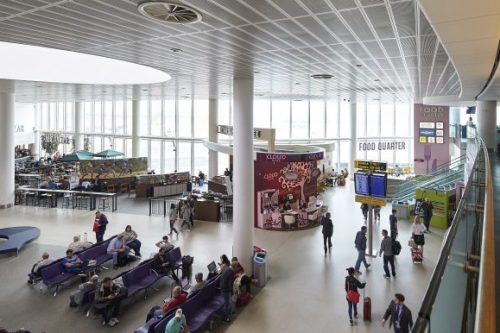 Manchester Airport is expecting one of the busiest Christmas in its 81-year history, with 1.2m passengers due to pass through terminals over the holidays.
Friday, December 20th is expected to be the busiest day, with passenger numbers topping 82,600.
Not far behind are Sunday, December 29th and Friday, December 27th, with predicted totals of 80,400 and 78,500 passengers respectively.
The five most popular destinations, in descending order, are Dublin, Dubai, Amsterdam, Tenerife and Doha.
Lee Wasnidge, Customer Services and Security Director at Manchester Airport, said: "This is one of the most exciting times of the year for both our colleagues and our customers and we look forward to helping more than a million passengers in getting to their dream destinations this Christmas.
"However, safety and security are just as important at this time of year as any other. We see an increase in passengers carrying unusual items, often as gifts for friends and family or as part of Christmas traditions.
"They can unwittingly end up falling foul of hand luggage regulations and the last thing we want to see is gifts being unwrapped or prevented or prevented from passing through security and making the journey to their end destination."
"We encourage all of our passengers to review the advice we are providing to ensure they pass through security smoothly and do not have to leave any presents or other items behind."
Manchester Airport is encouraging all passengers to take heed of the following guidance:
• If in doubt about any particular items, pack them in your checked hold luggage, rather than in hand luggage
• Ensure products in your hand luggage containing liquids, gels or pastes are in a clear, sealable bag and don't exceed 100ml each. This includes, among other things, perfume, aftershave, make-up, condiments such as jams and butter, beverages and snow globes
• If you're planning to carry Christmas crackers, check with your airline in advance as to whether they will be permitted in hand luggage. Some will allow one box per passenger, but most prohibit them
• If flying with a Christmas Pudding please put this in your hold luggage not your hand luggage
• If your bag requires a full search, security personnel may need to unwrap your gifts to check their contacts. Wrap presents once you have reached your destination where possible
• Take off coats / jackets and other winter wear before reaching security to help save time
• If you or someone in your party has reduced mobility, book any airline assistance you require in advance to avoid delays
• Poor weather has the potential to disrupt public transport and the road network at this time of year. Ensure you leave plenty of time when planning your journey