City planners give green light for important Liverpool schemes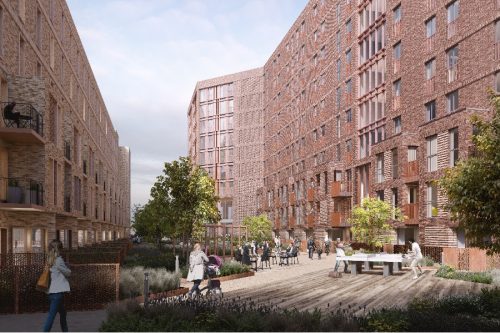 Liverpool Council has this morning (December 10) approved several schemes including plans for the redevelopment of the city's Chinatown area, and two schemes by the Elliot Group which unlocks £100m-worth of development.
Two blocks at Elliot's emerging Park Lane development – a joint venture with Valorem Investment Partners around the historic Heap's Mill – have been granted permission.
The firm's proposals for new key worker accommodation and student homes on Crown Street on the edge of the Knowledge Quarter were also passed.
The two deals represent an investment of £100m and bring to seven the amount of live schemes the company has in Liverpool.
"We said when bought the Park Lane site in the Summer that we'd push on quickly with the development and with this permission we're able to keep our promise," said Elliot Group boss Elliot Lawless.
The news follows completion of the company's deal to acquire another major site in the Baltic tech district, for which plans are currently being drawn up for discussion with Liverpool council.
On Park Lane, block A will provide 90 new apartments from ground to 15th floor with communal facilities such as a residents' gym. There will also be a commercial unit of 1,259 sq ft.
Block B will be a 260-bed hotel with a restaurant, bar, gym and business centre. A deal to confirm the name of the operator is imminent, said Lawless.
The Crown Street development will provide 106 key worker homes and 182 student bedrooms across two new residential blocks on a 1.3 acre site. The blocks will rise up to six storeys and front Crown Street and Falkner Street.
Both schemes have been designed by the Liverpool studio of Falconer Chester Hall. Zerum acted as planning consultants.
Plans to transform a large derelict site located between the thriving Baltic Triangle area and Liverpool Cathedral were also approved this morning.
The Great George Street Project is a 3.5 ha, mixed-use regeneration site that will realise and reimagine new greenspace in Liverpool city centre through the creation of a bold new linear park.
Joining Liverpool's other world-famous and iconic city greenspaces, this new city park will boast landscaped gardens, wide footways, a cycleway and high quality public realm, and will have the health and wellbeing of the local community, new and existing, firmly at its core, by utilising the latest in urban agriculture technology, including edible planting.
Following years of decline, the scheme will revitalise the area with mixed-use residential apartments and family homes – comprising one-two bed apartments and two-three bed townhouses – alongside commercial, A3 and creative workspaces for independent businesses to grow into this new creative corner of Liverpool city centre.
Included within this will be 4,183 sq m of much-needed new office space, giving businesses in the digital, tech and creative sectors a place to call home. Leisure and hospitality facilities will also feature within this new blended neighbourhood, including a 144 bedroom hotel.
The plan is for seven buildings, ranging in height from two-storeys to 18-storeys.
Spokesperson for The Great George Street Project, Neal Hunter, chief executive, said: "Achieving planning consent is a key stage in the progress towards the realisation of our vision and we have advanced negotiations in play with a highly-respected funding partner, who is committed to being with us for the full life of this development project to deliver the entire scheme.
"We took over this site in February 2018. It is fair to say that it has been a challenging and complex site, with historic issues from a number of previous failed schemes, which could have blighted this project altogether.
"We believe that actions speak louder than words and we have worked closely with the planning department at Liverpool City Council to deliver a scheme that will create a quality neighbourhood that connects Chinatown with Ropewalks and the Baltic Triangle, to realise a vital new community, and we are committed to see this to completion.
"It should be mentioned that we have revised the scheme from previous approvals as we recognise the city continues to evolve at a rapid pace, and it is vital that the project is aligned with this ever-changing landscape."
Among a range of comments from planning officers were: "This development proposed more family-orientated accommodation for those that want to live in the city, and to genuinely propose an attractive environment for families wanting to live in this location."
Another comment was: "We consider a development of this scale is appropriate to a city that has national and international aspirations."
The Great George Street Project also supports The Baltic Farm – a creative food project that is currently located within the site at the old Shell garage, and key to the scheme's vision in creating a vibrant and socially-transformative community space.
The Great George Street Project has been supported by Brock Carmichael, Arup and Planit-IE in the planning process.
Another scheme which was granted approval was a student accommodation project by architecture practice Falconer Chester Hall on Gildart Street, within the Fabric District of Liverpool.
The eight storey, 53-bedroom block will be made up of 48 cluster bedrooms and five studios.
The scheme has been designed for Liverpool developer Gildart Street.
"It's wonderful news that we have been granted planning permission on this site," said Falconer Chester Hall associate director Martin Haymes.
"The development is in close proximity to the large academic institutions and world-renowned research organisations and will assist in meeting the rising demand for student accommodation within the city."
He added: "The scheme will act as a catalyst for further regeneration of the Fabric District.
"It presents an opportunity to maximise the potential of the site and provide a vibrancy to the area.
"The material palette will include a mixture of brickwork and bronze aluminium cladding which will help to restore much-needed character to the area and will create a high-quality finished scheme."
Structural engineers is Clancy Consultants. Planning consultants on the scheme is Zerum, SCP is highways consultants, with Rachel Hacking providing the site ecology study.