Waste services group strengthens West Midlands focus with latest acquisition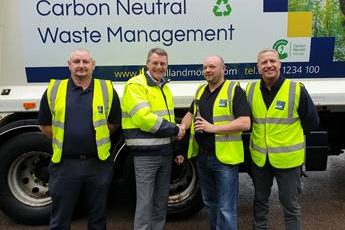 B&M Waste Services has continued its expansion in the West Midlands with the acquisition of the business of fellow family-run waste management company, Ian Wilcox Recycling, for an undisclosed sum.
This is the second acquisition in the West Midlands area this year for Wirral-based B&M Waste following the acquisition of AWS Recycling's trade rounds over the Summer.
This deal sees B&M Waste strengthen its position as the 'waste management and secure shredding company of choice' in the West Midlands region, offering a carbon-neutral waste management service to businesses looking to both minimise waste output and maximise recycling.
The three members of staff within Ian Wilcox Recycling all transferred to B&M Waste and are now part of the larger team of 30 staff in the depot.
Ian Wilcox, owner of Ian Wilcox Recycling, said: "Having an ethos of customer service ourselves we felt a natural home for our customers and staff would be in the B&M Waste family.
"We are impressed by the new weighing vehicles B&M Waste have invested in ready for the planned July 2020 city vehicle emission limits."
Mick Ashall, director at B&M Waste Services, said "This acquisition further strengthens our capabilities in the West Midlands, which we're immensely proud of.
"We look forward to working with our new customers building on the separate food, cardboard, glass, general waste and secure shredding collection services."
Continuing to grow across the West Midlands, B&M Waste work with businesses in Birmingham, Coventry, Walsall, Dudley and Wolverhampton who are looking for a reliable, sustainable and cost-effective solution for their business waste and secure shredding.