Housing provider and fire service partner on high-rise training exercise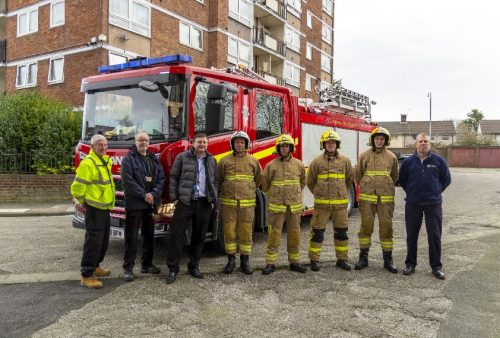 Local housing provider Knowsley Housing Trust is working with Merseyside Fire & Rescue Service (MFRS) to stage a series of operational training sessions in a Kirkby tower block to ensure they are fully prepared in the event of a major incident.
The Trust, part of First Ark Group, is spearheading this training to help local fire crews further improve their emergency response to dealing with incidents in tower blocks.
KHT owns 12 high rise blocks across Knowsley.
The exercises will initially take place at one of KHT's empty tower blocks at Gaywood Green in Kirkby. This development consists of 256 flats across four high-rise blocks that are earmarked for demolition.
KHT is in the process of decanting residents and is on target to complete this process by the end of 2020.
The first session will take place this Sunday, January 19, from 10.30am–1.30pm and will involve a team of firefighters, four fire engines and support vehicles.
Residents are warned not be alarmed or call 999 if they see dry ice, created to represent smoke, emerging from the block.
Sessions will mean fire rescue teams will be able to practise their reactions to a fire and evaluate evacuation methods in a high-rise building.
The exercise will test operational procedures, evacuation styles, new equipment and communication during a major incident.
Tony Cahill, executive director at Knowsley Housing Trust, said: "The safety and protection of our residents is of the utmost importance to us.
"We are working with Merseyside Fire & Rescue Service to make sure we are fully prepared if a major incident does occur.
"In a post-Grenfell landscape, we are testing our robust fire safety procedures and hope to offer residents further security reassurance."
Gary Oakford, area manager at Merseyside Fire & Rescue Service, said: "This is the first in a series of exercises which will offer our crews practical training around dealing with incidents in tower blocks and evacuating residents.
"With the increased focus on fire safety within high rise blocks, on-the-job training is the most effective way to simulate a real life situation, testing and improving our procedures.
"We are very grateful to KHT for this valuable training opportunity."
Various training exercises will continue throughout the year and by the Summer KHT is planning to stage a major incident involving 40 engines and crews from across the North West.