Bonded Warehouse to offer next evolution in co-working sector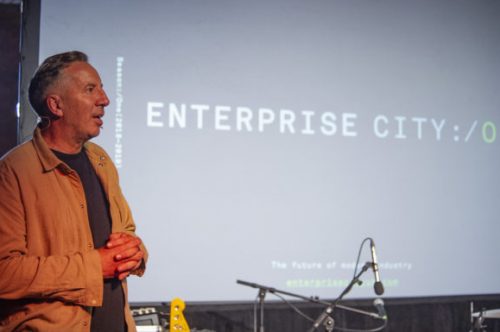 X

Register for free to receive latest news stories direct to your inbox
Register
The next evolution of co-working space will be available in central Manchester.
Allied London, the property giant behind the £500m Enterprise City scheme on the site of the former Granada Studios TV complex on Quay Street, has unveiled its plans for the Bonded Warehouse.
An 1800s warehouse on the site, it has been converted to co-working space, with an emphasis on the tech and media sectors, by the operator All Work & Social (AW&S), which currently operates similar facilites at XYZ in Spinningfields, and the soon-to-be launched ABC site within the Enterprise City footprint.
Mike Ingall, Allied London chief executive, describes the Bonded Warehouse project as "the department store of work. Multi-faceted places of work with ground floor spaces for retail and leisure".
He said it will offer work space, but also the creature comforts that people expect in their lives: "We want to produce a workplace where everything you need in your daily life is here. If you want yoga, or the gym, or a personal trainer, it's here. I don't think anyone has done this."
AW&S has monitored the co-working industry and believes it has the right ethos. Mr Ingall said: "WeWork is good, but who wants to go into a bar and watch people playing table tennis and sit in that bar and have a meeting?"
Part of the plan going forward is to take total control of the asset: "AW&S is introducing a new type of workplace building.
"We have watched The Office Group and Regus, but they are not what I think the market wants.
"I don't think the co-work model works if you only have part of a building.
"Now we control and operate the whole of the building. This is our first whole-building operation and our first concept building will be rolled out."
However, he believes physical contact is still vital for the co-working model. A former co-working site in the old Granada building, OGS HQ, is relocating tenants, or members, to Bonded Warehouse.
Mr Ingall said: "In the old OGS HQ I can guarantee all the businesses there were doing business with businesses in that building.
"The most important thing to any business now, and even in the year 3000, is doing business face-to-face."
He said AW&S will fill the Bonded Warehouse with tech-enabled businesses to meet a rising demand for tech skills.
"At the moment there are over 2,000 tech jobs in the city than there are people available."
To this end, AW&S has announced Tech Nation, the UK network for ambitious entrepreneurs, as its knowledge partner in Bonded Warehouse.
A whole floor of Bonded Warehouse will be dedicated to media and tech. Mr Ingalls said: "This building is much more geared to tech. We have 12 different production studios doing stuff from CBeebies to Peaky Blinders."
Other floors will house work suites and meeting rooms. The Bonded Warehouse will also boast a private bar, a cafe bar and events space, and even its own hotel for its members.
And Mr Ingall revealed the site will have its own brewery, as well as a gin bar and members' club house. The brewery will be situated in an adjoining building that served as the stables for the 1800s warehouse, and as The Rovers Return pub when Granada filmed Coronation Street on the site.
He said Allied London created what is now the leading regional business quarter in the UK when it developed Spinningfields, and Enterprise City will be the media, tech and creative cluster.
"We are filling the gap between Spinningfields and Castlefield. We are gearing up an area that hasn't been open since 1968."
He also revealed that Allied London has scrapped plans to develop residential areas in Enterprise City in order to train the tech industry's next generation of workers.
"We axed our residential plans.
"We ripped up our plans and returned all our deposts because we were just selling to people who lived in Hong Kong and Shanghai, and certainly not living in Manchester."
He also revealed that AW&S can offer subsidised membership rates for the Bonded Warehouse, through government support: "Membership rates are not the same rates as the rest of the market.
"We can offer to subsidise 200 members at any single time.
"I don't believe people should get everything for free, so we can subsidise their accommodation, or their programmes of support through heavy subsidy from central government grant funding.
"I want it to be affordable."