New £17m scheme at heart of major investment into engineering at university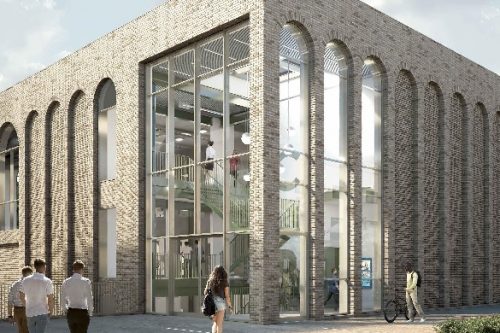 A new £17m three-storey building housing cutting-edge laboratories and facilities including a 3D lecture theatre is at the heart of major plans to expand engineering at Lancaster University.
The 2,700 sq metre building, designed by award-winning architects Hawkins\Brown, will become a showcase for modern engineering, and will feature a brick façade inspired by Lancashire's local industry and viaducts.
Work on the building is set to begin in Spring this year, with completion expected in the Summer of 2021.
It will be built in close continuity with the existing engineering building, which opened to students in 2015 and which has won a host of architecture and environmental design awards.
The new facility will be equipped with an array of specialist cutting-edge equipment to support world-leading research – including a new distillation column for chemical engineering, laboratories for bioengineering and hydrogen energy technology, and an integrated advanced manufacturing environment.
A new 3D lecture theatre will allow for the development of new teaching concepts where lecturers could show students around complex virtual images in a 3D environment, helping to provide a clearer understanding and novel learning experiences.
Great emphasis is devoted to create a distinct learning experience for students with mechanical and electronic teaching labs that can accommodate up to 70 students, and with facilities to fully support fabrication and experimental student work.
The building will also accommodate new laboratories for computing design and electronic teaching, emphasising the importance of digital learning in modern day engineering.
In addition, it will also include flexible working space for guest researchers and development space to support start-ups and businesses.
The building forms part of a wider package of investment by Lancaster University into engineering, which will also see the recruitment of more than 20 new professors and lecturers.
The decision to continue investing in cutting-edge engineering research and teaching facilities, as well as to grow the department's academic expertise, is set against the backdrop of a thriving global engineering industry and increased demand for engineering skills.
Prof Claudio Paoloni, head of engineering at Lancaster University, said: "This is an exciting time for engineering at Lancaster University. The new building will be an outstanding first-rate learning environment that will inspire our students to excellence.
"It provides an advanced learning experience, and will foster new cutting-edge research with state-of-the-art laboratories and equipment, further adding to, and enhancing, our world-class environment and facilities."
Patrick Drewello, project architect for Hawkins\Brown, said: "We are pleased to be working with the university to achieve a design that embodies the department's community feel and strengthens their reputation for general engineering by bringing together multiple engineering disciplines in a new cutting-edge facility, which integrates within the existing engineering estate and campus."
Lancaster University's engineering department has received numerous commendations, including for students' satisfaction in its teaching and for their employment prospects.
In 2019 the department was ranked first by the Times Good University Guide for prospects in chemical engineering, fourth for mechanical engineering satisfaction and sixth for chemical engineering graduate prospects in the Complete University Guide 2019.