US firm unveil plans for £350m indoor arena in Manchester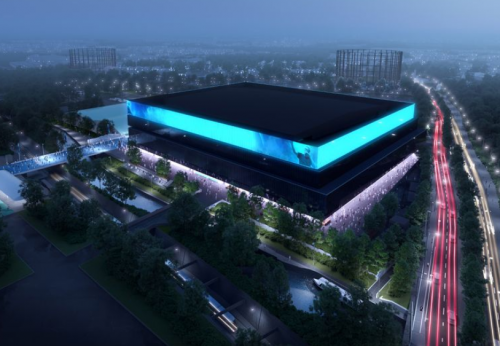 Plans to be build the UK's biggest indoor arena in Manchester have been unveiled.
American firm Oak View Group want to build the £350m venue close to Manchester City's Etihad Stadium.
The 23,5000 all-seater arena would be able to host around 120 major events a year.
The new venue would play host to concerts, sporting events and conferences.
The designs would include room for 10,000 standing spectators as well as flexible seating.
Oak View Group said the arena will create around 3,500 jobs during construction and 1,000 jobs once it opens for business.
Once the arena is granted planning permission it will take three years to build The plan is to open for business by 2023.
A planning application is due to be submitted in the coming weeks.
The arena will be built on wasteland next to the Manchester City stadium.
OVG's co-founder and chief executive Tim Leiweke told the Manchester Evening News: "I've always been a huge fan of Manchester and we have been trying to figure this out for many, many years.
"We're grateful we finally have a site, we have a vision, and we have a partnership with the community to pull off building what we hope will the best arena ever built in Europe and the UK."
He added: "Building the best and most expensive arena to date in the UK or Europe is a fantastic testament to Manchester and the vibrancy of Manchester.
"I think Manchester deserves a new arena and it is certainly not built to eliminate current arena but to compliment the demand in the area.
"Most of the big markets have two, three of four arenas. If you look at London when the O2 was built many people predicted the demise of Wembley Arena, but they've just had the best year they've ever had."