Tickets going fast for Cheshire business event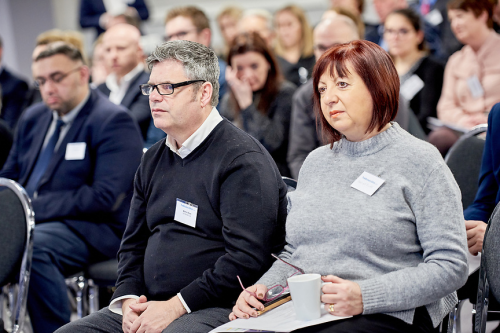 Tickets are being snapped up for an event looking at business in Cheshire.
The Northern Powerhouse Investment Fund in partnership with TheBusinessDesk.com, has been holding a series of breakfast seminars across the North of England.
The aim of the events is to educate entrepreneurs about the funding options available to them.
The third in a series of events is taking place in Chester at the city's famous racecourse. Tickets can be booked here.
Delegates will hear from like-minded business owners who have grown following NPIF investment along with experts who will demystify the complexities surrounding corporate finance and offer sound guidance.
The £400m Northern Powerhouse Investment Fund was established in 2017 with the ambition to transform the funding landscape across the North of England and create economic prosperity on par with London and the South East.
To date, NPIF has directly invested more than £148m, in deals that have attracted an additional £148m of investment from the private sector.
This investment is helping business owners that had previously been under-served by traditional lenders to expand, enter new markets and create thousands of new jobs.
Speaking at the event are:
Grant Peggie
A Director in the Venture Capital Team at the British Business Bank, Grant has led the Northern Powerhouse Investment Fund , the Midlands Engine Investment Fund and the new Cornwall and Isles of Scilly Investment Fund. Previously he led the Bank's work on regional finance including Finance Yorkshire and North East Finance. Before joining the Bank he was Head of Strategic Partnerships at Innovate UK where he was responsible for better connecting innovation and business support for innovative, high growth companies.
Sue Barnard
Sue is the senior manager for the UK Network team at the British Business Bank and her role is to obtain a greater understanding of the North West of England and gather detailed insights in to the North West's characteristics, strengths, issues and strategic priorities, along with intel on the features, players, strengths and weaknesses of the SME access to finance eco-system in your region.
Sue also develops working-level relationships and partnerships with key organisations involved in helping SMEs grow (across the private, public and SME member organisation sectors) within your region and at the same time raising awareness of BBB and its services amongst these regional organisations.
One of Sue's passions is to champion the Northern Powerhouse Investment Fund which she has been involved in since the launch back in 2017 and continues to support the NW Fund Managers.
Sue has held similar positions for over 25 years with the Greater Manchester Business Growth Hub and the North West Development Agency promoting a range of programmes from the North West Fund, The Manufacturing Advisory Service and through to North West Business Angels and the Start Up Loans Programme.
Nicole Markham
Nicole is founder of Sales Bond, an innovative provider of telemarketing and lead generation services to a broad range of national clients.
Nicole's NPIF-backed venture follows an award-winning sales career with major organisations including Rentokil Initial, Capital Radio Group, and Direct Accident Management.
Andy Devaney
Andy is the Director of Business Innovation at Cheshire and Warrington LEP, which among other things gives him responsibility of the Growth and Skills Hub as well as overseeing Inward Investment. Andy has a background in Economic Development and Policy across the North West
John Whelan
John is an accountant turned software geek. After specialising in the complex rules surrounding the taxation of UK temporary workers for 2 decades, he developed an accounting and payroll system to embrace HMRC's making tax digital initiative and streamline the way temporary workers manage their affairs. After raising £1.3m in seed funding, My Digital Accounts passed proof of concept stage and then sought £1.2m funding from the Northern Powerhouse in January 2019 to fund its growth plans. The company has now achieved annual revenues approaching £1m and is considering international expansion in the emerging powerhouse economy in India.