People on the Move: Landwood Group; Bespoke; Burnetts; Zebra Marketing & Communications; Mulbury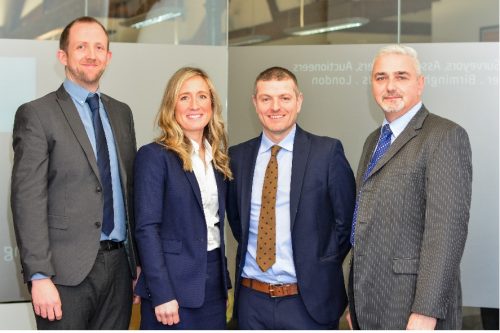 Landwood Group has strengthened its offering with the launch of a new commercial asset management division.
The Manchester-based firm of chartered surveyors has appointed director Anna Main to lead and develop commercial asset management services for new and existing Landwood Group clients.
With more than 12 years' experience, Anna joins Landwood from Avison Young, formerly WHR Property Consultants, where she was head of asset management and property management after gaining in-house expertise in a number of client-side roles.
Anna, 41, is joined by a senior team including experienced client accountant Ceryn Coughlin, property management surveyor Glenn Taylor and head of facilities management Barry Cargill.
The new team is already managing assets for existing Landwood Group clients, including, FRP and Grant Thornton, as well as winning instructions from a number of Manchester-based property trusts and funds.
Anna said: "Having worked client-side for a number of years, I have experienced first hand the poor quality service often provided to clients in commercial asset management.
"Often the big corporate players charge large fees but offer a poor service that is tied up in rigid processes. This is not what the Landwood Group team believes in.
"Landwood Group has provided me with the opportunity to join like-minded professionals to bring a fresh approach to asset management.
"I am extremely fortunate to have been joined by a talented and experienced team who I know share this ethos and want to do the best for our clients."
Instructions already received include the management of the 130,000 sq ft multi-let office building Telford Plaza, the management of three retail and industrial assets for Derwent Lodge Estates, and the management of a multi-let office building in Altrincham on behalf of Nikal.
Landwood Group managing director Mark Bailey said: "The new decade is an exciting one for Landwood Group. A re-brand is complete and our new website is ready to be revealed to the market.
"At the same time the new commercial asset management division officially launches – not only strengthening the group offering, but providing a new service area for growth.
"We are delighted to have someone with Anna's expertise and reputation on board and our clients have already seen the benefit of our enhanced offering."
::
Digital agency Bespoke has appointed Jennie Greenwood as digital project coordinator and Sarah Jackson as marketing manager.
With both joining the agency's Preston office, Jennie's role will involve leading the websites team to deliver clients' lead generation goals, while in a new role, Sarah will head up Bespoke's own marketing, promoting its website, digital marketing and workshop services.
Sarah said: "With operations in Preston and London, Bespoke prides itself on taking a cooperative approach to achieving clients' goals and has been helping in-house marketers make sense of digital for almost 20 years.
"We work as an agency partner with service and manufacturing businesses to use digital to drive growth and I'm really looking forward to promoting the benefits of our unique approach to customers with high lead generation goals from across the UK."
Digital project coordinator, Jennie, said: "My role is to manage our website projects, liaising with clients to ensure on time and on spec delivery while hitting lead generation targets.
"As a strategic lead generation specialist, Bespoke's websites and campaigns have generated over £1bn in online leads and sales since the agency was launched.
"The digital marketing industry looks set only to grow and I'm looking forward to partnering with clients to ensure they get the very best out of digital."
::
Northern law firm Burnetts has a new partner.
The Cumbria and North East-based business has promoted Spencer Knaggs to partner and head of the medical negligence and serious injury department.
Burnetts has 15 partners and employs 160 staff across four sites in Carlisle, Cockermouth, Penrith and Newcastle.
With more than 20 years of specialist experience in the field, Spencer has successfully represented clients suffering from serious injuries, asbestos-related diseases and injury following medical negligence.
Spencer, who joined the firm in 2017 after spending 14 years with Thompsons in Manchester and who studied law at Newcastle, said: "I am looking forward to contributing to the further growth of the business and having the opportunity to develop the medical negligence and serious injury teams in Carlisle, Cockermouth and at Dean Street in Newcastle."
Managing partner, Nick Gutteridge, said: "Spencer fully deserves his ranking as a top, tier one lawyer in the 2020 Legal 500 and is a very experienced practitioner in personal injury and industrial disease.
"As a rising star in the personal injury sector he has built a reputation as the go-to lawyer in his field. Having recently taken on extra responsibility as head of the medical negligence and serious injury team he has shown dynamism, innovation and dedication."
There have been two further promotions within the medical negligence and serious injury teams with Lynne Hall and Michelle Armstrong both becoming senior associates.
This year has also seen a number of other promotions in other teams at Burnetts. Rebecca Joy (banking and property finance), Melissa McManus (corporate) and Caroline Manningham (Court of Protection) have been promoted to senior associate.
Ben Crystal and Rebecca Davidson (commercial property), Rachael Holliday (residential conveyancing), Johnny Coulthard (litigation), and Vikki Porthouse, Zoe Tremeer-Holme and Katie Wright (all in the family team) have been promoted to associate solicitor.
Nick Gutteridge said: "We are so proud of all those receiving promotions this year – in each case this recognition is just reward, and reflects each individual's hard work and commitment."
Thirty-two lawyers from Burnetts were recognised in the latest edition of the profession's prestigious Legal 500 guide.
::
Regional agency Zebra Marketing & Communications has welcomed a new account manager, Kathryn Walsh.
Kathryn joins Zebra having relocated from Leeds.
With eight years' experience across content marketing, PR, social media and SEO, Kathryn has worked with a broad range of start-up SMEs, leading B2B and B2C clients and national franchises.
With a particular interest in the equestrian, crafting and charity sectors, Kathryn also has wide industry experience, from food and drink to the higher education and construction sectors.
On her new appointment, Kathryn said: "I am so thrilled to have joined such a fun and brilliant team. I really look forward to producing more fantastic results for all of our clients, and I can't wait to earn my stripes with Zebra."
Owner and director Clara Hughes said: "I am really pleased to welcome Kathryn to the team at this exciting time for the business as we celebrate our 10th year. We are so lucky to continue to work with such an interesting portfolio of clients and partners."
Wrexham-based Zebra Marketing & Communications' clients include Royal HaskoningDHV, Cimteq, CB Homes and charity Stick 'n' Step.
::
Residential developer Mulbury has three new directors after making two promotions and a senior appointment.
Construction manager Glyn Fazackerley and commercial manager Neil Ashton have been promoted to construction director and commercial director, respectively.
The Cheshire-based company has also appointed Mike Nevitt as design director.
Mike joins after four-and-half-years as design director at Bardsley Construction and before that 12 years as a design manager at BAM Construction.
Martin Bury, co-founder and director at Mulbury, said: "Glyn and Neil have played a huge part in our recent success. Glynn has been instrumental in developing our in-house construction team and Neil's commercial expertise has been central to the delivery of new sites.
"They will continue to be a driving force behind our future growth plans and it's a pleasure to promote them both to the role of director.
"Meanwhile, Mike is another big appointment for us. His experience in the sector is enormous and alongside our senior team he will support our aspirations to deliver hundreds of new homes across the region."
Mulbury, which has offices in Lymm and Manchester, currently has eight new developments, providing more than 1,000 homes, starting on site in the next nine months alone, as well as a further 400 units in central Manchester.
It aims to build more than 3,000 home in the North West over the next five years.