Aviation industry facing fight for survival as countries across world close borders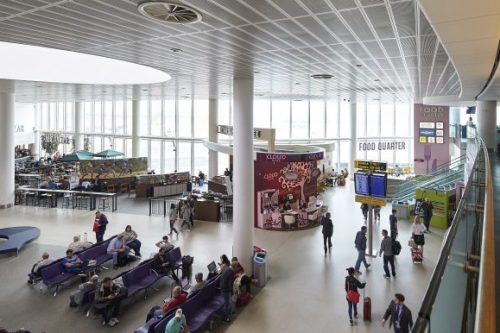 The aviation industry is fighting for its survival according to the airlines and authorities.
As countries around the world close their borders in a bid to halt the spread of Coronavirus many airlines have been forced to ground their fleets.
There have now been over 49,490 confirmed cases in Europe and 1,932 deaths.
Thousands of jobs depend on the sector in the North West and Manchester has the largest UK airport outside of London.
Richard Moriarty, the chief executive of the UK Civil Aviation Authority (CAA), says the crisis is the most challenging ever faced by the sector.
He said: "This is the most challenging period for aviation and package holiday businesses we have witnessed.
"The threat to the survival of some businesses is real the longer this goes on.
"They will need to take very difficult actions to secure sufficient liquidity.
"We are doing all we can to help airlines, airports and tour operators.
This includes working very closely with them on specific operational issues that arise as well as being clear about our expectations on consumer rights.
"The underlying consumer desire for aviation and holidays is strong, so once the pandemic is behind us, we will hopefully see a strong recovery of demand."
Easyjet has been forced to ground it fleet and send staff home.
Johan Lundgren, easyJet chief excutive said; "At easyJet we are doing everything in our power to rise to the challenges of the Coronavirus so that we can continue to provide the benefits that aviation brings to people, the economy and business.
"We continue to operate rescue and repatriation flights to get people home where we can, so they can be with family and friends in these difficult times.
"European aviation faces a precarious future and it is clear that coordinated government backing will be required to ensure the industry survives and is able to continue to operate when the crisis is over."
A company spokesperson said: "Due to the unprecedented level of travel restrictions being imposed by governments in response to the coronavirus pandemic and significantly reduced levels of customer demand, easyJet has undertaken further significant cancellations.
"These actions will continue on a rolling basis for the foreseeable future and could result in the grounding of the majority of the easyJet fleet.
"EasyJet will continue to operate rescue flights for short periods where we can, in order to repatriate customers."
British Airways chief executive Alex Cruz has told staff that the coronavirus presents "a crisis of global proportions like no other we have known".
Mr Cruz said the airline was under "immense pressure" and would have to respond "fast and definitively".
The boss of the UK's flagship airline confirmed routes have been suspended and jobs will be lost in the coming months.
"BA today is more financially resilient than ever before, thanks to some tough decisions we have made in recent years," Mr Cruz said.
"We are part of a strong parent company, IAG, and we have a robust balance sheet.
"But we are under immense pressure. We will have to react fast and definitely in response to the worsening situation."
Virgin Atlantic is reducing its flights by up to 85 per cent and will prioritise "core routes based on customer demand".
The airline said in a statement: "This change amounts to an approximately 80 per cent reduction in flights per day by 26 March.
"As a direct consequence we will be parking approximately 75 per cent of our fleet by 26 March and at points in April will go up to 85 per cent.
"Owing to restrictions to international travel, the airline is reducing services to focus on core routes, depending on customer demand. This will be subject to constant review as the situation evolves.
"Our London Heathrow-Newark route will be permanently terminated with immediate effect."
Ryanair expects said it will be the grounding of the majority of its aircraft fleet across Europe over the next seven to ten days.
A spokesperson said: "In those countries where the fleet is not grounded, social distancing restrictions may make flying to all intents and purposes impractical, if not impossible.
"For April and May, Ryanair now expects to reduce its seat capacity by up to 80%, and a full grounding of the fleet cannot be ruled out.
"Ryanair is taking immediate action to reduce operating expenses, and improve cash flows. This will involve grounding surplus aircraft, deferring all capex and share buybacks, freezing recruitment and discretionary spending, and implementing a series of voluntary leave options, temporarily suspending employment contracts, and significant reductions to working hours and payments."
Alexandre de Juniac, the head of the International Air Transport Association (IATA) warned that industry losses now would be probably above the $113bn (£90bn).
Mr de Juniac said: "We are asking all the governments who have put restrictions – and the US government particularly – to review the decision permanently to see whether they can alleviate or waive that decision – the sooner the better."