Chancellor unveils £350bn package to fight coronavirus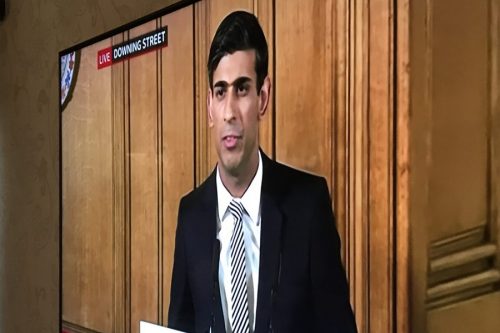 The Government has unveiled a £330bn package of guarantees to support businesses through the "unprecedented" impact being caused by coronavirus.
In a joint press conference Prime Minister Boris Johnson and Chancellor Rishi Sunak set out the latest economic response, just six days after the Budget.
Johnson said: "We must act like any wartime government and do whatever it takes to protect our economy.
"We must support millions of businesses and tens of millions of families."
Sunak set out some details of the economic response – which he described as "unimaginable just a few weeks ago" – while promising more information and targeted action in the days ahead.
"These are only the first steps," he said. "We have never faced an economic fight like this one."
Sunak's measures also included a package of direct support to businesses worth more than £20bn.
The £330bn loan guarantees are designed to provide access to loans "on attractive terms" for all businesses which need it.
Larger businesses will be supported by a new lending facility agreed with the Bank of England.
Smaller businesses can access a big extension of the business interruption loan scheme which had been first announced last week.
There will now be loans of up to £5m available, with no interest due for the first six months, and a promise the scheme will be "up and running by next week".
The £3,000 cash grant for 700,000 small businesses in the Budget has also been increased to £10,000.
The Chancellor revealed significant investment to support businesses operating in the hospitality, leisure and retail sectors.
The economic measures came as the public health challenges continues to rise.
The number of UK deaths today increased by 14, to 67 people, as confirmed cases were up by 403 to 1,950.
Foreign Secretary Dominic Raab earlier advised against any "non-essential travel", while the Archbishop of Canterbury had said the Church of England's regular services were "suspended until further notice" and the international football tournament Euro 2020 was put back a year.
The Government was under pressure to react after it became clear the £12bn coronavirus response unveiled in last week's Budget would barely make any difference in the face of a potential economic apocalypse.
Yesterday French President Emmanuel Macron set out a plan which combined deferring company tax and payroll charges worth 45bn euro (£41bn) alongside government loan guarantees to support businesses totalling 300bn euro (£270bn).
The UK's leisure and hospitality industries – from airlines to craft bars – are among the worst affected as they have seen revenues plummet as people restricted their travel and began to stay in.
Gatwick Airport today cut 200 staff, action it said was required "to protect the business". Yesterday Manchester Airports Group, which also runs East Midlands and London Stansted, began consultations with staff about temporary lay-offs and pay cuts.
Sunak said Transport Secretary Grant Shapps would announce measures to support airlines and airports in the coming days.
In town and city centres, a decline in footfall and spending became a crisis last night when Boris Johnson strongly advised people to avoid bars, restaurants and theatres.
One petition started by chef Alex Claridge, who owns renowned Birmingham restaurant The Wilderness, had reached 150,000 signatures in less than 24 hours.
It called for Government action to support the hospitality industry, saying the "total lack of responsibility for the hospitality industry is unacceptable".
Today Sunak announced cash grants of up to £25,000 to eligible businesses in the hospitality, leisure and retail sectors.
In addition, a business rates holiday previously announced for some businesses in those sectors has now been extended to all businesses, which will now pay no business rates for 12 months.
Mowgli founder Nisha Katona announced her fast-growing chain of Indian street food restaurants would temporarily close tomorrow. It has 10 sites open across the North and Midlands, with its Leeds restaurant days away from being launched.
Katona, a high-profile voice in the restaurant industry, said: "As we mothball our beloved Mowgli, myself and my senior management team will now work without sleeping on the way in which we can honour our teams over the next months.
"I believe when the world emerges from this forced restructuring of life, any new dawn will have a place for Mowgli."
Kevin Doran, chief investment officer at AJ Bell, said: "The Chancellor rolled out his 'whatever it takes' package of measures designed to contain the impact of the coronavirus on the economy.
"Overall it's a powerful package of cash flow measures that amount to assistance somewhere in the region of 15% of GDP, but what's missing is any real help to fill in the production chasm that is coming our way over the next few months.  If this is 'whatever it takes', I'm afraid 'it just isn't enough'.
"For the regular man on the street, the headline grabber will be the 3-month payment holiday on mortgages.  Whether the banks will continue to accrue interest on the outstanding balances isn't clear yet.  If it's a simple payment holiday, then that's pretty much what any bank would offer all customers in payment difficulty – nothing new here.  If it's debt relief, then that's different and represents quite a hand-out to the public given that there's £1.3 trillion of mortgage debt in the market earning the banks an estimated £6.5bn of interest every quarter.
"For businesses, there's the offer of tax breaks, grants and access to £330bn of low-cost loans with a 6 month interest free period.  Again, there's a need to see details here, but it's best thought of as giving interest free loans to corporates to cover cash flow issues during the lock-down.  What's most interesting here is the setting up of a lending business within the Bank of England itself in the form of the Covid Corporate Financing Facility (CCFF), which will see the Central bank not just take on private debt to its balance sheet (which it did a bit of in 2008/09) but actually originate the loan itself direct with the business issuing the commercial paper.  Interesting, but again a cash flow tool, not one that replaces lost production.
"Why households are possibly receiving relief and corporations are getting low-cost loans is probably as much a function of politics as it is economics, but if the Chancellor was serious about being brave and bold and all those other adjectives he tossed about, the smart thing to do would be to give genuine debt relief to both businesses and households, with interest written off on debts for the entire six month period.  And whilst you're at it, extend the holiday to all forms of consumer debt.  Secured and unsecured.  If you're going to do 'whatever it takes', make sure that it's big, simple, effective and powerful.