Airline bosses forego salaries for five weeks in response to aviation shutdown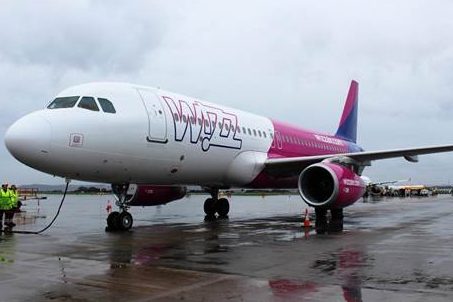 Wizz Air, the largest low-cost airline in Central and Eastern Europe which operates flights out of  Liverpool John Lennon Airport, announced a range of measures in response to the coronavirus emergency today, including its board not taking a salary for five weeks.
The Hungary-based airline said it has enough reserves to weather the current industry storm, with many international routes grounded.
But it called on governments to "take non-discriminatory steps which will benefit all airlines".
On average, Wizz Air's capacity is reduced by 30% year-on-year for the month of March.
As of this week, Wizz Air has grounded around 85% of its fleet.
The company continues to operate 15% of its capacity and remains operational in Romania, Hungary and Bulgaria, but the grounding of the entire fleet remains a distinct possibility over the next period, as potential additional travel restrictions and social distancing policies issued by authorities may make international flying for commercial purposes either untenable or impossible.
It said the health and safety of crew and passengers remains Wizz Air's top priority: "We continue to partner with the relevant authorities and follow their guidelines."
In a stock exchange announcement this afternoon the airline stated: "For the avoidance of doubt, Wizz Air will resume all flights as soon as reduced travel restrictions and governmental policies allow commercial operations.
"Whilst difficult to predict the duration of the pandemic, given the significant balance sheet strength and liquidity, as well as the company's ultra-low cost business model, Wizz Air is confident in its ability to survive even a potential prolonged grounding substantially beyond the current estimates for the impact of COVID-19 in Europe.
"To further secure our strong financial position during the reduction in capacity, the company has implemented additional cost-reduction measures in third-party spending, overhead spending, discretionary spending and non-essential capital expenditure.
"In addition, we have implemented measures to secure our strong cash position working with vendors, suppliers and authorities.
"We have rolled out a series of voluntary working hour reduction options and leave options with our employees. The board and executive leadership team of the company will be foregoing their salaries for five weeks, including the month of April.
"Through all of these extraordinary and unparalleled events, we have had tremendous support of our people across all countries we operate in to put these interventions in place and to be ready to re-start full operations as soon as travel restrictions allow for this."
Chief executive József Váradi said: "Our ever-disciplined attitude to cost and cash enables Wizz Air to take decisions that are right for crew, passengers and communities even in the context of demand and travel restrictions due to the COVID-19 pandemic in Europe.
"Wizz Air's ultra-low cost business model and our strong balance sheet provide a solid foundation and a significant competitive advantage in the current challenging environment for airlines, while also making us a long-term structural winner in the aviation sector.
"However, this situation is posing a significant threat on the aviation industry and we call on governments to take non-discriminatory steps which will benefit all airlines.
"This will enable an industry and environment that is healthy, efficient and more environmentally sustainable and will serve passengers through enhancing the mobility of people."