Arena operator calls for proper scrutiny of rival planning application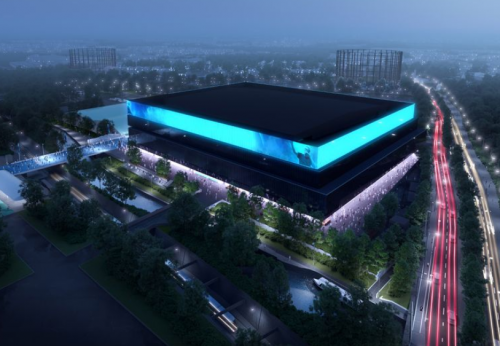 The operator of Manchester Arena has called for proper scrutiny of proposals for a new £350m venue which could be built close to Manchester City's Etihad Stadium at Eastlands.
In February this year American firm Oak View Group announced it wanted to build the UK's biggest indoor arena.
The 23,5000 all-seater arena would be able to host around 120 major events a year, ranging from concerts and sporting events to conferences.
Oak View Group said the arena will create around 3,500 jobs during construction and 1,000 jobs once it opens for business, which could be 2023, if planning permission is granted.
The company submitted its planning application yesterday afternoon (March 31).
However, ASM Global, operators of the 21,000-capacity Manchester Arena next to Victoria Station, have called on Manchester City Council to consider the implications of a second major events arena in the city region.
A spokesperson for ASM Global said: "It is unfortunate that this planning application for an out-of-town arena has been submitted at an extremely challenging time for our city.
"The council is, understandably, focused on keeping the people of Manchester safe and well, and we have been doing what we can to support the national effort, including offering all our venues as temporary hospitals or emergency shelters.
"We are carefully reviewing the application documents that have been put forward, alongside claims OVG has previously made around the impact to Greater Manchester's transport, environment and economy."
The spokesperson said: "Existing independent analysis on market demand from Oxford Economics and Grant Thornton is clear, that two 20,000 capacity arenas in Manchester are not sustainable and will drive events and footfall to an out-of-town location, with devastating effects to the city centre economy and the region's air quality.
"Where two arenas exist in the same city elsewhere, they are not both in excess of 21,000 capacity.
"In London, there is one venue at 20,000 and a smaller venue at 12,500, with a population three times the size of Manchester.
"In Birmingham, there are two significantly smaller venues than Manchester Arena, operated by the same company, with total ticket sales across the two venues being equal to that of Manchester Arena.
"Taking Birmingham as the example, it is clear that adding a second arena at 20,000 capacity will simply split the existing number of events between two locations.
"Moving 50% of the city's events to Eastlands will dramatically reduce the footfall to the city's bars, restaurants and retail."
They added: "We sincerely hope that, despite being submitted at a time of national crisis when attention is understandably focused on life-saving efforts, this application will still receive proper scrutiny.
"We would urge the council to carefully consider whether now is the time to approve plans that will further jeopardise our city centre.
"We need to stand together to protect culture, entertainment and hospitality in the heart of Manchester."
Last month, ASM Global unveiled an early stage vision for its redevelopment of Manchester Arena to mark its 25th anniversary.
A dramatic redesign of the main arena would significantly increase standing capacity and provide new food and drink experiences on the event floor. It would take overall capacity to more than 24,000, making it the largest indoor arena in Europe.