People on the Move: Brabners; Clough & Willis; Bathgate Business Finance; Primas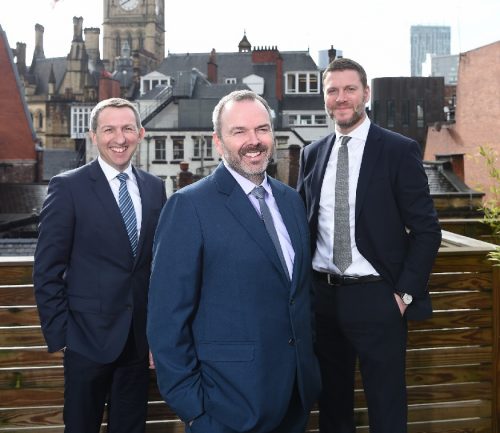 Independent law firm Brabners has moved to further strengthen its real estate offering with the appointment of Andrew Waugh as sector lead.
A highly-experienced lawyer, developer and commercial director, Andrew will head up Brabners' more than 95-strong real estate practice, shaping its go-to-market strategy.
His appointment also forms part of the firm's strategic focus on the Manchester market as it looks to grow its client offering in the city and wider North West region.
Andrew brings with him extensive client-side experience having influenced strategy via senior legal and commercial roles within FTSE Plcs and private organisations including Urban Splash.
The new role will also benefit from Andrew's experience as director of private real estate group 53N which he founded in 2008.
Under Andrew's leadership, the property development and asset management business completed numerous acquisitions while supporting the delivery of complex public and private partnership schemes valued upwards of £150m.
Working with the firm's partnership, Andrew will support Brabners' specialist real estate teams as they accelerate growth across areas including development, construction, investment and property management, agriculture and residential.
Nik White, managing partner at Brabners, said: "Brabners has held a close relationship with Andrew for some years and we've naturally been keen to add his experience to the team.
"In addition to his legal credentials, his in-depth knowledge of client investment cycles – from purchase and development through to sale and exit – is invaluable and will be a major asset to both the team and our clients at this important time.
"We've seen a significant uptick in clients needing timely counsel across the firm since the outbreak of coronavirus and Andrew's arrival will, no doubt, have a positive impact on many of those conversations in the weeks and months ahead."
Andrew Waugh said: "We are ultimately in the midst of a period of great challenge across the property industry. As such, I consider it a privilege to lead a team that has real strength in depth and is influencing important decisions across our core markets in the North West.
"Having worked in-house and led development, it's clear that our clients are looking for advisers with a true understanding of how they operate and the ability to pragmatically manage their partners and suppliers to move projects forward.
"From past and current experience, that skill is well embedded within the team here and something that will be a core focus of our growth in the future."
Brabners' real estate team is based in Manchester, Liverpool and Preston. Its clients include Peel L&P, TJ Morris (Home Bargains) and property developer Glenbrook.
Andrew's appointment follows a successful 12 months in which Brabners posted continued profit and revenue growth and was named in The Sunday Times' 100 Best Companies to Work For 2020.
The firm generated turnover of £33.6m in the year to the end of April 2019, up from £33.1m the previous year, and invested more than £1.8m to boost growth as part of its three-year change programme.
::
Bury and Bolton law firm Clough & Willis has announced a new partner and made two internal promotions.
Nicola Finbow, who joined the firm in 2018 as head of the private client team, is now a partner.
Nicola focuses on a variety of core work including wealth and succession planning, inheritance tax advice, trust creation and administration, wills, lasting powers of attorney and estate administration.
She is also a full member of STEP, the global professional association for practitioners who specialise in family inheritance and succession planning.
Also in the private client team, Rhianna Bateson has been promoted to associate solicitor.
Rhianna has worked at Clough & Willis since 2017 and, like Nicola, covers all areas of private client law.
She is a member of the Solicitors for the Elderly and is due to complete her final examinations to become STEP-qualified. Rhianna graduated with a first class law degree from UCLAN in 2012. She completed her Legal Practice Course in 2013, qualifying in July 2016.
The final promotion is Sue Trudgeon who is now an associate in the firm's property team. Sue, who qualified as a Licensed Conveyancer in April 2009, joined Clough & Willis in April 2016.
Sue deals with a variety of residential property work including sales, purchases, re-mortgages and transfers of equity, purchases of freehold and first registrations.
Lee Marston, managing partner, said: "Despite the challenging times we face, Clough & Willis is committed to investing in our talent and promote from within the firm. All three are fantastic lawyers and they each have a wealth of experience that benefits both the business and their clients."
::
West-Kirby based finance specialist, Bathgate Business Finance, has continued to build on its expansion plans with a strategic new appointment.
The company has welcomed property finance specialist Ben Humphreys as business development manager (BDM). Ben brings more than 15 years' experience to the team, garnered from roles at companies including Wirral Chamber of Commerce, St James's Place Wealth Management, Ingard Financial and Skipton Building Society.
He joins Bathgate from Wirral Chamber of Commerce, where he was director of membership and growth, driving the recruitment of new members and directly managing relationships with the chamber's strategic partners and its professional business members.
The strategic appointment of a property specialist positions Bathgate Business Finance for further expansion into the sector in 2020.
Specialising in commercial mortgages for business owners and property investors, bridging loans for refurbishment and change of use and finance for new build projects, Ben's experience will allow Bathgate to provide an even more innovative range of funding solutions to property businesses across the North West.
Ben said: "Having a BDM dedicated to the property sector presents a fantastic opportunity to generate new ideas and respond quickly and effectively to changes in the market.
"I'm looking forward to using my expertise and depth of understanding of the sector to structure finance in such a way that delivers the best possible outcome for both future and existing clients.
"I also aim to bring new ideas on raising capital for enquiries into the business and use my extensive network of contacts to grow Bathgate's already thriving customer base."
Ben, who officially started in his new role on Wednesday, April 1, joins the team at a time of great uncertainty for the property sector and across the region, due to the coronavirus outbreak.
He said: "Much of the impact of the global pandemic on the property sector is still to be seen, namely rental voids, the construction sector scaling back and struggles with supply chain.
"However, property offers great security for lenders and will be a huge resource for individuals and businesses to make sure they emerge from these difficult times in a positive place.
"Enquiries about using property assets to release cash are already coming in and we are also encouraging clients to review finances, whether for a single commercial mortgage or portfolio of properties.
"Lenders are still looking to lend, so now is a time to renegotiate terms, save some interest or even raise capital for future investments."
Bathgate Business Finance managing director, Gordon Andrews, said: "Ben's property sector expertise and extensive network of contacts will be absolutely pivotal to our growth over the next 12 months.
"Given the challenging economic time that he is joining us, Ben has hit the ground running with a positive attitude and some excellent new ideas, which will benefit both our current customers and help us to extend support to new clients at a time when it is very much needed.
"His approach is perfectly aligned with our company mission to help businesses start up, survive and grow and we're excited to welcome him into the Bathgate family."
::
Cheshire and Manchester-based law firm Primas has announced the promotion of a new partner to further strengthen the firm's commercial real estate offering.
Nataliya Healey, who has been with Primas for three years, becomes the sixth partner and will now support the firm with its growth strategy in the North West.
A specialist commercial real estate lawyer, Nataliya has particular expertise in managing complex property transactions, development and property finance work.
Nataliya said: "I'm delighted to become a partner at Primas. It's an incredibly hard-working, passionate firm with great ambitions for the future. Our approach is modern but personal – we deliver work in a way that our clients want and need, helping them to secure the best possible commercial solutions.
"In my three years with Primas I've experienced the firm go from strength to strength. I'm very much looking forward to an onward, and undoubtedly upward, journey with Primas."
Primas has a team of close to 40 staff with offices in Cheshire, Manchester and London. It offers a wide range of services including corporate, commercial, litigation, real estate, employment and insolvency.
Managing partner, Adam Kerr, said: "We're thrilled to promote Nataliya to the position of partner. During her time with us her incredible work ethic and professionalism has allowed her to impress clients and colleagues alike and show impressive leadership qualities.
"She's always very attuned to the commercial needs of a deal and is a very talented technical lawyer. These are traits that we value very highly at Primas and we consider Nataliya to be a great asset to the firm."