Football price comparison website lands £1.625m funding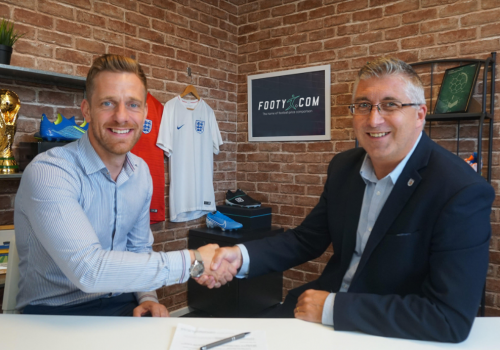 A price comparison website for football merchandise and sportswear has secured a £1.625m round of investment.
The funding will allow the company to roll out the first stage of its expansion strategy and global growth plans.
Based in Manchester as well as the North East and backed by venture capital firm Northstar Ventures, FOOTY.COM will use the funding injection to increase brand awareness, bolster its workforce and invest in its online technology so its customers can find competitive deals on sportswear with ease.
Established in 2015 by five founding serial entrepreneurs – who have involvement with a string of high profile businesses in the North of England including SaleCycle and The Leighton Group – FOOTY.COM helps customers throughout the UK, Europe and the USA get the best pricing for trainers, football boots, football kits and sports clothing, providing access to thousands of products.
With the investment provided both by the North East Innovation Fund, supported by the European Regional Development Fund and managed by Northstar Ventures, and a selection of angel investors, the company will now move forward with its plans to relocate to a new office and is now actively searching for talent to bring into the organisation, including experienced marketers and a relationship manager.
Chief executive Paul Lucherini, former commercial director at J2 Global, said: "We believe we're the only company globally comparing prices across the football world and the technology we have built is robust and innovative.
"We've got a great opportunity to grow a North West based business into something that millions of people will benefit from.
"The new funding we have acquired will help us reach the millions of football fans around the country, and the world.
"The plan is to build the awareness of FOOTY.COM as well as optimising the technology so that we become the go-to place when people look for new trainers and football-related merchandise. We're planning for quick growth and ultimately have the opportunity to look at international markets such as USA, Europe and Asia-PAC too."
Northstar is a venture capital company dedicated to building successful high growth businesses across the North of England.
Ian Richards, a director at Northstar Ventures, said: "We're delighted to be supporting FOOTY.COM, we've been impressed by the team and the vision as well as the ability to scale the business
"We look forward to working with them as they take their innovative platform further and grow the team."
Looking ahead to the short and medium term, FOOTY.COM has said it is now well placed to be in a high growth position following the outbreak of Covid-19.
It has said it is on course to achieve a £1m revenue run rate in the next 12 months and expects this to grow to £5m within the next three years.
Paul Lucherini, added: "We're in a great position following investment to really take the next steps in growing awareness of FOOTY.COM. We'll improve our technology even further and with our vision of making football affordable for everyone we really feel we can become a household name across the country. The next stage of the journey is going to be an exciting one.
"After the significant impact of Covid-19, we think there will be even more demand online in the short term for people to find the best pricing for products, and long term there will be no shortage of people looking for trainers and football boots as we all get back to regular life.
"The business is in a strong position, in a recovering economy, to help consumers get the best options online and we believe the demand for our type of service will always be there. We just have to look at the impact of comparison sites in other sectors that help consumers and within the sporting world it should be no different."