Salford golf retailer exit provides six times return for PE group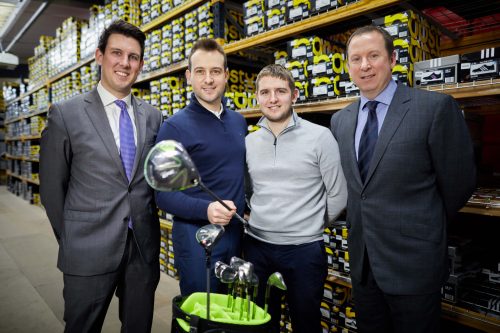 Foresight Group has completed the successful sale of Clubhouse Golf, the UK's largest independent online retailer of golf equipment, to all4golf, a European ecommerce business focused on golf, for an undisclosed sum.
Irlam-based Clubhouse has found a strong strategic partner in all4golf and together will look to become the pan-European market leader for golf equipment.
This represents the first exit for the £58m Foresight Regional Investment LP fund, which supports small businesses in the North West of England and North Wales and which, since launch in 2016, has invested in 15 companies to date.
Clubhouse Golf stocks the majority of golf brands and offers a direct to customer proposition centred around a bigger choice for better value with an industry leading service.
Since the fund made its original investment in February 2017, Clubhouse has more than doubled its revenue to almost £30m, with strong growth in the UK and a successful expansion into the European market.
During the past three years the business has launched a new website and delivered an effective marketing strategy through social media channels.
The company has increased staff numbers by 50% since Foresight's investment, making a positive social impact in the local area.
This successful exit delivered six times return for the fund's investors.
It represents the fourth successful realisation by Foresight's private equity team in the past 12 months, cementing their position as one of the most active SME investors in the UK market.
Ben Reeves, chief executive of Clubhouse Golf, said: "Foresight has supported Clubhouse on its journey to become the UK's leading online retailer for golf enthusiasts.
"We've exceeded our own expectations and couldn't be happier with the help and guidance we've received from Foresight.
"We are excited to be partnering with all4golf for the next part of our journey. Their industry knowledge and experience will be invaluable."
Matthew Pomroy, senior investment manager from Foresight's Manchester office, added: "Clubhouse is a fantastic example of a local family business that has delivered outstanding growth.
"It has been a pleasure working with the management team and we wish them every success for the future with all4golf."
David Weavers and his team at Clearwater in Manchester advised Clubhouse Golf on the deal, with Matthew Pomroy leading for Foresight.
Advisers to the vendors:
Corporate Finance – Clearwater (David Weavers, Tom Cooke, Dom Moir); legal advice – Squire Patton Boggs (Giles Chesher, Alexandra Keane); financial DD – EY (Helen Pratten, Paul Stott, Mohammad Khalid, Matt Klemperer); commercial DD – Kin & Carta (Tom Holt, Jonan Boto, Hugo Sunnocks); tax – GT (David Hawley, Paul Atherton).