People on the Move: HS Property Group; Sci-Tech Daresbury; Irwin Mitchell; Forbes Dawson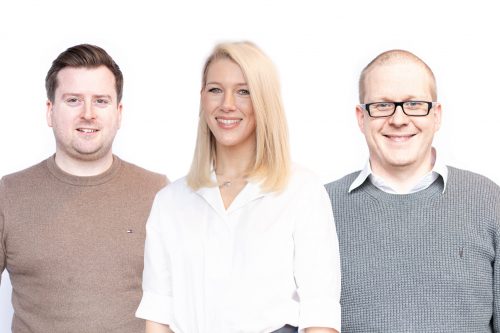 Manchester-based HS Property Group has boosted its growing team with three new director appointments.
Robyn Lee has joined as commercial director and Mark Edwards joins as asset management director, having previously worked at Whitecroft Group and JWH Capital.
James Bell, who has worked in the social housing industry for more than a decade including most recently Jigsaw Homes, has become the company's new finance director.
With its headquarters in Ardwick, HS Property Group currently employs 20 people.
The company specialises in affordable and social housing and works with a number of housing associations to provide residential accommodation for more than 200 families across the country.
Robyn Lee, who previously worked for Aldi UK, said: "HS Property is currently undergoing significant growth and I am excited to be part of this next stage of the company's development.
"Their revolutionary approach allows us to transform the way in which the social and affordable housing sectors operate and my role is to ensure this ambition is realised smoothly and effectively."
He added: "At this difficult time, we are working harder than ever to support the care providers with ensuring that vulnerable adults and families are promptly housed in safe, high-quality accommodation and are successfully securing new premises daily."
Guy Horne, chief executive, said: "Despite the strange and uncertain world that we are currently in, this is a very exciting new chapter in the history of our company.
"Robyn's dynamic and proactive attitude, coupled with the expertise and market knowledge of Mark and James, will be a huge boost to our offering."
Mark, responsible for the company's acquisitions and strategy, is also excited to work in a company providing real social impact: "The forward-thinking approach of HSPG made the role an exciting opportunity and they have shown some great traction in the last few months on varying transactions in the social, affordable and commercial sectors."
::
Sci-Tech Daresbury has appointed the University of Liverpool's Rudy Parengal as student ambassador to help strengthen the bonds between the two organisations and to ensure that more of the best talent from the university is retained within the Liverpool City Region.
Rudy Parengal, currently studying for a Master's degree in International Business at the university, has been chosen for the role to help showcase the opportunities available at the national Sci-Tech Daresbury campus to his fellow students.
The two organisations are working together to help nurture the latest graduates and postgraduate students at the university, raise awareness of the great job and placement opportunities at Sci-Tech Daresbury companies, and build stronger collaborations around accessing talent between the management team of these companies and university departments.
Rudy will undertake a series of initiatives to promote the campus's offers to graduates and postgraduates, with a particular focus on students studying in areas including computer science, mathematics, physics, engineering, marketing & business, life science and chemistry.
Through social media and online activity on the university campus, Rudy will liaise with students studying relevant subjects to promote the opportunities on site and those coming up in the near future.
A scheduled tour of the campus by current students was recently rearranged as a webinar following the nationwide lockdown. Attended by more than 45 students, participants were able to quiz several companies located on site about their work and what it's like to work within a thriving science and technology hub.
Dr Paul Treloar, business support manager, Sci-Tech Daresbury, said: "In order to ensure a sustainable future for science and technology in our region it's imperative we ensure that local companies continue to attract the talents of our university graduates and postgraduates.
"The critical mass of high-growth companies at Sci-Tech Daresbury provides huge career opportunities for North West students in businesses from start-ups to international corporates such as IBM and Hitachi.
"Liverpool is one of the top student destinations in the UK, and it's important that those currently studying are fully aware of the opportunities on their doorstep.
"Rudy is a very impressive young man, and has cultivated some excellent experience in his career to date. He'll be able to use his knowledge of his fellow students in order to promote everything Sci-Tech Daresbury and its exciting companies have to offer in a way that speaks to their personal and professional goals."
Rudy said: "There are so many exciting businesses working at Sci-Tech Daresbury and the offices and lab spaces are hugely impressive – when I first visited I was really inspired by seeing so many forward-thinking businesses often working in close collaboration to pioneer the technologies of the future."
::
The Manchester office of law firm Irwin Mitchell has announced two new partners in this year's promotion round at the group.
Cheryl Palmer-Hughes works in Irwin Mitchell's international serious injury department and acts for individuals who have been injured in incidents abroad. She joined the firm in 2008 as a paralegal, qualified in 2011, and was promoted to associate and then senior associate in 2014 and 201, respectively.
The other new partner is Adele Lomas who is general manager at Ascent, which is a subsidiary of the Irwin Mitchell Group specialising in providing arrears management, debt collection, litigation and recovery services to a broad client base.
The two Manchester office promotions are part of 11 new partners across the firm and follow the 84 associate and senior associate promotions made in January this year.
Andrew Tucker, group chief executive, said: "Once again I am immensely proud to announce our new partner promotions.
"When you take into account our new associates and senior associates, this year we've promoted almost 100 people across our group, which is another clear sign of the continued emphasis we place on investing and developing our people."
He added: "The impact of the COVID-19 pandemic has made getting professional and timely advice more important than ever for people and businesses. Our advisory services are seeing that demand from clients and it's important we continue to build our group to support that."
The appointments take effect from May 1, and are subject to SRA approval.
::
Independent tax consultancy, Forbes Dawson, has promoted three of its team to partner as the business looks ahead to future growth.
Michelle Hogan, Rebecca Bedford and Tom Minnikin will all be named partner on May 1, having been with the practice since 2012.
This news comes on the back of the firm's shortlisting for Best Independent Tax Consultancy at the prestigious Tolley's Taxation Awards 2020.
Flying the flag for the region, Forbes Dawson is the only North West consultancy named in this category.
The company was established in 2012 and provides tax advice to businesses, entrepreneurs and high-net-worth individuals, as well as providing specialist expertise to other professional advice firms.
In eight years, the team has grown from five to 20 and in its past financial year achieved a record turnover.
The founding partners – Michael Dawson, Laura Hutchinson and Andrew Marr – launched the business after eight years within a large national practice as an independent consultancy with a firm focus on personal service.
Managing partner, Michael Dawson, said: "Michelle, Rebecca and Tom are talented and dedicated advisers and all three have built the trust of clients and colleagues alike.
"As the business goes from strength-to-strength, it's fantastic to see how each has progressed through the firm as they help to drive the success of Forbes Dawson and successful outcomes for our clients. I look forward to working together and seeing what we can all achieve next after these truly well-earned promotions."
partner, Tom Minnikin, added: "I'm really proud to have been part of Forbes Dawson's success story to date and I'm looking forward to the next chapter.
"Our clients value our straight-talking approach and the 'boutique' level of service we offer.
"All of this allows us to provide high quality advice more efficiently than the large accountancy practices.
"For our professional contacts, they know that we can be relied upon to provide hands-on support and expertise. It's this proposition which will continue to give us a real point of difference in the market."