Chancellor extends job retention scheme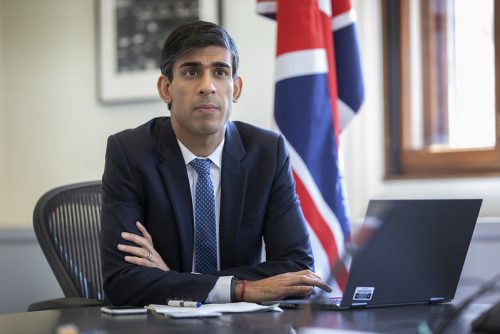 Chancellor Rishi Sunak has extended the jobs retention scheme until the end of October, with the 80% wage support staying in place for an additional month.
The Government has committed to publish details by the end of this month of the support that will be put in place from August.
"We are doing everything we can to protect everyone currently unable to work," said Sunak, responding to an urgent question in Parliament.
"As we re-open the economy we will need to support people back to work."
He said there will be no changes to the current scheme until the end of July. After that, the scheme will continue "for all sectors in all regions of the UK with greater flexibility".
Sunak promised that workers would not be worse off during the second phase of the furlough scheme, and told the House of Commons "the level of support that people receive won't change but that will be shared between the Government and employers".
Today's economic announcement followed an update from the Office for National Statistics which pushed the UK death toll from Covid-19 above 40,000 people.
However as the rate of infection has slowed with the country in lockdown and the number of people dying each day has begun to fall, there have been increasing tensions between the economic and public health arguments.
Sunak, who turns 40 today, has been Chancellor for less than three months but has already overseen one of the most dramatic periods in the country's economic history.
The furlough scheme that he announced on March 20 is now costing more than £14bn a month with the Government now absorbing the cost of paying 7.5m people.
The original scheme covered the smaller amount of 80% of an individual's wages or £2,500 a month. It was originally for three months to May, and was then extended to the end of June.
Any business which is planning to make more than 100 people redundant needs to have a consultation period of at least 45 days, which means they need to have launched it before May 18 in order to complete the process before the existing furlough scheme runs out.
The Chancellor will hope that today's announcement will assist businesses in keeping employees on the payroll.
However businesses have begun to cut jobs even with the furlough scheme in place. British Airways has announced plans to make 12,000 staff redundant, Virgin Atlantic is making 3,000 job cuts and ferry giant P&O, 1,100.
Some businesses have been forced into administration in recent weeks, with a flurry of appointments in recent days. They include manufacturing group Arlington, music retailer Dawsons, a 160-year-old newspaper in Stratford, and a Manchester software firm.
Begbies Traynor partner Paul Stanley, speaking on TheBusinessDesk.com's webinar last week, warned that firms were delaying restructuring decisions while the furlough scheme was in place but were making plans for those tough decisions.
The Government is keen to encourage people back to work, but has struggled with a confused message in the last 48 hours.
Many business leaders, unions and workers have struggled to find answers to interconnected questions about the safety of workplaces and public transport, the economic viability of businesses gearing back up, and the logistical issues caused by schools being closed.
Paul Cherpeau, chief executive of Liverpool Chamber of Commerce, said: "The Government's extension to the Job Retention Scheme to October is an important and necessary component of our economic recovery.
"Many businesses have used the scheme to provide a necessary lifeline to avoid redundancies and layoffs.
"As the Government attempts to move the country into a phase of economic recovery, the adaptation and flexibility of this scheme is imperative to ensure businesses and employees can sustain jobs amidst an incremental uplift of economic activity. A flick of the switch is unworkable and would merely trigger a wave of redundancies.
"Today's announcement that from August the job retention scheme benefits will be tapered and employees can receive a top up of wages for returning on a part-time basis is a sound principle.
"Maintaining flexibility in the scheme is of vital importance to cater for challenges faced by specific industries and businesses as capacity and activity is gradually built upon over the coming period. Such an approach will maximise survival chances and minimise large scale job losses."
He added: "The ongoing partnership between government, business and people remains imperative to a successful restart of the economy.
"The adaptable and flexible approach to the job retention scheme, together with an emphasis on a health and safety-conscious reopening of businesses offers a positive – though tentative – way forward through this crisis."