Coronavirus business update: Latest news across the North West

Monckton Properties, part of the Tatton Estate, has donated £30,000 to Cheshire Community Foundation's Cheshire and Warrington COVID-19 Response Fund.
And The Steve Morgan Foundation is generously matching funding donations, doubling the Monckton Properties contribution.
Mr Morgan founded housebuilder Redrow Homes, which has recently started building new homes in Knutsford.
Cheshire Community Foundation raises funds to support hundreds of small charities and voluntary groups across the whole of Cheshire and Warrington, connecting people and companies who would like to make a difference with those most in need of help.
Zoe Sheppard, chief executive of Cheshire Community Foundation, said: "We couldn't be more grateful to the Brooks family and other directors of Monckton Properties for this very generous donation.
"We have received reports of families going hungry for days, many of whom have never had to access government or charitable support before.
"The charities we help to fund provide food and essentials as well as support and advice and are reaching out to the most vulnerable and isolated members of our community.
"Monckton Properties and the Tatton Estate more widely are also providing direct support to tenants whose livelihoods are threatened."
A Monckton spokesperson said: "We have always believed that the Tatton Estate plays a vital role in helping our local community.
"We are making properties available to support Knutsford and neighbouring areas, including offering free parking behind Canute Place and Knutsford Heath.
"It is a privilege to be able to join others in supporting this appeal, hard-pressed local charities and the people they help.
"We are grateful to the Lord Lieutenant, High Sheriff and Cheshire Community Foundation for their work to ensure funds are distributed to those most in need.
"The mix of small, artisan business in Knutsford alongside larger national ones is something we have long supported and helps make the town special. We are pleased to able to stand by them in bad times to help them weather these difficult challenges."
::
Liverpool FC's professional chefs have upscaled their operation and are now producing 1,000 fresh meals every week to support the club's local communities in Anfield and Kirkby and key workers across Merseyside.
The meals, which form part of the club's 'Unity is Strength' COVID-19 community response work, provide essential fuel to those who need it most, including Merseyside Fire and Rescue Service firefighters and fire control officers and North West Ambulance Service staff.
Local school hubs and community groups who are currently supporting some of the most vulnerable children and families in the club's local communities in Anfield and Kirkby are also receiving hundreds of fresh meals every week.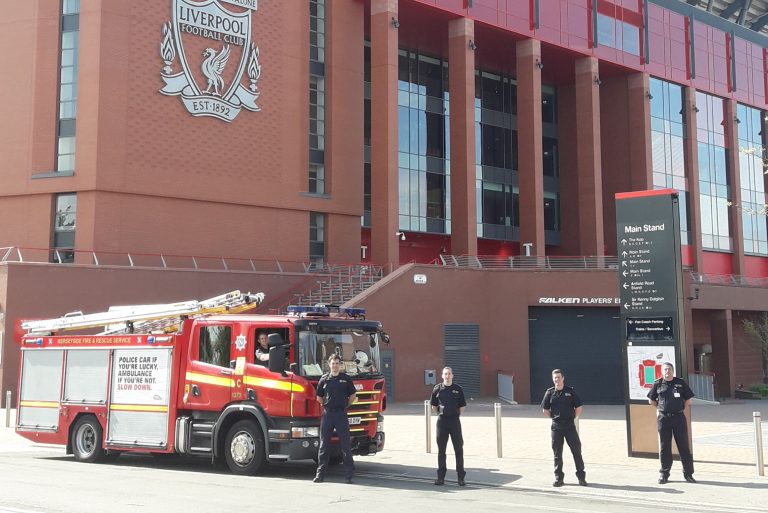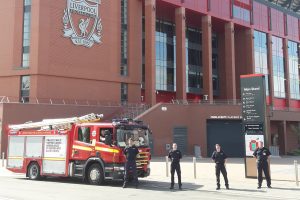 Freshly prepared in the kitchens at Anfield, the meals offer a range of vegetarian and gluten-free options, including, leek and potato soup, katsu chicken curry and braised rice, vegetable Cornish pasty, pasta bolognese and a trio of cakes.
Gary Oakford, area manager, Merseyside Fire and Rescue Service, said: "As a long-standing partner of the LFC Foundation we were delighted to be considered to be part of this initiative along with our NWAS colleagues."
Forbes Duff, senior manager, Red Neighbours, said: "Since we started producing the meals we have seen a big uptake and, therefore, we have been working hard to increase our volumes to support the growing demand. Helping more local families, vulnerable people and key workers who are sacrificing so much to help people is really important to us – we want to help our local communities as much as we can."
North West Ambulance Service deputy chief executive, Michael Forrest, said: "This is a fabulous gesture by Liverpool Football Club and I'm sure I speak for all the staff in Merseyside when I say how grateful we are."
::
St John's Buildings has seen a tenfold increase in digital or remote hearings.
The barristers' chambers has been quick to adapt to the current climate, utilising a range of technologies to ensure cases can continue progressing during the COVID-19 lockdown.
While criminal trials involving juries have seen a temporary halt to proceedings, there has been a move to digital hearings in a number of areas of the law, including family, insolvency, employment and the court of protection, where it is paramount cases go ahead due to the at-risk nature of those involved.
St John's Buildings says it has been at the forefront in the move to digital with an average of 110 hearings per day being completed remotely.
The figure was around 15 per day before courts were closed as a result of the UK lockdown.
David Anderson, head of corporate services at St John's Buildings, said: "There's no hiding the fact that, traditionally, the legal sector has been slow to move in technology uptake.
"What we're seeing now, is a scenario where it's a case of adapt or get left behind. In order to progress cases, legal professionals are having to embrace technology and consider alternative ways of progressing cases."
He added: "St John's Buildings is in a strong position as technology has been a core focus for chambers for a number of years.
"This has enabled us to adapt quickly to the current environment and ensure cases can continue moving.
"Over the past few weeks we've seen barristers work closely with our solicitor partners to deliver multi-witness hearings effectively on some extremely complex matters. In fact, our first digital hearing took place within one working day of our members moving to remote working."
St John's Buildings family law specialist Sara Mann recently concluded an extensive multi-party hearing using Skype for Business in the family court.
The hearing involved six advocates, four lay parties, one social worker and five witnesses who all attended remotely while the Judge was in the court building.
It was the first remote family hearing to be undertaken in Manchester.
Meanwhile, joint head of chambers, Richard Norton, achieved a £1m clinical negligence settlement via Zoom to reach a successful conclusion in a long-running litigation.
David Anderson added: "As and when we move past this period, there will certainly be huge learnings as to the use of, and benefit of, technology that the sector can take forward. At St John's Building's we're committed to being part of a more technology-enabled future."
::
A packaging manufacturer based in Haydock, Merseyside, has announced that it is working with SME funder Simply to provide 25,000 complementary face visors to nursing and care facilities in the North West of England as part of the fight against the coronavirus pandemic.
Greater quantities are available to purchase across the UK.
Enviropax, which employs 40 staff, is a specialist thermoformed packaging manufacturer designing and producing 100% recycled food packaging for supermarkets.
As soon as news of the continued lack of personal protective equipment (PPE) for essential services hit the headlines, the business decided to invest in the equipment it needed which would enable it to broaden its offering to produce the 'i-Visor', a 100% polyethylene terephthalate (PET) face visor for staff on the frontline.
It took four days for Enviropax to create the design and receive feedback from Preston Royal Hospital.
The i-Visor was then modified and within three days of receiving the new machinery, the initial 25,000 items were manufactured and have been distributed to frontline staff across the region.
Enviropax was able to obtain the tooling for the machinery required thanks to a financing package that Simply, a non-bank owned funder, arranged.
As an existing customer, Simply was able to provide the correct support and put the funding in place and Enviropax is now well on its way to helping hundreds of thousands of frontline staff during this pandemic.
Mike Randall, Simply chief executive, said: "We were able to fund the machinery requirements quickly and remotely through our digitised system, making it very simple for the Enviropax team to make the purchase and start production immediately."
Simon Malcolm, director at Enviropax, said: "The current environment has resulted in less demand for our normal offering, so it made sense for us to diversify and do something positive in this current environment.
"Everyone at Enviropax is very excited that we are helping in such an innovative way and we hope that we can meet demand."
The i-Visors are designed for single use and, because they are made from 100% PET, they are fully recyclable. They are currently undergoing formal BSI testing for certification and CE marking to make them suitable for NHS use.