People on the Move: Caddick Construction; Clarke Nicklin; DTM Legal; Roxtec UK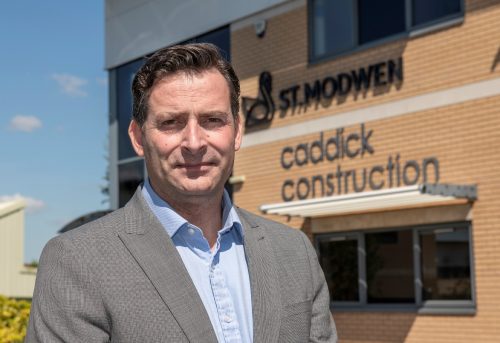 Caddick Construction has appointed Chris Wright as its new regional civils business manager, with immediate effect.
Chris joins Caddick Construction from Harry Fairclough Construction where he was MD of its civils division and had spent 10 years with the Warrington-based firm before it went into administration earlier this year.
He has more than 28 years' industry experience to draw on and studied civil engineering at Newcastle University.
The 48-year-old has been tasked with establishing a new North West Civils operation to sit alongside the already successful building business, with particular emphasis on the North West and M62 corridor.
He said: "I'm looking forward to the challenge of developing a civils team that will add real value to Caddick North West's current operations, as well as expanding its order book by introducing new clients and securing stand-alone civil engineering projects.
Regional managing director, Ian Threadgold, said: "Caddick already has a strong and growing reputation across the region, which is evident when you see the projects we have completed for clients, such as Network Space, St Modwens and Bruntwood.
"We hope the creation of this new civils business will further enhance our reputation and offering in the area."
::
Clarke Nicklin Chartered Accountants has announced the promotion of senior manager Gareth Jones to director as part of its further strengthening of the senior team.
Gareth joined the business in 2005 having just graduated with a first class degree in Finance and Accounting and went on to achieve his FCCA qualification.
Since joining the Cheadle-based firm he has been an instrumental part of the team, advising and supporting clients to achieve their goals and objectives, and moving through various managerial roles within the business.
Gareth will be focusing on overseeing client relationships and will continue to build his portfolio of clients.
Managing director Andrew Baggott said: "I am delighted to be able to continue to progress our key team members, despite the recent change in working practices under lockdown.
"This shows we have been able to ensure we continue our culture of focusing on excellence in client service delivery under any circumstances. The promotion of Gareth also encapsulates our focus as a firm in the continued progression and development of our team members.
"Gareth joined the Clarke Nicklin team as a fresh-faced university graduate, so it is all the more rewarding to have been able to take the promise that Gareth showed all those years ago, and combine his drive and determination with the firm's very strong development programme and focus on ensuring individuals achieve their potential to get to this point.
"Gareth and the firm have both benefited from this combined focus, and we both will do moving into the future as we both continue to go from strength to strength."
Gareth said: "I'm proud to have spent my whole career working at Clarke Nicklin and am delighted to have taken another big step forward. I'm excited to continue working hard alongside our fantastic staff and partners to continue to nurture our portfolio and help more businesses, especially in such challenging economic times."
::
Despite the current uncertain times, Top Tier Legal 500 DTM Legal continues to expand.
Elizabeth Judson joins the employment & HR team as senior associate. Elizabeth brings her wealth of experience in advising employers and senior executives on a wide range of employment and HR matters.
She has particular interest in workplace culture and its part in maximising productivity and has an excellent reputation for her work with charity sector clients.
Tom Evans, head of employment, said: "We are delighted that Elizabeth has joined us. With COVID-19, clients really need our advice and support and with Elizabeth's vast experience and expertise she will be a great asset to DTM in helping us get our clients back to business as usual and beyond."
Elizabeth said: "DTM are a growing business with a really good reputation and I am delighted to be joining. I am looking forward to the challenges ahead and helping develop the employment & HR team offering further."
DTM Legal's employment & HR team work with many companies across a range of industries and sectors including Typhoo Tea, CSA Group, Moneypenny, Cygnet Texkimp and many more.
The company as offices in Liverpool and Chester.
::
Bury-based pipe and cable safety seal manufacturer Roxtec UK has moved to increase its presence in Britain's maritime sector with the appointment of a new marine and offshore manager.
Mark Whelan joins the Swedish-owned company having spent 10 years at another international manufacturer, most recently as a project manager for naval and commercial shipbuilding sector contracts.
At Roxtec Mr Whelan will have responsibility for business development in the South of England.
Roxtec's transits are used to seal cables and pipes aboard a wide variety of ships including naval vessels, cruise liners and ferries, superyachts, offshore support vessels, carriers and cargo ships.
They are designed to protect people and assets from multiple hazards including fire, flooding, the risk of explosion and electromagnetic disturbances.
Mr Whelan said: "Roxtec is a worldwide leader within the marine sector and this opportunity represents an exciting challenge. I will be bringing my contacts to the fore and looking to educate the market about the impact Roxtec's products can have on cost-saving, time management and the overall cost of labour."
He added: "The UK's naval sector is in growth, with a focused plan for the build programme of the Type 26 frigates and the Type 31 coming through. Additionally, Britain's new Queen Elizabeth-class aircraft carriers will continue their maintenance and enhancement programmes towards 2021.
"Naval projects are run under strict budgetary requirements and Roxtec is ideally positioned to provide solutions that offer innovation and opportunities for cost reduction."
Roxtec entered the marketplace in 1990 and is now active in more than 80 markets worldwide. The British subsidiary of the £173m-turnover Swedish group recently reported a record financial year with turnover surpassing £6m for the first time.