Principal contractor appointed to £16.7m carbon capture project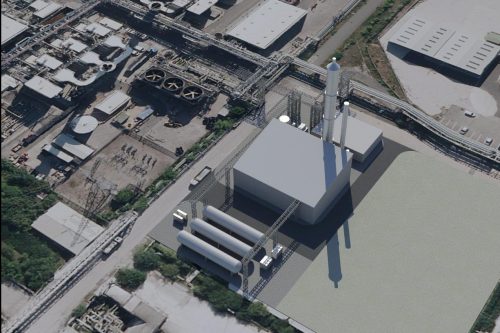 Skelmerdsale-based Hawkins Construction (Northern) has been appointed as principal contractor for a £16.7m project in Cheshire.
It will deliver a 40,000 tonnes capacity Carbon Capture and Utilisation (CCU) plant on behalf of Tata Chemicals Europe (TCE), in Northwich.
The ground-breaking project announced by the Minister for Clean Energy and Growth in 2019 is a key project set to demonstrate the viability of industrial-scale carbon capture and utilisation technology.
The project will be the largest of its kind in the UK and will remove carbon dioxide from TCE's combined heat and power plant emissions. The gas will then be purified and liquified for use in the manufacture of sodium bicarbonate.
This site is the largest single site user of carbon dioxide in the UK, and is set to capture emissions equivalent to 22,000 cars being taken off the road, contributing to the Government's recently announced target of net zero carbon emissions by 2050.
Hawkins has a long track record of project delivery in the food, pharmaceutical and chemical manufacturing sector for clients such as Heinz, AstraZeneca, Weetabix, Thornton & Ross, Dairy Crest and British Salt.
The Hawkins scope of work for the CCU plant includes:
Acting as principal contractor for the project, with responsibility for the project management of the CCU plant construction
The civil works, which will involve the preparation of a site the equivalent size of a typical Premier League football pitch and piling to a depth of 13m to prepare the ground for process equipment installation
The steel works for a dedicated substation for the CCU plant and the liquefaction building that will house the process equipment that will liquify the captured and purified carbon dioxide ready for storage and use. The steel work used in this will be the equivalent weight of a large passenger aeroplane
The installation of the CCU process equipment, including the absorber tower, a key component of capturing carbon dioxide from the energy plant emissions, along with the purification, liquefaction and other process equipment
Products supplied by TCE are critical raw materials to the food manufacturing supply chain, as well as pharmaceutical product manufacturing, and, so, work on this project has commenced during the COVID-19 lockdown.
To enable this, Hawkins has introduced new policies and procedures to ensure a safe work environment for site employees and contractors. Steps have been taken to ensure that social distancing is observed, and other measures have been implemented including additional hand washing facilities, staggered break and lunch times and frequent disinfection of break areas following use. Where social distancing is not possible, workers are using additional PPE.
Hawkins commercial director, Ben Birchall, said: "We're delighted to have been appointed to deliver this high-profile project on behalf of Tata Chemicals Europe.
"It is a strategically important project for all stakeholders, to the UK on its pathway to net zero emissions, and for Tata as the company aims to reduce emissions and provide a critical raw material.
"This project is a major win for Hawkins, as it supports our expansion and demonstrates our ability to deliver clean growth projects on behalf of our clients.
"We've been looking to build our project portfolio in the clean growth and chemicals sector for a number of years, and this venture is the culmination of this effort. There is a stringent timeline to this project, and I'm confident that our highly-experienced team will deliver in time and within budget, whilst also ensuring that the health and safety of all those on the site continues to be of paramount importance."
Ladan Iravanian, project director at TCE, said: "We first worked with Hawkins in 2018 at our British Salt manufacturing site.
"The project they completed for us at this time was implemented extremely well, and we are pleased to be working with Ben and the Hawkins team again as we deliver this hugely exciting carbon capture and utilisation project.
"The project continues to be delivered with onsite work handled by Hawkins and is accelerating as we near the installation of the major CCU process equipment.
"As we are the UK's only manufacturer of sodium bicarbonate, an important ingredient in food manufacturing and a critical component of some pharmaceutical products, it is a great credit to the combined efforts of all our team and supply chain that construction on this project continues safely during the COVID-19 pandemic."