Cammell Laird shipyard boss announces retirement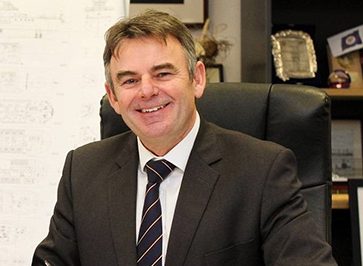 Merseyside shipyard and marine engineering services company Cammell Laird has announced that John Syvret is retiring from his role as executive chairman and chief executive at Cammell Laird and Atlantic and Peninsula Marine Services.
John, who began his career as a Cammell Laird apprentice and whose retirement follows 43 years of service to the maritime sector, will continue to support Cammell Laird and Atlantic & Peninsula Marine Services in his capacity as a non-executive Director.
He will also maintain his involvement with his charitable initiatives, which include Wirral Youth Zone and the Engineering College, together with the national industry related boards including the Society of Maritime Industries and the Maritime Enterprise Working Group.
David McGinley, the managing director of global ship repair, conversion and marine specialist Atlantic and Peninsula Marine Services, has been appointed as chief executive of Cammell Laird with immediate effect.
David will continue his role at Atlantic and Peninsula Marine Services, which includes leading A&P Group, Atlantic and Peninsula Australia PTY, as well as A&P Group's marine platform business Marine Designs and Falmouth Docks and Engineering Company (FDEC).
He Joined A&P Group in 2017 as group managing director responsible for all ship repair activities and operations at the A&P Group facilities in the North East of England and Falmouth.
David became an executive director as managing director Atlantic and Peninsula Marine Services in 2018.
Prior to joining A&P Group, David spent 13 years working at Babcock in senior level roles that spanned strategic development, business development and commercial port operations.
His career also includes more than 20 years' service in the Royal Navy.
David is a visiting professor at the University of Strathclyde in Scotland and is a past president of the UK Shipbuilders and Ship repairers Association, part chair of the Association of British Offshore Industries and is a director of the Society of Maritime Industries.
In 2001 the Birkenhead ship repair firm collapsed into administration after a contract row with Italian cruiseline Costa Crociere.
Former Laird managing director Mr Syvret re-established ship repairs at the yard with his Northwestern Shiprepairers and Shipbuilders company, part-owned by Mersey Docks owner Peel Holdings.
He won the right to use the famous Cammell Laird name after long negotiations with the receiver of the former Cammell Laird company.
Mr Syvret was reported to have received the lion's share of a £30.5m windfall payment from Port of Liverpool owner Peel Ports when it increased its stake in the business from 50% to 75% in 2013.
Peel also increased its stake in Atlantic & Peninsula Marine Services, which was also part-owned by Mr Syvret and other shipyard management.